IfraExpo 2008 in Amsterdam from 27 to 30 October
Special early bird rate offered up to 30 June 2007 for bookings received from exhibitors for IfraExpo in Amsterdam
Darmstadt

, (PresseBox) -
All indications are that this year's IfraExpo in Vienna will once again set a new record for exhibitor participation. But, as is common practice in the exhibitions business, attention is turning already to next year's event: in 2008 IfraExpo will be held once again in the Dutch capital of Amsterdam. Exhibitors can book their stand space there at a special preferential rate up to 30 June 2007.

To date, more than 50 leading companies in the supply industry have already reserved their stand at Amsterdam 2008. These include: ABB, Abitibi Consolidated, Atex, Baldwin Technology, Felix Böttcher, CCI Europe, OMG Cerutti, EAE, EidosMedia, Elettra, Ferag, Flint Group, Funkinform, Goss International, Grafikontrol, IE Graphic Engineering, Graphic Web Systems, Graphics Microsystems, Harland Simon, Holmen Paper, Idab Wamac, JJK, Koenig & Bauer, Krause-Biagosch, MacDermid, Metso Paper, Mitsubishi Heavy Industries, Gerd Mosca, Motter Printing, MotterStitch, MSH Medien System Haus, Müller Martini, Multicom, Nela, OneVision, Papierfabrik Palm, picturesafe, Planatol, ppi Media, Protec, Q.I. Press Controls, QuadTech, SAP, Scholpp Montage, Schur Packaging Systems, Sitma, Tensor, TKS, Tolerans, UPM-Kymmene, Wifag and WRH Marketing.

Reiner Mittelbach, Ifra CEO: "IfraExpo is the place where, for four days, visitors get an overview of innovations in the printing and media industries – and even more important, the emphasis is on the relevance of these innovations for the newspaper industry. Nowhere else is it possible in such a short time to obtain information about trends that will influence our business in the coming years."

Michael Heipel, Ifra Director of Exhibitions and Sales: "In the last years, the international character of IfraExpo has grown continually. We are registering increasing numbers of visitors from Eastern Europe, Asia, the Near East and Latin America, independent of the IfraExpo location. Our exhibition will offer major potentials for the newspaper industry also in 2008."
WAN-IFRA
IFRA (www.ifra.com) ist die weltweite Forschungs- und Serviceorganisation für die Zeitungsindustrie. Seit 1961 ist der Verband mit Hauptsitz in der Wissenschaftsstadt Darmstadt die Plattform für Entscheider aus der Zeitungswelt. Ihre Dienstleistungen bietet IFRA vorrangig ihren mehr als 3100 Mitgliedern in rund 80 Ländern an. Ein aus Verlegern zusammengesetzter Vorstand sowie zentrale, regionale und fachliche Mitgliederkomitees lenken die Aktivitäten der internationalen Zeitungsgemeinschaft. Grundlage hierfür bildet die Forschungsarbeit der IFRA, aus der Standardisierungsprojekte sowie internationale und regionale Ausstellungen, Konferenzen, Workshops, Studienreisen und Trainingsveranstaltungen sowie Newsplex-Beratung und internationale Wettbewerbe resultieren. Die jährlich in europäischen Großstädten veranstaltete Leitmesse "IFRA Expo - Das Jahresereignis der Zeitungsindustrie" gilt als die weltweit wichtigste Fachausstellung für Zeitungsunternehmen und deren Partner. Die IFRA Expo 2008 wird vom 27. bis 30. Oktober in Amsterdam unter dem Motto "Get the Big Picture!" stattfinden (www.ifraexpo.com). IFRAs internationales Magazin für Zeitungsstrategie, Business und Technologie IFRA Magazine erscheint in mehreren Sprachen als voll integrierte Print/Online-Publikation (www.iframagazine.com). IFRA betreibt darüber hinaus mit IFRA Search eine vertikale Suchmaschine für die Zeitungsindustrie (www.ifrasearch.com).
Press releases you might also be interested in
Weitere Informationen zum Thema "Maschinenbau":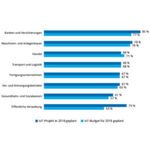 2018 könnte Jahr des IoT-Durchbruchs werden
Die Markt­for­scher von IDC ha­ben sich in der Stu­die "In­ter­net of Things in Deut­sch­land 2018" mit dem Stand der IoT-Im­p­le­men­tie­rung be­fasst. Es zeich­net sich dem­nach ab, dass sich das Jahr 2018 zum Wen­de­punkt für die Tech­nik ent­wi­ckeln könn­te.
Weiterlesen