Vuzix to take Centre stage at Metaio's InsideAR event
Award-winning M100, to be featured during the latest showcase of AR technology in Munich, Germany
Rochester, New York and Munich

, (PresseBox) -
Vuzix Corporation (OTC:QB: VUZI), a leading supplier of Video Eyewear and Smart Glasses products in the consumer, commercial and entertainment markets, announced today that it will have a large presence with its M100 smart glasses at this week's InsideAR event in Munich, Germany on October 10th - 11th. Further enhancing its partnership with Metaio, Vuzix has signed up as a silver sponsor and will take to the stage to discuss wearable technology and smart glasses after the initial opening address by Metaio.

With the morning of the first day being titled 'The Wearable Computing Forecast', it hones in on smart glasses discussions, developments in smart glasses AR applications and uses within a variety of markets. Vuzix session will focus on how Vuzix' M100 works within the enterprise sector - which will be further enhanced later in the day when SAP, the market leader in enterprise application software, and SITA, the world's leading specialist in air transport and communications IT, show use cases for apps running on the M100 within specific markets.

"We're pleased to be a major part of such an important AR event," stated CEO Paul Travers, "We're excited to showcase the use of the M100 within the wearable technology and AR markets, but we're also looking forward to meeting with other peers, who have their eyes on the goal of bringing innovative AR Technology to the Enterprise & Prosumer markets."

The M100 smart glasses and selected AR apps will be available throughout the two days for delegates to try at their leisure. However, be warned, it recently caused a stir when shown at the CEATEC event in Japan. There it was running a facial recognition and translation app from NTT Docomo and was so popular delegates often queued at the show table for well over an hour!

About Metaio

Metaio is the worldwide leader in Augmented Reality research and technology. Serving over 50,000 developers and powering over 1,000 apps for enterprise, marketing, retail, publishing and industrial cases, over 30 Million consumers use Metaio's AR software.
Vuzix Corporation
Vuzix is a leading supplier of Video Eyewear and Smart Glasses products in the consumer, commercial and entertainment markets. The Company's products include personal display and wearable computing devices that offer users a portable high quality viewing experience, provide solutions for mobility, wearable displays and virtual and augmented reality. Vuzix holds 33 patents and 15 additional patents pending and numerous IP licenses in the Video Eyewear field. The Company has won Consumer Electronics Show (or CES) awards for innovation for the years 2005 to 2013 and several wireless technology innovation awards, among others. Founded in 1997, Vuzix is a public company (VUZI) with offices in Rochester, NY, Oxford, UK and Tokyo, Japan.
Press releases you might also be interested in
Weitere Informationen zum Thema "Hardware":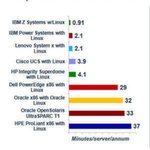 Höchste Zuverlässigkeit bei IBM und Lenovo, schlechteste Werte bei Oracle und HPE
All­jähr­lich be­fragt In­for­ma­ti­on Tech­no­lo­gy In­tel­li­gen­ce Con­sul­ting Corp. (ITIC) 800 Or­ga­ni­sa­tio­nen welt­weit zur Zu­ver­läs­sig­keit ih­rer Ser­ver und Ser­ver-Be­triebs­sys­te­me. Um mög­lichst un­vor­ein­ge­nom­me­ne Er­geb­nis­se zu prä­sen­tie­ren zu kön­nen, ak­zep­tiert das Un­ter­neh­men kein Spon­so­ring von An­bie­tern. Auch im Re­port 2017/2018 lie­gen IBM und Le­no­vo vor­ne – zum zehn­ten Mal hin­te­r­ein­an­der – Or­a­c­le und "HPE Pro­li­an­t" nicht.
Weiterlesen