ELCOS Showers Down Solar Mirrors
Voith Turbo Develops Special Vehicles for Application in Thermal Solar Power Plants
Crailsheim

, (PresseBox) -
ELCOS and DRENOS are the names of the two maintenance vehicles developed by Voith Turbo Spain in cooperation with Spanish partner companies. They will be used in solar thermal power plants that are currently being set up on wide areas of the Iberian Peninsula. ELCOS cleans the mirror surfaces of parabolic trough collectors with pressurized water. In the event of maintenance work being carried out, DRENOS pumps the thermo oil from the absorber pipes and keeps it at a minimum temperature of 60 degrees. Thanks to the two vehicles, the power station operator will be able to increase the efficiency and the availability of his plant.

"The power station operator knew Voith as an innovative company and had asked us for a solution. We recognized the opportunity to develop a special cleaning vehicle that would not be destined for communal use but for industrial applications - and this in a growing niche." The efforts of the Voith Turbo team around Project Manager Luis de Alfonso in Spain were indeed successful: Cobra, a subsidiary company of the Spanish ACS Group, has already commissioned two ELCOS and two DRENOS vehicles.

Over a period of one year, Voith Turbo Spain initially developed an ELCOS prototype in close cooperation with the customer. The prototype passed its two months' trial with flying colors: the cleaning result, the speed and the low water consumption exceeded the expectations of the customer. Built for cleaning the individual solar cells, ELCOS is fitted with special ultrasonic sensors that allow the sickle-shaped arm of the vehicle to work on the 6.40 meter-high solar cells as closely as possible without touching them.

At a creep speed of six km/h, ELCOS moves twice through each of the rows of mirrors and showers them down with water pressurized to 200 bar. Thanks to video cameras and relevant monitors, the driver is given a full overview of the process. This weekly cleaning routine ensures that the efficiency of the power station remains within a commercially viable range.

The development team also paid special attention to the economical consumption of cleaning water in the vehicle. A solar thermal power station rated at 50 MW spreads across an area of two square kilometers. Constantly having to return to base point and re-filling the vehicle would be very time-consuming.

The second special vehicle designated DRENOS has been designed for draining oil from the main pipes inside the power station and re-filling them afterwards. For cleaning or servicing these absorber pipes, the oil, which has a temperature of 390 degrees Celsius when drained, has to be cooled down to below 90 degrees and then kept in a four cubic-meter tank in the vehicle at a minimum temperature of 60 degrees Celsius.

The two ELCOS and DRENOS vehicles are used by the power station operator Cobra in a solar power plant with an output of 50 MW. Such a power station provides approximately 15,000 households with electricity. Since Cobra looks after another 350 MW power station capacity in Spain, further eight ELCOS and four DRENOS vehicles are already on order. "In Spain alone, additional solar power stations with an estimated capacity of 600 MW are currently being projected," says Mark Neumann, Head of Voith Turbo Trading, who also sees long-term market potential in other countries such as the USA.
Voith GmbH
Voith Turbo, the specialist for hydrodynamic drive, coupling and braking systems for road, rail and industrial applications, as well as for ship propulsion systems, is a Group Division of Voith AG.

Voith is setting the standard in the paper, energy, mobility, and service markets. Established on January 1, 1867, Voith is now one of the largest family-owned businesses in Europe, with 43 000 employees, 4.9 billion euro in sales, and over 290 locations worldwide. Voith is an official partner of the initiative "Germany - Land of Ideas".
Press releases you might also be interested in
Weitere Informationen zum Thema "Fahrzeugbau / Automotive":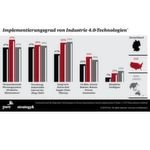 Digitale Transformation hat in Deutschland noch langen Weg vor sich
Ei­ne PwC St­ra­te­gy& Stu­die zeigt: Nur ein Pro­zent der deut­schen Un­ter­neh­men sind di­gi­tal be­son­ders her­aus­ra­gend. Un­ter­neh­men in Asi­en und Ame­ri­ka hän­gen Deut­sch­land bei der Im­p­le­men­tie­rung neu­er Tech­no­lo­gi­en und di­gi­ta­ler Öko­sys­te­me ab. Im­mer­hin soll der Um­satz­an­teil di­gi­ta­ler so­wie di­gi­tal er­wei­ter­ter Pro­duk­te in Deut­sch­land laut der Stu­die von ak­tu­ell 16 Pro­zent auf 22 Pro­zent im Jahr 2023 stei­gen.
Weiterlesen