Vishay Releases Industry-First Gen. 5.0 High-Performance 45-V Schottky Diodes Offering Maximum Junction Temperature to +175°C
New Devices Built on Sub-Micron Trench Technology Feature Very Low Typical Forward Voltage Drop from <0.50V at 60A to <0.54V at 30A, Extremely Low Reverse Leakage from 2mA to 5mA at +125°C
MALVERN, PENNSYLVANIA

, (PresseBox) -
Vishay Intertechnology, Inc. (NYSE: VSH) today launched two new Gen. 5.0 High-Performance 45-V Schottky diodes that are the industry's first such devices to offer maximum junction temperature to +175°C. Built on sub-micron trench technology, the 30CTT045 and 60CPT045 devices offer extremely low forward voltage drop and low reverse leakage, allowing designers to increase power density in automotive and other high-temperature applications.

The two Schottky diodes released today feature very low maximum forward voltage drops at +125°C of <0.50V typical at 30A for the 2 x 30A 60CPT045, and <0.50V typical at 15A for the 2 x 15A 30CTT045. Reverse leakage at +125°C is an extremely low 5mA and 2mA for these respective devices, with very tight parameter distribution. Both devices offer optimized VF versus IR trade-off for increased system efficiency.

The 30CTT045 and 60CPT045 are optimized for ac-to-dc secondary rectification, flyback, buck and boost converters, half-bridge, reverse battery protection, freewheeling, class-D amplifiers, and dc-to-dc module applications. Typical end products include high power density SMPS; adaptors for desktop PCs; servers; automotive drives and controls; consumer electronics like PDPs, LCDs, and high-efficiency audio systems; and mobile electronics such as notebook computers, cell phones, and portable media players.

For designers, the new devices are offered in small RoHS-compliant packages for improved cost-to-power ratios, with RBSOA available for tight and cost-effective designs. The 30CTT045 is offered in the TO-220 package, while the 60CPT045 is offered in the TO-247.

A high and stable breakdown voltage (>57V typical) accommodates voltage spikes and optimizes power density, which is increased in the diodes by 25%. The devices feature 40% increased ruggedness for reverse avalanche capability, with parts 100% screened in avalanche, and negligible switching losses.

Samples and production quantities of the new 30CTT045 and 60CPT045 Schottky diodes are available now, with lead times of six to eight weeks for larger orders.
Vishay Electronic GmbH
Vishay Intertechnology, Inc., a Fortune 1,000 Company listed on the NYSE (VSH), is one of the world's largest manufacturers of discrete semiconductors (diodes, rectifiers, transistors, and optoelectronics and selected ICs) and passive electronic components (resistors, capacitors, inductors, sensors, and transducers). These components are used in virtually all types of electronic devices and equipment, in the industrial, computing, automotive, consumer, telecommunications, military, aerospace, and medical markets. Its product innovations, successful acquisition strategy, and ability to provide "one-stop shop" service have made Vishay a global industry leader. Vishay can be found on the Internet at http://www.vishay.com.
Press releases you might also be interested in
Weitere Informationen zum Thema "Elektrotechnik":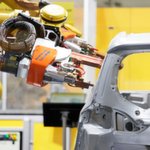 1,7 Millionen Industrie-Roboter erneuern Fabriken weltweit bis 2020
Bis 2020 wer­den mehr als 1,7 Mil­lio­nen neue In­du­s­trie-Ro­bo­ter in den Fa­bri­ken der Welt in­stal­liert. Die Ro­bo­tik-Bran­che in Asi­en ver­zeich­net da­bei ak­tu­ell das stärks­te Wachs­tum – an­ge­führt von Chi­na als Welt­markt­füh­rer. Im Jahr 2017 sind die Ro­bo­ter­in­stal­la­tio­nen in der Re­gi­on Asi­en-Aus­tra­li­en vor­aus­sicht­lich um 21 Pro­zent ge­s­tie­gen, in Nord- und Süda­me­ri­ka um 16 Pro­zent und in Eu­ro­pa um acht Pro­zent. Das sind Er­geb­nis­se aus dem World-Ro­botics-Re­port 2017, der von der In­ter­na­tio­nal Fe­de­ra­ti­on of Ro­botics (IFR) ver­öf­f­ent­licht wur­de.
Weiterlesen