VideoFlow's new Fortress product line provides maximum flexibility in building affordable and scalable live video services over the cloud
IBC 2013 booth B20 in Hall 3
Rosh Ha'ayin, Israel

, (PresseBox) -
VideoFlow will be launching the Fortress product line at IBC 2013 that includes the DVP10F, DVP100F and the DVP1000F. The Fortress product line is an important addition to VideoFlow's Digital Video Protection (DVP) solutions for delivering live, high quality video (SD, HD and above) over standard Internet connections - removing the need for expensive leased lines.

The Fortress product line is designed to provide high quality, bi-directional, live video delivery broadcasts. All Fortress products can be configured per video stream as either a Protector or a Sentinel. The Protector stores the packets until it is certain that they have been received correctly, and the Sentinel monitors the health of the video stream by watching for packet loss and requests packets to be resent from the Protector's cache only if required.

A quality, two-way, live video broadcast requires protection. VideoFlow's Fortress allows the delivery of a low delay, error-free, high quality video feed from a live event to the studio and back over standard Internet connections. It enables a reporter in the field to feel as if they are in the studio as there are no noticeable transmission delays thus turning the live broadcast into a more natural event.

Mr. Adi Rozenberg, VideoFlow's CTO, explained, "In addition to providing a natural environment for live outside broadcasts, VideoFlow's Fortress products are ideally suited for building video services in the cloud by providing two-way live video broadcast services from content originator to destination and back. The DVP1000F, which supports 200 streams reaching 800 Mbps, can be used both for contribution and for distribution with each stream individually selected for Protector or Sentinel function. Our flexible, next generation solution cuts the cost of building large, cloud-based, video services networks using the Internet to a fraction of the cost associated with today's expensive solutions."

Digital Video Protection

VideoFlow's technology enables live content to be delivered over the Internet with no packet lost, and nullifies the jitter caused by transiting the Internet. This next generation solution provides broadcasters, teleports and operators a highly advanced, low cost solution for commercial quality, live video streams over consumer Internet connections thereby eliminating the need for expensive connections costing thousands of dollars a month. VideoFlow products offers one time capital costs with very rapid ROI's in place of never ending ever increasing operational costs. are around a hundredth of leased line solutions.

Traditionally, premium live video channels require a "pair of leased lines" so that there is always a backup in case the first one fails. Although this ensures a 24x7 service, it is very costly. Industry reports show that Service Level Agreements that guarantee bitrate and bandwidth along with limiting packet loss are incredibly expensive. Those VideoFlow customers that start by using VideoFlow products for backup and the capital cost savings, quickly realize that they can further reduce costs by using the VideoFlow solution as their primary means of delivery. This generally occurs after running the VideoFlow solution in parallel with their existing primary offering and coming to the realization that the VideoFlow solution provides comparable reliability and quality. By using a VideoFlow solution, customers can increase the profitability of the revenue streams from premium coverage of live events like sports, concerts and news as well as adding new, inexpensive, revenue-generating coverage.

Video delivery over the internet for Content Delivery Networks, such as Netflix or YouTube, works by sending files. Live video broadcast, conversely, are sent as a continuous bit stream, which the Internet was never designed to handle, resulting in artefacts caused by jitter, and packet loss. More than a couple of seconds of latency is unacceptable by customers expecting to enjoy the excitement of live events like sport as they happen. VideoFlow is the solution for the next evolution for Content Delivery Networks (CDN) by providing broadcasters a true Live Content Delivery Network (LCDN).

Video demo at http://www.youtube.com/watch?v=u9ZjpjIlonU&feature=player_embedded
VideoFlow Ltd
VideoFlow is the pioneer of live high quality video (SD, HD and above) over standard internet connections. Its DVP (Digital Video Protection) solutions rapidly pay for themselves by making expensive leased lines redundant for live broadcast. The high quality of the original high quality video input is maintained during its transfer over the internet without artefacts, jitter or latency greater than two seconds. VideoFlow has four key technology patents covering Live Content Delivery Networking (LCDN) with over a dozen patents pending.


Press releases you might also be interested in
Weitere Informationen zum Thema "Software":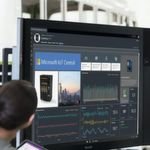 IoT-SaaS-Lösung für den einfachen Einstieg in das Internet der Dinge
Mi­cro­soft IoT Cen­tral ist ab so­fort als Pu­b­lic Pre­view ver­füg­bar. Mit der neu­en Soft­wa­re-as-a-Ser­vice (SaaS)-Lö­sung kön­nen Un­ter­neh­men ver­netz­te Pro­duk­te, Sys­te­me und Ma­schi­nen ent­wi­ckeln, be­reit­s­tel­len und zen­tral ver­wal­ten. So soll sich die Kom­ple­xi­tät beim Ein­s­tieg in das In­ter­net der Din­ge (IoT) ver­rin­gern: Ei­ne aus­ge­wie­se­ne Ex­per­ti­se für das Auf­set­zen und Ver­wal­ten von Cloud-In­fra­struk­tu­ren ist da­für nicht er­for­der­lich.
Weiterlesen