Lindemann: Russia to remain a growth market for commercial vehicles
German commercial vehicle Industry is expanding its Involvement - German pavilion at the Comtrans
Moscow

, (PresseBox) -
At the press conference of the German pavilion at the Comtrans commercial vehicles trade fair in Moscow, Dr Kay Lindemann, Managing Director of the German Association of the Automotive Industry, stated:

Russia is continuing to gain in significance for the German commercial vehicle industry, something which is particularly clear here at the Comtrans in Moscow. After the international trade fair IAA Commercial Vehicles, which is to take place in Hanover in 2014, the Comtrans is the most important trade fair for commercial vehicles in Europe this year. It is thus an international meeting point for the sector.

On the Russian market, too, the German commercial vehicle is employing its two-pillar strategy - exports from German factories to Russia are increasingly being supported by the setting up and expansion of production in the country itself. A recent poll of German commercial vehicle manufacturers and suppliers established that three quarters of companies are planning sites of their own in Russia in the medium term. Currently, a quarter of the companies have a site here.

Exports of commercial vehicles to Russia present a nuanced picture for the current year. In the first half year, the German manufacturers exported around 5,900 light commercial vehicles to Russia. This corresponds to an increase of 77 percent. However, our exports of heavy commercial vehicles fell in the first six months of the year. The value of exports dropped by over one third. The manufacturers are becoming aware of the changing framework conditions in Russia, in particular the new recycling levy. On the other hand, the Russian commercial vehicle market has recorded moderate growth this year.

We thus trust that Russia will continue along the path to liberalizing the market that it began with its WTO accession. We are confident that Russia will continue to embrace the rules of international trade and seize the opportunities of an open and dynamic industrial and trade policy.

German exhibitors and the German pavilion

At the twelfth Comtrans, the German producers and suppliers are exhibiting numerous innovations "Made in Germany". Around 40 German commercial vehicle producers, trailer and body companies and suppliers are represented at the trade fair. The German pavilion, which is once again being organized this year with the support of the German Federal Ministry of Economics in cooperation with the AUMA (Association of the German Trade Fair Industry) of the IMAG (International Exhibition and Trade Fair Service), has grown in size again. Fourteen principally small and medium-sized enterprises from Germany - with their innovative products relating to commercial vehicles - are represented on the German pavilion covering more than 600 square metres. From vehicle and body manufacturers to component and system suppliers, the whole range of products is present. In addition, many other German companies are at the trade fair with their own stands. This underlines the great significance that the Russian market has for our companies.

Russia to remain a growth market

Russia will remain a growth market in the long term, despite the rather moderate development in the current year. Following growth of 3.4 percent in 2012, the Russian GDP will in all probability increase by a further 1.8 percent this year. For 2014 the outlook currently stands at around 3 percent. Germany and the German industry are also contributing to this economic development in Russia by means of substantial direct investments. The German automobile industry alone has recently invested over 2.2 billion euros in Russia (as of 2011).

Russian commercial vehicle market is again growing steadily in 2013

Russia is by a long way the most important commercial vehicle market in Eastern Europe. The Russian commercial vehicle market recorded moderate growth in 2013. In the case of the medium-weight and heavy commercial vehicles over six tonnes, we expect a rise of 1 percent to a total of 148,000 units in the current year. We expect that the overall market, factoring in all weight classes, will grow this year by 2 percent to 264,000 units. We also see good future prospects: investments in transport infrastructure will stimulate the demand for commercial vehicles. The higher average age of the fleets will also lead to a growing need for replacement.

Market share of the German producers doubles in the segment over 15 tonnes

The German manufacturers have further extended their presence in Russia in recent years. Since 2007, we have doubled our market share: every eighth truck in the heavy duty segment over 15 tonnes today bears a German badge. This is all the more impressive if we consider that Russia has traditionally been a market with strong domestic brands. The market share of German manufacturers stood at 12.6 percent in 2012 - with a total volume in this segment of 112,000 vehicles. In 2007, the share was still under 6 percent. This does not include the market shares of Russian manufacturers in which German commercial vehicle groups have invested. It is important for us to point out that we expect a great deal from these partnerships in the future.

We note a growing interest in Russia in German technology. Russia is marked by particular climatic circumstances and particular conditions. The German manufacturers lead in quality, longevity and also in efficiency. We are proud that the demanding Russian carriers are increasingly turning to German products.

Export value of German suppliers reaches a new high

It is remarkable that the German suppliers are also participating more in the positive developments. In 2012, the export value of parts and accessories rose again - by 16 percent - to 2.7 billion euros. In the last two years, the German suppliers already increased their export value to Russia - by an impressive 40 percent in 2011 and 70 percent in 2010. In the first six months of 2013, the suppliers increased their exports to Russia by 5 percent. They thus have a share of just under one third of the total value of exports to Russia in our sector.

Not a one-way street: Imports from Russia are growing rapidly

For its part, Russia is increasing in significance as an exporter. The value of cars, parts and accessories that are produced in Russia and exported to Germany rose in 2012 to over 51 million euros. This corresponds to a five-fold increase compared to the year 2000. In the past year alone, a rise of 22 percent was recorded, although naturally from a very low starting level. As different as the starting positions may be, the automobile trade between Germany and Russia is not a one-way street. Instead, both sides are profiting from the liberalization of the markets.

WTO accession: driving forward Russia's integration in the world economy

Just over one year ago, Russia took an important step in this direction: the country became a full member of the World Trade Organization (WTO). This sent out a clear signal for a permanent integration of Russia into the world economy. The European automobile industry trusts that Russia will embrace even more strongly the rules of international trade and align its industrial and trade policy accordingly.

An essential aspect of WTO membership is the equal treatment of domestic and foreign companies. Currently, however, unequal treatment exists that puts the importers at a disadvantage - in the form the recycling fee introduced just after WTO accession. We expect rectification of this matter. Russia should seize on the recycling of vehicles as an opportunity to establish a market-oriented recycling system. A recycling guarantee from the manufacturers and importers has also proved to be successful in the EU. The manufacturers would then take back end-of-life vehicles free of charge and guarantee environmentally responsible recycling. A state-imposed recycling fee on new vehicles would thus be unnecessary. At least it should be possible to choose between an appropriately low fee and a recycling guarantee. This would be a positive signal sent by Russia to its partners. Incidentally, in the establishment of a market-based recycling system there will also be considerable business opportunities for small and medium-sized Russian companies.

New regulations for customs clearance (TIR)

We are watching the latest developments in relation to TIR transits to and from Russia with concern. The plans of the Russian Federal Customs Service (FCS), according to which TIR transits on Russian territory will only take place with additional national security measures in the future, could lead to considerable distortions in international trade with Russia. Our companies - those which produce in their factories in Russia, and also those which exclusively engage in trade - would be considerably affected by such a change. It could lead to longer transit times, restrictions of security of supply, delivery dependability, planning predictability and not least cost increases.

Over many years, the TIR carnet has also established itself in Russia as an extremely successful and efficient customs procedure. It represents an important basis for the smooth exchange of goods with and through the Russian Federation. More than 1.5 million TIR transits are processed in this way every year in Russia. We therefore welcome the provisional postponement of the FCS plans - initially until 14 September - and trust that a solution in accordance with the TIR Convention can be agreed on as soon as possible.

Anti-dumping tariffs for light commercial vehicles

Since 15 June 2013, imports from Germany to the Eurasian Customs Union (Russia, Belarus and Kazakhstan) of light commercial vehicles with diesel drives and a total weight of between 2.8 and 3.5 tonnes have incurred an additional tariff of up to 29.6 percent. From the point of view of the German automobile industry, the conditions required for an anti-dumping duty are not satisfied.

In 2012, Russia was among the ten most important export countries for light commercial vehicles from German factories. The customs duty may, of course, have a negative effect on the development of German exports of light commercial vehicles in the further course of the year.

A speedy withdrawal of the measure is important in order that trade can continue to develop fairly. Free and reliable trade will ultimately be of benefit to both production locations, as much to Russia as to Germany.

VDA QMC in Moscow training Russian staff from over 70 companies

The VDA is underlining its keen interest in the Russian market with extensive activities in the country. For example, the VDA Quality Management Center has been making a decisive contribution to improving the quality of products and processes in the Russian supply industry. Four years ago, the VDA established an office of its Quality Management Center (VDA QMC) in Moscow, which began its work at the start of 2009. In order to meet Russian requirements, the German manufacturers and suppliers have increased their share of domestic suppliers. This brings with it the crucial challenge that these suppliers have to be able to satisfy the high international quality requirements of the German manufacturers and suppliers. To enable these companies to do so, staff will be trained at the VDA QMC according to the approved quality standards and guidelines. Our motto here is: "Premium quality - not only in the premium segment". In 2013, the VDA QMC will train around 900 Russian-speaking quality management experts. The content will cover quality management systems, quality management methods and the knowledge of practical quality management tools. The VDA QMC clients number more than 70 companies, including German firms but also many Russian suppliers and manufacturers.
Press releases you might also be interested in
Weitere Informationen zum Thema "Fahrzeugbau / Automotive":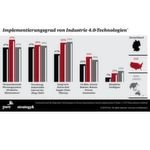 Digitale Transformation hat in Deutschland noch langen Weg vor sich
Ei­ne PwC St­ra­te­gy& Stu­die zeigt: Nur ein Pro­zent der deut­schen Un­ter­neh­men sind di­gi­tal be­son­ders her­aus­ra­gend. Un­ter­neh­men in Asi­en und Ame­ri­ka hän­gen Deut­sch­land bei der Im­p­le­men­tie­rung neu­er Tech­no­lo­gi­en und di­gi­ta­ler Öko­sys­te­me ab. Im­mer­hin soll der Um­satz­an­teil di­gi­ta­ler so­wie di­gi­tal er­wei­ter­ter Pro­duk­te in Deut­sch­land laut der Stu­die von ak­tu­ell 16 Pro­zent auf 22 Pro­zent im Jahr 2023 stei­gen.
Weiterlesen