Veeda Oncology Selects TrialWorks(r) by ClinPhone to Further Strengthen Clinical Trial Management Capabilities
Nottingham UK

, (PresseBox) -
ClinPhone, the world's largest Clinical Technology Organization (CTO), announces that Veeda Oncology, a specialist CRO, has selected TrialWorks(r) by ClinPhone to further strengthen its clinical trial management capabilities.

Veeda Oncology (www.veedaoncology.com), a subsidiary of Veeda Clinical Research, will implement TrialWorks(r) across its four major sites in India, France, Germany and the USA, providing international team members with real-time, immediate access to the company's clinical trial management data and reports.

Speaking about the selection of TrialWorks(r), Kathy Squillace, Vice President of Global Clinical Operations at Veeda Oncology, stated, "One of our primary goals when establishing Veeda Oncology was to ensure we had a state-of-the-art infrastructure in place to effectively track, manage and report on our clinical data globally. Because our sites are spread geographically, we needed a web-based system that was intuitive and easy to use, while still offering robust functionality.

TrialWorks(r) emerged as the leader for us in this regard."

Veeda Oncology had initially approached ten vendors, of which three matched their full user requirements. As well as the competitive price, it was the user interface and monitoring module that appealed to Veeda Oncology and ultimately led to their selection of TrialWorks(r). The monitoring module permits monitors to upload data remotely and produce monitoring reports in Microsoft(r) Word format. TrialWorks(r), which is a web-based hosted or licensed solution, has strong functionality and is well-known for being very user-friendly and intuitive.

Squillace also added, "We're confident that TrialWorks(r) will not only save time for our monitors and site personnel, but will also provide significant support to our project managers, particularly in areas such as the tracking and management of investigator payments."

TrialWorks(r) is a powerful, user-friendly application designed to track, manage and report on virtually all day-to-day study management information. TrialWorks(r) provides comprehensive trial management data, ranging from high-level consolidated metrics for senior managers to meaningful, drill-down reports to support project teams. The underlying relational database allows information to be grouped and filtered at various levels including trial, country and site/investigator.

Ian Jennings, Senior Vice President of Business Development at ClinPhone commented, "TrialWorks(r) is a proven solution and has been used for thousands of trials by companies around the world. By implementing TrialWorks(r) across Veeda Oncology sites and providing unrivaled customer service and support, we aim to offer the benefits of easier, faster and more efficient clinical trial management."

For further information on ClinPhone's clinical trial technology solutions, please visit www.clinphone.com, or alternatively e-mail info@clinphone.com.


About ClinPhone

ClinPhone plc is the world's largest Clinical Technology Organization (CTO) with an unrivaled track record of innovation in the development of clinical trial technology. Headquartered in Nottingham UK with offices around the world, ClinPhone works with leading global biotechnology organizations, pharmaceutical companies and Contract Research Organizations (CROs).

ClinPhone is the largest and most accomplished CTO with experience in over 2,000 clinical trials spanning 88 countries and 71 languages. The Company's experience includes Phase I to Phase IV studies, ranging from single center studies with 20 patients to "mega trials" with over 40,000 patients.

ClinPhone's product portfolio, consisting of software and services, is backed by continuous research and investment in the latest technologies, coupled with extensive in-depth clinical industry experience. Its industry-leading software solutions include electronic data capture (EDC) and clinical trial management systems (CTMS), which can be licensed or implemented as hosted solutions. Delivered via its renowned Interactive Voice Response (IVR) and Interactive Web Response (IWR) platform, ClinPhone offers randomization, trial supply management, trial supply simulation, electronic patient reported outcomes (ePRO), and patient recruitment solutions.

ClinPhone's products can integrate, taking the pain out of juggling and managing multiple sources of disparate information. This approach provides more control over data, improves data integrity and streamlines the data validation process.

For further press information contact: Fiona Robinson, The Scott Partnership, 1 Whiteside, Station Road, Holmes Chapel, Cheshire CW4 8AA, United Kingdom Tel: + 44 1477 539539. Fax: +44 1477 539540 E:clinphone@scottpr.com
Veeda Oncology
Veeda Oncology (www.veedaoncology.com) is a global oncology CRO that provides oncology clinical research services internationally for the pharmaceutical and biotech industries. Veeda Oncology has operations in India, Western Europe, Eastern Europe and the United States. Recently, the company acquired Biologie et Industrie, an oncology CRO based in Paris that has over 20 years of experience in solid tumor and hematology studies.

Veeda Oncology is a full service CRO for Phase I through Phase IV studies with the unique capability of providing rapid and strong global patient accrual with an effective cost structure. Because of their geographic locations, the company is able to provide access to numerous clinical sites throughout the world resulting in greater access to patients with cancer and decreased time to study completion.

Veeda Oncology is a subsidiary of Veeda Clinical Research (Veeda CR) which is a Phase I organization with top class clinical pharmacology units in the UK, Europe and India. Veeda CR has dedicated clinical pathology, bioanalysis, biomarker and immunogenicity laboratory services which are Good Laboratory Practices (GLP) accredited and has access to an extensive database of volunteers.
Press releases you might also be interested in
Weitere Informationen zum Thema "Forschung und Entwicklung":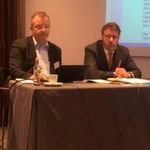 Bundesverband Künstliche Intelligenz will KI-Einsatz voranbringen
Sprach­rohr der KI-Bran­che soll der neue Bun­des­ver­band Künst­li­che In­tel­li­genz sein, der am Mit­te März von 24 Un­ter­neh­men ge­grün­det wur­de. Zu den Zie­len ge­hört För­de­rung ei­nes Men­schen-zen­trier­ten und Men­schen-di­en­li­chen Ein­sat­zes von KI-Tech­no­lo­gi­en.
Weiterlesen