Tyan Yellow River Series Products / The New Era of Cloud Computing
TYAN also showcases a complete array of platforms that supporting Six-Core AMD / Opteron(TM) Processors and Intel® Xeon® 5500 processors at Computex 2009
Taipei, Taiwan

, (PresseBox) -
TYAN announced its new Yellow River (YR) series products during the Computex 2009 (booth # M112). TYAN YR series is featured with high computing density along with superior server ingredients targeting at both enterprise and IPDC applications. TYAN also showcases the latest platforms supporting the new Six-Core AMD Opteron(TM) processors (codename: Istanbul) and the Intel® Xeon® 5500 processors (codename: Nehalem) at Computex.

TYAN YR series brings in the new era for cloud computing. It easily doubles the computing power within the same rack space compared to traditional implementation. Other than density, TYAN YR provides much superior designs that perfectly match the IT requirement such as serviceability, expandability, manageability, and dedicate power per node. The Light-weight design of YR170 was also awarded by major OEM and deployed in Japan market.

TYAN showcases 4 different YR products at Computex 2009 which target at different application segments. YR170-B520M is the lowest power-consuming server platform in the world, which is perfect to IPDC environment; YR188-B537M consumes averagely 150W in most of enterprise applications, which is great for enterprises with good cost advantage; YR190-B7018 and YR290-B7018 are both dual-socket platform with different in-place expandability, which can easily take over traditional 1U/2U dual-socket platforms in enterprises and IPDCs.

"The flexible management, easier availability, good resource allocation with lower cost becomes the major platform selection criteria for IT users" said Albert Mu, GM of Enterprise Business Unit of MiTAC International Corporation. "The new TYAN YR series products fit in different roles in IT environment, especially for cloud computing. The simplified management, dynamic resource allocation and consolidated system brings the best features and benefits for all users. It is new era for IT industry."

Besides of the newly introduced YR series platforms, TYAN also showcases 7 platforms supporting Intel® Xeon® 5500 series processors (codename: Nehalem) at Computex 2009 (booth # M112). TYAN S7025, the latest launched TYAN Nehalem platform, supports (2) Intel® Xeon® 5500 series processors and up 64GB R-DDR3 memory. The beauty of the platform is it provides total (7) PCI-E/PCI expansion slots, which include (4) true PCI-E Gen.2 x16 slots, support up to (4) PCI-E Gen.2 x16, double-deck GPU adapters for GPU HPC requirement. TYAN S7025 will be in mass production stage in late June. The other 6 TYAN solutions are all shipping now.

Furthermore, there are also 17 TYAN current products and 2 new platforms support the new Six-Core AMD Opteron(TM) processors (codename: Istanbul) and will be mass production in late June. Customers can achieve superior performance, lower power consumption and lower cost by upgrading to TYAN platforms powered by the enhanced Six-Core AMD Opteron(TM) processors built on 45nm technology. TYAN platforms supporting previously launched Quad-Core AMD Opteron(TM) processors (codename: Shanghai) can be easily upgraded to the new technology by a simple, painless BIOS update.

There are two live platforms, GT20-B7002 (Intel 1U) and TA26-B2932-SI (AMD 2U), demonstrating latest Microsoft® Windows® technology in TYAN booth as well. For more detail, please come to visit TYAN at Computex 2009 or log on TYAN website: www.tyan.com

About MiTAC

MiTAC Group (TSE:2315) operating IDMS?Innovation, Design, Manufacture, Service?business approaches for offering consolidate service to customers and users. MiTAC Groups is consisted of four important business unit, including CSBU (Consumer system Biz Unit), ESBU (Enterprise system Biz Unit), MBU (Mobil Communication Devices Biz Unit) and TBU (TYAN Business Unit). TYAN officially merged by MiTAC International Corporation in 2007 and has become one of the core business units of MiTAC, named TBU (TYAN Business Unit). MiTAC is heading to server platforms and Storage device industry with emerging MiTAC strength in IT industry with R&D, engineering, manufacturing, supplying chain, RMA and TYAN strength in R&D in high end server territory.
Tyan Computer GmbH
TYAN as a leading server brand under MiTAC Group, designs, manufactures and markets advanced x86 and x86-64 server/workstation board technology platforms and server solution products. Its products are sold to OEMs, VARs, System Integrators, and Resellers worldwide for a wide range of applications. TYAN enables its customers to be technology leaders by providing scalable, highly-integrated, reliable products for a wide range of applications such as server appliances and solutions for high-performance computing, and server/workstation usage in markets such as CAD, DCC, E&P and HPC.

For more information, visit
MiTAC website at http://www.mitac.com
TYAN brand website at http://www.tyan.com

Press releases you might also be interested in
Weitere Informationen zum Thema "Hardware":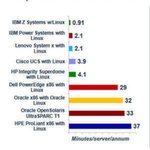 Höchste Zuverlässigkeit bei IBM und Lenovo, schlechteste Werte bei Oracle und HPE
All­jähr­lich be­fragt In­for­ma­ti­on Tech­no­lo­gy In­tel­li­gen­ce Con­sul­ting Corp. (ITIC) 800 Or­ga­ni­sa­tio­nen welt­weit zur Zu­ver­läs­sig­keit ih­rer Ser­ver und Ser­ver-Be­triebs­sys­te­me. Um mög­lichst un­vor­ein­ge­nom­me­ne Er­geb­nis­se zu prä­sen­tie­ren zu kön­nen, ak­zep­tiert das Un­ter­neh­men kein Spon­so­ring von An­bie­tern. Auch im Re­port 2017/2018 lie­gen IBM und Le­no­vo vor­ne – zum zehn­ten Mal hin­te­r­ein­an­der – Or­a­c­le und "HPE Pro­li­an­t" nicht.
Weiterlesen