TYAN announces the flexBLADE™ Technical Workgroup Computing Platform
Fremont, CA & Taipei, Taiwan

, (PresseBox) -
TYAN today announced the release of its versatile flexBLADE™ technical workgroup computing platform based on AMD Opteron™ processors.

flexBLADE platform is a multi-purpose built, stand alone solution targeting the computational needs of technical workgroups, research and development teams and SMB customers throughout the High Performance Computing market.

TYAN flexBLADE delivers a dedicated computational platform with multiple configuration options in a self contained form factor. The flexBLADE can be utilized as an individual desk-side cluster or departmental resource or easily rack mounted and scaled out as an HPC solution. "The flexBLADE meets the computational, networking and storage requirements of many individuals and workgroups in one platform that is compact, quiet, cool and energy efficient", said Leo Yuan, President & General Manager of Scalable Servers Corporation.

Capable of a wide range of configurations, the versatile flexBLADE is comprised of a single chassis form factor with up to 5 dual socket blades, configurable as a cluster, SMP, hybrid-combination or small server farm. Supporting the full range Next Generation AMD Opteron processors, the platform can scale from a cool and quiet, low power 1500 watt departmental solution, up to a robustly configured 3000 watt compute powerhouse. The flexBLADE also supports scaling out beyond standard dual socket to quad socket SMP, FAT NODE, configurations with ample memory support (16 DIMM slots per node, or 80 total DIMM Slots per chassis), storage (up to 10-2.5" and 14-3.5" disks), and a PCIe x16 slot per blade which allows multiple graphics heads per platform. Built-in networking includes 10 or 20 Gigabit InfiniBand, 10 Gigabit and 1 Gigabit Ethernet with full system management that allows the flexBLADE platform a wide range of configurations to match performance and cost requirements.

flexBlade™ will be available through strategic OEM and System Integrator partners in the coming months.
Tyan Computer GmbH
Tyan as a leading server brand under Mitac Group, designs, manufactures and markets advanced x86 and x86-64 server/workstation board technology platforms and server solution products. Its products are sold to OEMs, VARs, System Integrators, and Resellers worldwide for a wide range of applications. Tyan enables its customers to be technology leaders by providing scalable, highly-integrated, reliable products for a wide range of applications such as server appliances and solutions for high-performance computing, and server/workstation usage in markets such as CAD, DCC, E&P and HPC.

For more information, visit

MiTAC website at http://www.mitac.com TYAN brand website at http://www.tyan.com
Press releases you might also be interested in
Weitere Informationen zum Thema "Hardware":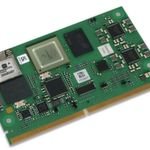 Erste ARM-i.MX8-CPUs auf SMARC 2.0 und Qseven
Die neue ARM-Tech­no­lo­gie ist ein­satz­be­reit. Zeit­g­leich zur Markt­ein­füh­rung der i.MX8-CPU-Fa­mi­lie von NXP prä­sen­tiert MSC sein ers­tes SMARC-2.0-Mo­dul mit echt­zeit­fähi­gem i.MX8M-Pro­zes­sor auf der em­bed­ded world.
Weiterlesen