Tufin Technologies Survey Reveals Most Organizations Believe Their Change Management Processes Could Lead to a Network Security Breach
93% of the Respondents Conduct Firewall Audits Manually; 60% Cited Lack of Time is the Weakest Link in Network Security; Reported Cheating on Audits Has Doubled Since 2010
Ramat Gan, Israel

, (PresseBox) -
Tufin Technologies, the market-leading provider of Security Lifecycle Management solutions, has found that 75% of organizations believe their current change management processes could put them at risk of a security breach. Having sampled 100 network security professionals directly involved in firewall management and auditing, this year's survey reveals that manual processes - and the time constraints they create - are the biggest challenge facing today's network security professionals.

Despite confirmation that regulatory and corporate compliance requirements such as SOX, PCI DSS and ISO 27001 are driving security operations, only 7% of the sample automates the firewall audit process. As a result, 40% of organizations spend up to a month or more a year on firewall audits. With 85% of respondents reporting that up to 50% of firewall rule changes require modification because they were not designed correctly, it comes as no surprise that 67% believe their change management processes put them at risk of a breach.

"This year's survey reveals that, more than budget constraints or any other factor, time is the security manager's most precious resource," said Shaul Efraim, vice president of Marketing and Business Development, Tufin Technologies. "We were surprised to learn that half the sample is still doing basic tasks manually such as tightening up permissive rules, looking for shadowed rules or recertifying rules. There is no benefit to having experienced administrators spend their days searching for needles in haystacks. Automating these tasks saves a significant amount of time and money, dramatically increases the accuracy and efficiency of operations, and improves the organization's overall network security posture. And, with 86% of the sample managing or planning to manage Next Generation Firewalls in the next 12 months, the time to do it is now."

Perhaps the greatest indicator that the problem is reaching critical mass is that 22% of the sample knew of someone that cheated on an audit, citing lack of time as the main reason - up from 10% in Tufin's April 2010 survey. Also disturbing is how many organizations don't audit their firewalls at all - almost a quarter of the sample (23%) has never conducted a firewall audit.

The survey also unearthed interesting trends across all three components of Security Lifecycle Management: Firewall Operations, Risk Management and Compliance, and Security Change Automation. Highlights include:

Firewall Operations/Risk Management/Compliance

- In addition to those network security managers that don't perform firewall audits, 11% have no idea how much time it takes to conduct one.
- 84% of the sample either has no way of knowing when a firewall rule needs to be recertified or decommissioned (41%), or manages the process manually (43%.)
- Almost half the sample - 47% - locates redundant or overlapping rules manually; almost 20% have no way of locating them at all.
- While the number one reason for cheating on audits was lack of time, it was followed with two other reasons: that the parameters of the audit were irrelevant to the business (30%), and concerns that the network security the team would look bad (also 30%.)

Security Change Automation:

- 28% reported that it takes them on average, several hours to several days to design a firewall rule change.
- Despite the time spent crafting rule changes, 85% reported that up to 50% of firewall rule changes require modification later on because they were not designed correctly.
- 66% of the sample felt their change management processes do or could place the organization at risk of a breach. The main reasons cited were lack of formal processes (56%), followed by manual processes with too many steps or people in the process (29%).

"Despite our success, this survey reveals the maturity curve for Security Lifecycle Management is still on the upswing," said Mr. Efraim. "Without process automation, auditing network security systems - especially as organizations continue to use more firewalls in virtualized environments and embrace Next Generation firewalls - is simply not possible. 60% of the sample cited lack of time as the weakest link in their network security. If that is not business justification for automating fundamental but time consuming, error prone, network security processes, then what is?"

Tufin's firewall management survey was executed online via Survey Monkey, and sampled 100 administrators worldwide from companies ranging from less than 500 people (40%) to more than 5,000 (30%) in a wide range of verticals including telecommunications, financial services, energy, pharmaceuticals, and transportation.
Tufin Technologies
Tufin(TM) is the leading provider of Security Lifecycle Management solutions that enable companies to cost-effectively manage their network security policy, comply with regulatory standards, and minimize IT risk. With the award-winning Tufin Security Suite, security teams are successfully managing firewall operations and performing audits and risk assessments - in half the time. Founded in 2005 by leading firewall and business systems experts, Tufin serves more than 800 customers in industries from telecom and financial services to energy, transportation and pharmaceuticals. Tufin partners with leading vendors including Check Point, Cisco, Juniper Networks, Palo Alto Networks, Fortinet, F5, Blue Coat, McAfee and BMC Software, and is known for technological innovation and dedicated customer service.

For more information visit www.tufin.com, or follow Tufin on:
- Twitter: http://twitter.com/TufinTech
- Facebook: http://www.facebook.com/...
- LinkedIn: http://www.linkedin.com/...
- YouTube: http://www.youtube.com/...
- The Tufin Blog: http://www.tufin.com/blog

Press releases you might also be interested in
Weitere Informationen zum Thema "Sicherheit":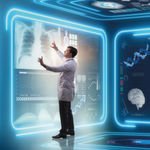 Safety, Security und Privacy in der Medizintechnik
Di­gi­ta­li­sie­rung ist der nächs­te gro­ße Trend im Ge­sund­heits­we­sen. Ver­netz­te Me­di­zin­ge­rä­te müs­sen da­bei den­noch si­cher blei­ben, vor Da­ten­klau und Ma­ni­pu­la­ti­on. Ex­per­ten sind sich ei­nig: Un­ter­neh­men müs­sen deut­lich mehr Zeit und Geld in den Schutz der Sys­te­me und der Pa­ti­en­ten­da­ten in­ves­tie­ren um Da­ten­si­cher­heit und DSG­VO-Com­p­li­an­ce si­cher­s­tel­len zu kön­nen.
Weiterlesen