Trafficland LLC have successfully completed an OTA-campaign for "NTC" in Primorye region, Russian Federation
Moscow

, (PresseBox) -
The United Primorye Brach of OJSC "VimpelCom" ("Beeline" and "NTC" brands) and Trafficland LLC - the leading Russian software house exclusively focusing on development of OTA-platforms for remote (over-the-network) management of SIM, USIM and R-UIM cards announce that OTA-campaign aimed for remote renewal of "New Telephone Company" ("NTC") cards' IMSI value and migration to the unified billing have been successfully completed.

The joint working group consisting of both companies' experts have spent several months to prepare and execute all the activities necessary to change the network code (IMSI) and other parameters of the targeted "NTC" subscribers' SIM-cards in order to migrate them to the network code of "VimpelCom" ("Beeline" brand) that have been completed in September 2013. Thanks to an innovative solution called Trafficland WiTS™ introduced to the "NTC" network, 95% of subscribers were spared from visiting of the "NTC" sales offices, and the MNO - from the need to re-issue a huge number of new SIM-cards. Notwithstanding the OTA update of network code (IMSI) is a very complex operation requiring precise synchronization with the billing and other network systems, all activities have been performed as planned.

According to Alexander Tepliakov, director of the United Primorye Brach of OJSC "VimpelCom": "When we were preparing for the OTA campaign, an important final step of integration of the "NTC" network with "Beeline", we have focused on achieving of the maximum convenience for our customers, that is, to carry out all necessary works unnoticed by mobile subscribers. Therefore, our preference was given to Trafficland LLC - the owner and operator of the highly reliable OTA-solution optimized for the remote update of the IMSI value and having an extensive practical experience in this kind of OTA-campaigns. Now that all our subscribers were successfully migrated to the "Beeline" network without the need to physically replace their SIM-cards, I can only confirm that our choice was the optimal".

"We are very pleased to resume our mutually beneficial cooperation with "VimpelCom". By providing of the most advanced Trafficland solution, which is unique in the world, we had no doubt about the success of this OTA-campaign. We use our state-of-the-art technology and expertise to help our partners to become undisputed market leaders. I sincerely hope that this project will not be the last in the history of our cooperation", - noted in his turn Vadim Kobeletskiy, the general director of Trafficland LLC.

VimpelCom is one of the world's largest integrated telecommunications services operators providing voice and data services through a range of traditional and broadband mobile and fixed technologies in Russia, Italy, Ukraine, Kazakhstan, Uzbekistan, Tajikistan, Armenia, Georgia, Kyrgyzstan, Laos, Algeria, Bangladesh, Pakistan, Burundi, Zimbabwe, Central African Republic and Canada. VimpelCom's operations around the globe cover territory with a total population of approximately 753 million people. VimpelCom provides services under the "Beeline", "Kyivstar", "djuice", "WIND", "Infostrada" "Mobilink", "Leo", "banglalink", "Telecel", and "Djezzy" brands. As of June 30, 2013 VimpelCom had 215 million mobile subscribers on a combined basis. VimpelCom is traded on the NASDAQ Global Select Market under the symbol (VIP). For more information visit: http://www.vimpelcom.com
Trafficland Ltd.
Trafficland LLC (www.trafficland.ru) - Russian company, a leading developer and supplier of OTA-solutions for mobile telecommunications. The company offers a range of innovative technologies and services for remote management of subscribers' smart cards (SIM, USIM and RUIM), remote management of mobile terminals, roaming management and many others.
Press releases you might also be interested in
Weitere Informationen zum Thema "Kommunikation":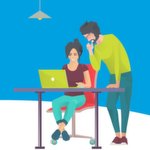 Büroarbeiter bleiben Desktop treu
Als Aus­rüs­ter di­gi­ta­ler Ar­beits­plät­ze hat Ci­trix of­fen­bar noch ei­ni­ges zu tun. Mit jetzt ver­öf­f­ent­lich­ten Um­fra­ge­er­geb­nis­sen legt der An­bie­ter näm­lich na­he: Noch im­mer fehlt es Un­ter­neh­men an der tech­ni­schen Aus­stat­tung für neue For­men des Ar­bei­tens.
Weiterlesen