Ore for Duisburg blast furnaces
World's largest ore freighter completes its 200th journey
Duisburg

, (PresseBox) -
Each day around 45,000 tons of iron ore from Brazil, Canada, Sweden and elsewhere are delivered to ThyssenKrupp Steel in Duisburg. Alongside coal, around 17,000 tons of which arrive in Duisburg daily, iron ore is the most important raw material for the production of pig iron.

Around two thirds of the iron ore used at ThyssenKrupp Steel comes from Brazil, and a significant proportion of it is shipped in the biggest bulk carrier in the world, the MS Berge Stahl, from the Marítimo de Ponta da Madeira terminal of mining company Vale in Brazil (formerly CVRD) to Europoort/Rotterdam in the Netherlands. From there the ore is transported by barge up the Rhine to Duisburg.

The roughly twenty-strong crew of the super-freighter have reason to celebrate today: Together with representatives of ThyssenKrupp Steel, the shipping company Bergesen Worldwide Gas ASA, Vale and the Dutch company ThyssenKrupp Veerhaven B.V. as agents, who organize the operations of the Berge Stahl, as well as employees of the ore terminal Ertsoverslagbedrijf Europoort C.V. (EECV), who unload the cargo, the team is celebrating a special anniversary: The Berge Stahl has completed its two hundredth journey from Brazil to the Netherlands. It makes at least ten such journeys each year. Since the ship entered service in 1986 it has carried around 71 million tons of ore for ThyssenKrupp Steel and Hüttenwerke Krupp Mannesmann. The ship was built specially for the freight contract, which covers practically its whole lifetime.

A journey like this represents a huge logistical challenge: After around 36 hours of loading in the Brazilian port, the 342 meter long ship, which sails under Norwegian flag, sets sail. Even getting out of the port requires great seafaring skill: the Berge Stahl, with a width of 63.5 meters, can only reach the open sea through a narrow channel at high tide, otherwise with its draft of over 23 meters and a cargo capacity of around 360,000 tons - enough iron ore to make 400,000 car bodies - it would run aground. Fully laden, the Berge Stahl takes roughly fourteen days to reach Rotterdam. A 14.5 meter high MAN B&W L90MCE diesel engine producing 20,300 kilowatts drives the ship via a nine meter diameter five-blade propeller. Before reaching Cherbourg the ship reduces speed to approach Rotterdam and 60 kilometers before the port pilots take control as three tugs assist in the difficult entry into the port on the Maas estuary. The dedicated channel in Europoort is 24 meters deep and the time window to enter at high tide is only around 20 minutes. With the ship fully laden, the distance from keel to harbor bed is often only one meter.

As soon as the Berge Stahl is tied up on the 1,100 meter long quay of the Ertsoverslagbedrijf EECV terminal, unloading begins: The five separate holds are emptied via 10 hatches in a precisely defined sequence to maintain the stability of the freighter. At the same time ballast water is pumped in to compensate for removed weight. The precisely timed unloading operation lasts around 100 hours and is carried out by only a few, highly concentrated EECV employees. Up to three giant grab cranes, retrieving around 40 tons of ore from the hull in each grab, unload the ship in a round-the-clock operation: in view of the high charter rates and port charges, every minute is precious. The various ores - mainly fines and lump ores - are transferred on conveyors to stockyards. Before stackers set about stockpiling the ore according to grade, the weight of the cargo is measured on belt scales and representatives samples are taken in an automatic sampling system. Up to three millions tons of ore in more than 30 different grades can be stored in the EECV stockyards for the steel producers ThyssenKrupp Steel and Hüttenwerke Krupp Mannesmann in Duisburg. From Europoort/Rotterdam the ore then embarks on the final stage of its long journey: ThyssenKrupp Veerhaven, using seven company-owned and three chartered pusher boats and a total of around 100 push barges, ensures that the valuable material is available on call and on time for the Duisburg blast furnaces.

As soon as it has been emptied, the Berge Stahl sets off on its next great journey: However, thanks to its slightly lower weight it completes the return trip from Rotterdam to Brazil in only twelve days.

Ertsoverslagbedrijf Europoort C.V.

Ertsoverslagbedrijf Europoort C.V. (EECV), based in Europoort/Rotterdam/Netherlands, is a subsidiary of ThyssenKrupp Steel and Hüttenwerke Krupp Mannesmann. In the Europoort area of Rotterdam port it operates one of Europe's biggest and most modern bulk transshipment terminals. The deep-sea terminal opened in 1970. It uses the latest, eco-friendly equipment operating around the clock to unload ships with capacities of up to 360,000 tons, each year handling around 24 million tons of iron ore and additives needed for steel production. The 82 hectare EECV terminal also handles around 5 million tons of coal each year. With decades of experience, EECV provides round-the-clock unloading of sea ships, intermediate stockpiling, and loading into pusher barges and inland ships for further transportation to the German steel mills. The company employs around 280 people.

This press release is also available on the internet at www.thyssenkrupp-steel.de
thyssenkrupp Steel Europe AG
A ThyssenKrupp Steel subsidiary based in Brielle/Netherlands, ThyssenKrupp Veerhaven B.V. is a modern push-tow shipping company with a leading market position in the dry bulk sector on the Rhine. The company has around 170 employees and is organized in three departments. The Agency department is responsible for handling sea ships – like the Berge Stahl – and clears around 22 million tons of dry bulk cargo through customs each year. In its capacity as a shipping agent it handles 600 sea ships and coastal motor vessels. The Rhine Shipping department is responsible for coordinating the fleet and ensuring the transportation of ore and coal to the blast furnaces in Duisburg. The fleet consists of seven push boats, one harbor push boat, 68 pushed barges and two inspection boats, which are in operation around the clock seven days a week. The Nautical Technical Service department is responsible for maintaining the fleet, working closely with shipyards, engine manufacturers and other suppliers.
Press releases you might also be interested in
Weitere Informationen zum Thema "Intralogistik":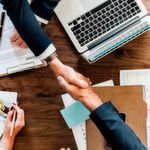 Deutsche Telekom und SAP schließen IoT-Partnerschaft
Die Deut­sche Te­le­kom und SAP bau­en ih­re Zu­sam­men­ar­beit wei­ter aus und wol­len sich künf­tig ge­mein­sam dem In­ter­net der Din­ge (IoT) für Lo­gis­tik in Echt­zeit wid­men.
Weiterlesen