Developers of control, automation and instrumentation applications can jumpstart designs with TI's new cost-efficient ARM® Cortex(TM) -M3-based Stellaris® MCU kits
Four kits give designers easy, fast access to the unparalleled connectivity and data efficiency of the fourth generation of Stellaris MCUs
Austin

, (PresseBox) -
The growing demand for advanced connectivity and complex control in industrial, consumer and medical applications requires high-performance, integrated microcontrollers (MCUs) coupled with solid tools and software. Addressing this need, Texas Instruments (TI) Incorporated (NYSE: TXN) today announced availability of four cost-efficient development kits supporting the fourth generation of its ARM Cortex-M3-based Stellaris MCUs. Starting at $99, the new kits allow developers to immediately begin their designs, leveraging the advanced connectivity, data efficiency and motion control features of the newest 32-bit Stellaris MCUs. Further simplifying development, each kit includes the comprehensive StellarisWare® Peripheral Driver Library, Graphics Library, USB Library and code examples. For more information, please visit www.ti.com/stellarispr.

Available today in distribution stock are two new evaluation kits, one development kit and one reference design kit. Each contains an 80 MHz Stellaris MCU with 256K flash, 96K SRAM, StellarisWare software in ROM, as well as integrated Ethernet, USB On-the-Go (OTG)/Host/Device and CAN. The kits provide everything needed to get a developer up and running in 10 minutes or less.

Stellaris® LM3S9B90 and LM3S9B92 Ethernet+USB-OTG Evaluation Kits features and benefits

- Both evaluation kits include two boards for a simple out-of-the-box experience: an In-Circuit Debug Interface board and the 36mm x 102mm EK-LM3S9B90 or EK-LM3S9B92 evaluation board
- For applications requiring power saving modes, the new 80 MHz LM3S9B90 MCU features a hibernation module for extended periods of inactivity
- For applications requiring more simultaneous access to peripherals and advanced motion control, the 80 MHz LM3S9B92 MCU features eight PWM outputs for motion and energy and two Quadrature Encoder Inputs (QEI) modules, along with options for maximal peripheral connectivity
- Integrated advanced connectivity peripherals including Ethernet 10/100 with two LED indicators and USB 2.0 Full-Speed OTG
- Standard size terminal headers for all MCU I/O for ease of prototyping
- Complete source code, documentation and a choice of evaluation tools from third party ARM tools vendors for simplified development
- Both evaluation kits (EKx-LM3S9B90 and EKx-LM3S9B92) are priced at $99 (USD). For more information or to purchase a kit, go to www.ti.com/lm3s9B90evalkits-pr or www.ti.com/lm3s9B92evalkits-pr

DK-LM3S9B96 Development Kit features and benefits

- Feature rich development platform with 3.5" landscape QVGA TFT color LCD graphics display and thumbwheel potentiometer for simple menu navigation
- SafeRTOS in ROM can be used as a standard operating system or as part of a high integrity application requiring IEC61508 or FDA510(k) certification
- Highly integrated 80 MHz Stellaris LM3S9B96 MCU
- Two External Peripheral Interface (EPI) daughter boards - one featuring 8MB SDR SDRAM memory and one featuring easy access to all 32 EPI pins
- Integrated Interchip Sound (I2S) Interface with an external audio codec and interface supporting line in/out, microphone in and headphone out
- MicroSD card slot, 1 MB of serial flash memory, precision 3V analog reference voltage
- StellarisWare software and evaluation tools from third party ARM tools vendors for simplified development
- The kit is priced at $425 (USD). For more information or to purchase a kit, go to www.ti.com/dk-lm3s9b96-pr

3.5-inch Landscape Single Board Computer Intelligent Display Reference Design Kit (RDK-IDM-SBC) features and benefits

- Cost- and form-factor-optimized example of a Human Machine Interface (HMI) touch display panel for embedded control devices
- Highly integrated 80 MHz Stellaris LM3S9B92 MCU in addition to extended board-level memories including 8MB SDRAM, 1MB Serial Flash, USB Host connector for external mass storage, and a MicroSD card slot for image, data and code storage
- 3.5-inch landscape-oriented QVGA 16-bit color LCD resistive touch panel display with white LED backlight
- Serial, digital and analog connectivity options including 10/100 Ethernet RJ45 Jack, USB 2.0 Type A connector, CAN through a terminal block interface, as well as UART and I2C through an expansion header
- I2S Audio codec with power amplifier to drive an external 8 ohm speaker
- The kit is priced at $299 (USD). For more information or to purchase a kit, go to www.ti.com/rdk-idm-sbc-pr

TI's broad portfolio of MCUs and software

From general purpose, ultra-low power MSP430 MCUs, to high performance, real-time control TMS320C2000(TM) MCUs - and now Cortex-M3-based 32-bit MCUs - TI offers the broadest range of embedded control solutions. Designers can accelerate designs to market by tapping into TI's complete software and hardware tools, extensive third-party offerings and technical support.

Availability

All kits are now in stock at Digi-Key and Mouser.

Find out more about TI's Stellaris MCUs by visiting the links below:

- Stellaris MCUs - www.ti.com/stellarispr
- StellarisWare Software - www.ti.com/stellariswarepr
- TI's microcontrollers: www.ti.com/mcupr
- Follow TI on Twitter: www.ti.com/txinstrumentsstellarispr
Texas Instruments Deutschland GmbH
Texas Instruments (NYSE: TXN) helps customers solve problems and develop new electronics that make the world smarter, healthier, safer, greener and more fun. A global semiconductor company, TI innovates through design, sales and manufacturing operations in more than 30 countries. For more information, go to www.ti.com.




Press releases you might also be interested in
Weitere Informationen zum Thema "Hardware":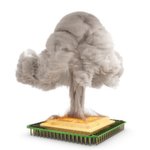 Kernschmelze der CPU-Sicherheit
Bis­lang sind zwar kei­ne kon­k­re­ten Fäl­le nach­ge­wie­sen, bei de­nen die Schwach­s­tel­len au­ßer­halb der for­schen­den Com­muni­ty aus­ge­nutzt wur­den, aber die be­kannt ge­wor­de­nen CPU-Si­cher­heits­lü­cken ver­un­si­chern ei­ne gan­ze Bran­che. So wie es aus­sieht, ist ein Pra­xis­nach­weis gar nicht mög­lich.
Weiterlesen