Cost-sensitive embedded control applications become more reliable, intelligent with TI's newest Piccolo(TM) MCUs featuring the Control Law Accelerator
Control Law Accelerator delivers up to 5X performance to improve functionality and efficiency of applications such as LED lighting, motor control and digital power
Houston

, (PresseBox) -
Driving development of more reliable, efficient embedded control applications, Texas Instruments (TI) (NYSE: TXN) today announced the new TMS320F2803x Piccolo microcontrollers (MCUs) featuring the Control Law Accelerator (CLA). Unique to TI's F2803x Piccolo MCUs, the CLA is a 32-bit floating-point math accelerator that operates independently of the C28x core, allowing for direct access to on-chip peripherals and parallel execution of algorithms. The new MCUs are based on an enhanced tightly coupled control architecture with integrated real-time control peripherals to simplify development of complex systems. Leveraging the performance and integration of the F2803x series, developers can use a single MCU to design cost-sensitive industrial, digital power and consumer applications such as LED lighting and white goods/appliances. For more information, please visit www.ti.com/piccolopr.

The F2803x MCUs are an extension to TI's Piccolo series and are 100 percent code compatible across the TMS320C2000(TM) MCU platform. With more than 30 Piccolo configurations available, developers have a broad range of performance, flash and control-oriented peripheral options to meet the varying demands of cost-sensitive, real-time control applications. Developers can accelerate time to market by leveraging TI's complete analog portfolio, free software libraries, low cost hardware tools and technical support.

F2803x Piccolo MCU key features and benefits

- 60 MHz C28x core and 60 MHz CLA provide performance necessary to execute complex control algorithms with a single Piccolo MCU
- Flexible control peripherals such as high-resolution PWMs, high-speed 12-bit ADC and 32-bit captures reduce sample-to-output delay and improve system response
- 32-bit Control Law Accelerator
- Direct access to on-chip control peripherals for parallel execution of algorithms
- Fully programmable IEEE floating-point unit reduces scaling and saturation burden
- Operates independently of the C28x core for efficient software partitioning
- Wide range of F2803x configurations provides flexibility to scale designs: 64KB to 128KB flash, 64-pin/80-pin packages, 1050C and 1250C
- High-efficiency power management reference designs for Piccolo MCUs are available at www.ti.com/f2803xpower-pr

Pricing and availability

The F2802x Piccolo MCUs start at sub $2.00 in volume, and the F2803x Piccolo MCUs start at sub $3.00 in volume. The TMX320F28035 is the superset of the F2803x series and is sampling today. The F28035 controlCARD (TMDXCNCD28035) and F28035 Experimenter's Kit (TMDXDOCK28035) are also immediately available for order entry and are priced at $59 and $89, respectively. These tools build on TI's controlCARD concept, jumpstarting development through removable daughtercards with general and application-specific target boards.

Find out more about TI's F2803x Piccolo MCUs by visiting the links below:

- Piccolo MCUs: www.ti.com/piccolopr
- F28035 product folder: www.ti.com/f28035pr
- TI's microcontrollers: www.ti.com/mcupr
- MCU tools videos: www.ti.com/mcuvideospr
- TI digital power solutions: www.ti.com/digitalpowerpr
- TI E2E MCU community: www.ti.com/e2emcupr
- TI eStore: www.ti.com/estorepr
- TInergy: http://www.ti.com/tienergypr
- Power management reference designs: www.ti.com/f2803xpower-pr
- Follow TI on Twitter: www.ti.com/txinstrumentspicpr
Texas Instruments Deutschland GmbH
Texas Instruments (NYSE: TXN) helps customers solve problems and develop new electronics that make the world smarter, healthier, safer, greener and more fun. A global semiconductor company, TI innovates through design, sales and manufacturing operations in more than 30 countries. For more information, go to www.ti.com.

Trademarks

C2000 and Piccolo are trademarks of Texas Instruments. All other registered trademarks and trademarks belong to their respective owners.


Press releases you might also be interested in
Weitere Informationen zum Thema "Hardware":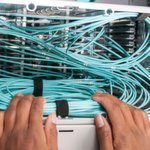 Warum sich ein Port-Breakout lohnt
Stei­gen­de An­for­de­run­gen an die Re­chen­zen­t­ren füh­ren zu höhe­ren Glas­fa­ser­ka­bel­dich­ten. Das führt zu Platz­pro­b­le­men, höhe­ren Kos­ten für Li­ne-Cards und Tr­ans­cei­ver so­wie ei­nem höhe­ren Strom­ver­brauch. Was tun?
Weiterlesen