Tektronix Introduces New Short-Reach and Long Haul 100/400G Optical Networking Test Solutions
New Offerings Provide Enhanced Capability for testing both Optical Network Components and Next Generation Coherent Modulation Formats / Visit Tektronix at ECOC: Stand 638/639, Hall N8-N10
Beaverton, Ore.

, (PresseBox) -
Tektronix, Inc., the world's leading manufacturer of oscilloscopes, today announced expanded testing support for both short range and long haul 100G optical network testing. Debuting at the European Conference on Optical Communications Sept. 23-26 in London are the 80C15 32GHz Multi-Mode Optical Sampling Module and the OM5110 46GBaud Multi-format Optical Transmitter, giving customers enhanced capability to test silicon photonic components, network elements and systems as well as the coherent modulation formats used in next generation optical fiber networks.

These introductions reflect the changing dynamics in the optical networking design and manufacturing market. High-speed optical networking is increasingly being used for short-reach data center applications creating a need for test equipment to support analysis of multi-mode, 850 & 1310nm signals found in 100Gb (4x25) Ethernet systems. For long haul applications, designers are turning to coherent modulation techniques to get the most from available fiber bandwidth, creating a need for test systems to help ensure optimum performance and low bit error rates using formats such as PM-QPSK, PM-16QAM.

"With the 80C15, Tektronix is responding to market needs for a highly accurate multi-mode short reach testing solution that can be used both in the lab and production environments," said Brian Reich, general manager Performance Oscilloscopes, Tektronix. "And to address the strong demand for more efficient long haul transmission over existing fiber, an instrument-grade optical transmitter such as the OM5110 will help researchers and designers gain a deeper understanding of coherent optical modulation methods."

Optical Short-Reach Testing

The new 32 GHz 80C15 multi-mode optical sampling module for use with DSA8300 Series Sampling Oscilloscopes provides high-fidelity acquisition of 850 and 1310 multi-mode signals. With a tightly controlled frequency response, it enables repeatable automated compliance testing for all of the short reach standards from 22 to 32 GHz.

The combination of a DSA8300 series mainframe and an 80C15 Multi-Mode Optical Sampling Module deliver ultra-low instrumentation noise and phase noise (jitter) for <100 fs RMS electrical and optical jitter measurements. It delivers the test margin needed to accurately measure the low power signals used in short reach applications. It also supports mask testing including mask margins based on standard specified hit ratios.

Long Haul Optical Network Testing

For long haul optical research and development applications, the OM5110 modulates all common formats including BPSK, PM- QPSK, and PM-16QAM up to 46GBaud with both fully automated and manual bias control of modulator and RF amplifiers giving users complete configurability and versatility. With the introduction of the OM5110, Tektronix becomes the only test and measurement vendor that can offer a complete coherent optical test system from signal generation, to modulation, acquisition, and analysis.

The OM5110 offers built-in C or L band lasers along with support for external lasers. Automatic bias control allows for quick setup and easy operation of the modulator while the manual bias control capability gives users the ability to take control of all bias voltages for testing specific scenarios. Included software provides control of all operating parameters via Ethernet, including laser power and bias control.

The OM5110, together with the AWG70001A 50GS/s Arbitrary Waveform Generator, the industry's fastest AWG, comprise a complete coherent optical signal generation system which is ideal for design of the most effective coherent modulation formats. By adding an optical modulation analyzer and oscilloscope, such as the OM4106D Coherent Lightwave Signal Analyzer and DPO73304DX Digital Phosphor Oscilloscope, customers have access to a complete, end-to-end coherent optical test system.

Pricing & Availability

The 80C15 will be available in early 2014 with prices starting at $55,000. The OM5110 will be available by the end of 2013 with prices starting at $120,000.

Wondering what else Tektronix is up to? Check out the Tektronix Bandwidth Banter blog and stay up to date on the latest news from Tektronix on Twitter and Facebook.

Tektronix is a registered trademark of Tektronix, Inc. All other trade names referenced are the service marks, trademarks or registered trademarks of their respective companies.
Tektronix GmbH
For more than sixty-five years, engineers have turned to Tektronix for test, measurement and monitoring solutions to solve design challenges, improve productivity and dramatically reduce time to market. Tektronix is a leading supplier of test equipment for engineers focused on electronic design, manufacturing, and advanced technology development. Headquartered in Beaverton, Oregon, Tektronix serves customers worldwide and offers award-winning service and support. Stay on the leading edge at www.tektronix.com.


Press releases you might also be interested in
Weitere Informationen zum Thema "Hardware":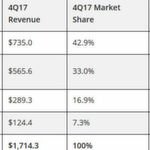 Umsatz konvergenter Systeme legt weltweit zu
Nach An­ga­ben der In­ter­na­tio­nal Da­ta Cor­po­ra­ti­on (IDC) ver­mel­de­te der "World­wi­de Quar­t­er­ly Con­ver­ged Sys­tems Tra­cker" für das vier­te Quar­tal 2017 ei­nen welt­wei­ten An­s­tieg der Um­sät­ze im Be­reich des kon­ver­gen­ten System­mark­tes um 9,1 Pro­zent. Hy­per­kon­ver­gen­te Sys­te­me out­per­for­men, an­de­re Teil­seg­men­te er­leb­ten Rück­gän­ge.
Weiterlesen