Tecan and Monash Antibody Technologies Facility join forces to produce the largest monoclonal antibody production facility in the Southern hemisphere
Tecan and the Monash Antibody Technologies Facility join forces to develop a new state-of-the-art monoclonal antibody production system capable of producing thousands of novel antibodies every year for researchers around the world
Crailsheim

, (PresseBox) -
Tecan, the leading provider of advanced automation and detection systems, and the Monash Antibody Technologies Facility (MATF) at Monash University, Australia, have announced a partnership to create one of the largest, most sophisticated monoclonal antibody production systems in the world today. Plans are already underway to develop the system, which will be based around multiple, integrated liquid handling workstations and will fully automate all the stages of the production process.

The importance of monoclonal antibody production is reflected by the breadth of use, which includes research applications, diagnostic applications and successful use as therapeutic agents. In the research world, the use of monoclonal antibodies has proven crucial to the understanding of a myriad of physiological processes, and has led to new approaches in the treatment of diseases with great unmet clinical need. In the medical world, they are currently used as diagnostic agents to detect cancers or infectious diseases; as vaccines to boost the body's immune response; and as therapeutics, to target cancerous cells or to decrease the body's own immune response in diseases such as rheumatoid arthritis and multiple sclerosis.

The MATF is one of the only high throughput production facilities in the world offering custom-made, high-affinity monoclonal antibodies. The new system will increase the production capacity at MATF from original estimates of 500 panels of novel antibodies a year to potentially 5,000, helping to alleviate the bottleneck of antibody supply experienced by many researchers working on protein function and physiological processes.

The new system, partially funded by the Victorian State Government and Monash University, National Collaborative Research Infrastructure Strategy and the Australian Stem Cell Centre, is the first major step towards an extensive assay development program planned for 2008, which will further strengthen Monash University's rising profile as a centre of excellence in the international medical research community.

Alan Sawyer, Director of MATF, who was instrumental in establishing a similar world-renowned facility for the European Molecular Biology Laboratory (EMBL), said: "Probably the main bottleneck in biomedical sciences right now is a lack of affinity reagents like antibodies - we wanted to remove that bottleneck and open up new ways for investigators and pharmaceutical companies to think about doing science. This is a colossal step towards accomplishing that." Deputy Director Michael Spiegel added: "Tecan's involvement on this project has far exceeded a simple supplier/client relationship. They have embraced this challenging project becoming a fundamental partner, contributing innovative project design, competent expertise and a flexible working attitude."

Carl Severinghaus, Senior Vice President at Tecan, said: "We are delighted to be co-developing this exciting new system with the MATF and look forward to working together on this as well as any future endeavours."

Tecan's team of experienced application specialists and engineers will build the new system at the company's headquarters in Männedorf, Switzerland, ready for installation at the MATF in April 2008.

About Monash University

Monash University seeks to improve the human condition by advancing knowledge and fostering creativity. It does so through research and education and a commitment to social justice, human rights and a sustainable environment. The Monash Antibody Technologies Facility (MATF) is part of The School of Biomedical Sciences, the largest of three research nodes in the Monash University Faculty of Medicine, Nursing & Health Sciences. It has over 400 researchers, 285 higher degree research students and a research income of $43.5 million, plus an additional $5.6 million to support training research students. Monash's 54,000 students study more than 160 undergraduate programs and over 500 postgraduate research and coursework programs across 10 faculties.

www.monash.edu.au
Tecan Deutschland GmbH
Tecan (www.tecan.com) is a leading global player in the Life Sciences supply industry specializing in the development, production, and distribution of advanced automation solutions enabling pharma and academic research, diagnostics, food and veterinary research as well as forensics. Through its REMP subsidiary (www.remp.com), Tecan is the leading supplier of compound and sample storage, management and logistics solutions. Tecan clients are pharmaceutical and biotechnology companies, university research departments and diagnostic laboratories. Founded in Switzerland in 1980, the company has manufacturing, research and development sites in both North America and Europe and maintains a sales and service network in 52 countries. In 2005, Tecan achieved sales of CHF 344.9 million (USD 275.9 Mio.; EUR 222.5 Mio.). Registered shares of Tecan Group are traded on the SWX Swiss Exchange (TK: TECN / Reuters: TECZn.S / Valor: 12100191).
Press releases you might also be interested in
Weitere Informationen zum Thema "Biotechnik":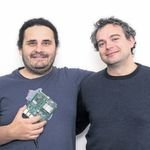 Diagnose mit der Intelligenz des Bauchgefühls
Ein Sound-Er­ken­nungs­sys­tem ana­ly­siert tech­ni­sche Pro­b­le­me bei Ma­schi­nen auf der Grund­la­ge von Be­triebs­ge­räu­schen und löst Alarm aus.
Weiterlesen