Systar to Deploy BusinessBridge Solution at The Clearing House
Business Activity Monitoring Platform Improves Operational Performance
ST. CLOUD, France and Vienna

, (PresseBox) -
Systar (ISIN: FR0000052854-SAR), a leading provider of performance management software, today announced it will implement its advanced Business Activity Monitoring platform at The Clearing House, the largest private sector payments company in the U.S.

BusinessBridge from Systar will aggregate critical systems information from The Clearing House's ACH, wire and check image systems into a single, centralized location. By deploying BusinessBridge, The Clearing House will have greater capabilities to monitor and manage activity across its systems. The Clearing House, owned by the nation's largest banks, clears and settles more than $2 trillion a day.

"Systar offers The Clearing House a consolidated snapshot of all payments activity, which improves our view into our payment systems and helps us to identify potential operational issues early," said Al Wood, Executive Vice President of Technology and Operations at The Clearing House. "Systar provides new capabilities to assure the continued safety, soundness and reliability of our critical payments systems."

"Given the strategic role of The Clearing House to the banking industry, we are very pleased to welcome the company as a new customer," said John Lopynski, Vice President of Business Development, Systar.

"BusinessBridge is a proven solution that streamlines the monitoring of business processes which in turn reduces risk for customers, including many of the world's largest financial institutions."

About The Clearing House

Established in 1853, The Clearing House is the nation's oldest banking association and payments company. It is owned by the world's largest commercial banks, which employ two million people and hold more than half of all U.S. deposits. The Clearing House Association is a nonpartisan advocacy organization representing the focused interests of its owner commercial banks on a variety of systemically important banking issues. The Clearing House Payments Company provides payment clearing and settlement services to its member banks and other financial institutions, clearing almost $2 trillion daily and representing nearly half of the automated clearing-house, funds transfer and check image payments made in the U.S. More information is available at www.theclearinghouse.org.
Systar
Over 180 clients worldwide, including 10 of the world's 15 largest banks, rely on Systar's performance management software to maximize the efficiency of their business operations and IT infrastructure. Systar is widely regarded as the leading provider of Business Activity Monitoring (BAM) solutions and offers innovative capacity management software for both physical and virtual server environments. Systar is listed on the NYSE Euronext Paris Stock Exchange (ISIN: FR0000052854-SAR), and has offices in North America and Europe.

More information about Systar is available at www.systar.com.
Press releases you might also be interested in
Weitere Informationen zum Thema "Software":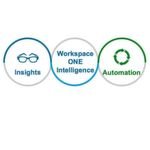 Digitaler Arbeitsplatz mit künstlicher Intelligenz
VM­wa­re er­wei­tert die Platt­form Work­s­pace One: "In­tel­li­gen­ce" kom­bi­nie­re per De­ci­si­on Ma­chi­ne die Ag­g­re­ga­ti­on und Kor­re­la­ti­on von Be­nut­zer-, An­wen­dungs-, Netz­werk- und End­punkt­da­ten, "Trust Net­wor­k" in­te­grie­re Part­ner-Si­cher­heits­lö­sun­gen, "Air­Lif­t" mo­der­ni­sie­re das Win­dows-10-Ma­na­ge­ment.
Weiterlesen