PikeOS safe and secure virtualization platform has been selected to support the ARINC-653 test application ported on AIDA
Paris, Mainz

, (PresseBox) -
SYSGO, leading supplier of software solutions for the world's most demanding safety and security applications, today announced that their PikeOS safe and secure virtualization platform has been selected to support the ARINC-653 test application ported on AIDA, the new platform defined by the DIANA project. This test application is a Flight Management System (FMS).

DIANA stands for Distributed, equipment Independent environment for Advanced avioNics Applications. It is an avionics R&D project funded by the European Commission's 6th Framework Programme and led by Skysoft, Portugal. The purpose of DIANA project is to define an advanced platform, called AIDA (Architecture for Independent Distributed Avionics), supporting execution of object-oriented applications over virtual machines and secure distribution services. The development process for the new platform will be based on the OMG standard Model Driven Engineering (MDE).

"We were looking for ARINC-653 compliant RTOS," said Tobias Schoofs, DIANA project leader at Skysoft. "PikeOS was like an obvious choice to us. Not only it has successfully passed our ARINC-653 Part 3 Verification Tool (AVT), but their virtualization capability makes it the ideal solution to support future applications. The fact that PikeOS has been already selected by five other European projects confirms our choice."

Main parts of the application will be hosted on a PC running PikeOS.
Smaller test applications - like redundant components and sensors, for instance, will be hosted using light-weight simulators on other PC. The integrator of the platform is Embraer. Main developers are Thales, Alenia Sia, Alenia Aeronautica, Aonix and Skysoft. The development will start in October with studies dedicated to design details and the PikeOS integration already to be started in August.

PikeOS is a ground-breaking product providing an embedded systems platform where multiple virtual machines can run simultaneously in a secure environment. This secure virtualization technology allows multiple operating system APIs to run independently and concurrently on one machine - for example an ARINC-653 application together with Linux.

The PikeOS safe and secure virtualization RTOS platform provides the widest range of operational guest operating system or run-time environment "personalities" on the market.

The PikeOS microkernel architecture allows it to be used in cost sensitive, resource constrained devices as well as large, complex systems. PikeOS is certifiable to the DO-178B standard, and is also MILS compliant.

About DIANA

The introduction of the DIANA concepts is expected to bring a development cost and time reduction. DIANA integrates promising technologies, such as CORBA, Java and data-centric communication mechanisms with field-proven IMA approaches. The usage of such technologies in real time environment and the update of standards, like ARINC 653, will provide new opportunities to create the future IMA architectures for the next generation of aircraft.

Members of the DIANA consortium are: Skysoft (Portugal), Alenia Aeronautica and Alenia SIA (Italy), Aonix (France), Budapest University of Technology (Hungary), Dassault Aviation (France), Embraer (Brazil), NLR (Netherlands), Thales Group (France), University of Karlsruhe (Germany).

Additional information available at: www.dianaproject.com.
SYSGO AG
SYSGO excels in providing operating system technology, middleware, and software services for the real-time and embedded device market. A differentiating capability of SYSGO is the secure PikeOS paravirtualization operating system which is built upon a small, fast, and safe microkernel and supports the cohabitation of independent operating system personalities on a single platform, including ELinOS, SYSGO's embedded Linux development environment. SYSGO supports international customers with services for embedded Linux, real-time capabilities and certification for safety-critical applications. Target markets include Aerospace & Defense, Industrial Automation, Automotive, Consumer Electronics and Network Infrastructure. SYSGO customers include Airbus, Honeywell, Thales, Daimler, Raytheon, Rheinmetall, Rockwell- Collins, Siemens and Rohde & Schwarz. Today, the company has six facilities in Europe, including Germany, France and Czech Republic and offers a global distribution and support network, extending to North America and the Pacific Rim.
Press releases you might also be interested in
Weitere Informationen zum Thema "Software":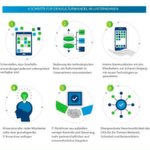 Wie mobile digitale Arbeitsplätze die Produktivität erhöhen
Mit­ar­bei­ter mit ei­nem mo­der­nen di­gi­ta­len Ar­beits­platz und ei­nem fle­xi­b­len mo­bi­len Zu­griff auf not­wen­di­ge An­wen­dun­gen stei­gern nicht nur die per­sön­li­che Pro­duk­ti­vi­tät, son­dern ver­wen­den auch we­ni­ger Zeit für die Er­le­di­gung ma­nu­el­ler Pro­zes­se, so zwei Kern­aus­sa­gen ei­ner welt­wei­ten Stu­die von For­bes In­sights im Auf­trag von VM­wa­re.
Weiterlesen