Magma's Latest Version of FineSim Pro Delivers 3X Faster Runtime, Allowing SPICE-Accurate Simulation of Very Large Analog/Mixed-Signal Designs
Unterhaching

, (PresseBox) -
Magma Design Automation Inc. (Nasdaq: LAVA), a provider of chip design software, today announced the availability of a new version of the FineSim(TM) Pro full-chip circuit-level simulation product that delivers 3X faster runtime than previous versions while continuing to deliver SPICE-accurate results. As an example, FineSim Pro was able to simulate a large post-layout design containing more than 75K MOS devices and more than 2.9 million parasitic resistors and capacitors in a little over an hour. With this latest version, chip designers can better address the growing complexity of verification and increasing number of simulations required for today's analog/mixed-signal designs.

"The amount of simulations required to adequately verify today's complex, advanced-process-node designs has placed a premium on overall simulation runtime performance," said Anirudh Devgan, general manager of Magma's Design Implementation Business Unit. "Leveraging an improved architecture, better numerical solvers and a single-CPU-optimized simulation algorithm, FineSim Pro delivers 3 times better performance than previous versions."

FineSim Pro Multi-CPU Support

FineSim Pro is the industry's first fast SPICE circuit simulator that supports multi-CPU simulations. It is the only simulator that performs true multi-CPU SPICE analysis. This allows for the most accurate results with the best possible throughput. FineSim Pro verifies a range of designs from large memories to large complex analog ICs, which previously could not be practically verified in transient circuit simulators. FineSim Pro also has a separate option for IR drop and electromigration analysis.

Forward-Looking Statements:

Except for the historical information contained herein, the matters set forth in this press release, including statements about the features and benefits of Magma's products, are forward-looking statements within the meaning of the "safe harbor" provisions of the Private Securities Litigation Reform Act of 1995.These forward-looking statements are subject to risks and uncertainties that could cause actual results to differ materially including, but not limited to the companies' abilities to keep pace with rapidly changing technology and their products' abilities to produce desired results. Further discussion of these and other potential risk factors may be found in Magma's public filings with the Securities and Exchange Commission (www.sec.gov). Magma undertakes no additional obligation to update these forward-looking statements.
Synopsys GmbH
Leading semiconductor companies worldwide use Magma's electronic design automation (EDA) software to produce chips for a wide variety of vertical markets including tablet computing, mobile devices, electronic games, digital video, networking, military/aerospace and memory. Silicon One, Magma's technology solutions for emerging silicon, address time to market, product differentiation, cost and performance while making silicon more profitable. Magma products include software for digital design, analog implementation, mixed-signal design, physical verification, circuit simulation, characterization and yield management. The company maintains headquarters in San Jose, Calif., and offices throughout North America, Europe, Japan, Asia and India. Magma's stock trades on Nasdaq under the ticker symbol LAVA. Follow Magma on Twitter at www.Twitter.com/MagmaEDA and on Facebook at www.Facebook.com/Magma. Visit Magma Design Automation on the Web at www.magma-da.com


Press releases you might also be interested in
Weitere Informationen zum Thema "Software":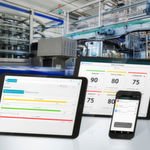 Monitoring für Maschinen
Sie­mens hat drei wei­te­re Mind­Apps für die Au­to­ma­ti­sie­rung von Si­matic-Sys­te­men vor­ge­s­tellt. Die An­wen­dun­gen hei­ßen Ma­chi­ne Moni­tor, No­ti­fier so­wie Per­for­man­ce Moni­tor und lau­fen auf dem Cloud-ba­sier­ten IoT-Be­triebs­sys­tem MindS­phe­re.
Weiterlesen