Sun Unveils New Systems Powered By Quad-Core AMD Opteron Processors
New Sun Fire Servers, Powered by the Solaris 10 OS and Other Industry-Standard Operating Systems, Deliver Market-Leading Performance, Compute Density and Memory in Half the Space
SANTA CLARA, CA

, (PresseBox) -
Sun Microsystems, Inc. (NASDAQ: JAVA) today announced the availability of its first Sun Fire and Sun Blade systems powered by Quad-Core AMD Opteron processors, bringing new capabilities, increased performance and expanded scalability to customers that purchase or upgrade to these quad-core systems. The Sun Fire X4140, Sun Fire X4240 and Sun Fire X4440 servers, the newest systems to join Sun's extensive x64 (x86, 64-bit) server line, give customers industry-leading energy efficiency, density and scalability powered by Quad-Core AMD Opteron processors and a choice of operating systems, including the Solaris 10 Operating System (OS), OpenSolaris operating system, Linux, Windows and VMware. To take advantage of special offers and promotions for these servers, including Sun's Try and Buy program, visit:

http://www.sun.com/promotions/campaigns/index.jsp?cid=ti_105 http://www.sun.com/tryandbuy http://www.sun.com/tradeins/offerings/opteron.jsp

"Sun's new x64 systems with Quad-Core AMD Opteron processors offer customers increased performance, scalability and energy efficiency, and ultimately more value than similar servers on the market," said Lisa Sieker, vice president of marketing, Systems Group, Sun Microsystems. "In addition to more memory, compute density and disk drives than the competition, our server innovations also enable customers to fully realize the benefits of virtualization and energy efficiency."

Additional systems announced with Quad-Core AMD Opteron processors include the Sun Fire X2200 M2, Sun Fire X4100 M2, Sun Fire X4200 M2, Sun Fire X4600 M2 and Sun Blade X8440 servers. Building on Sun's successful line of AMD Opteron-based Sun Fire servers, which have been deployed by more than 12,000 customers at over 31,000 site locations, Sun servers powered by Quad-Core AMD Opteron processors offer unique competitive differentiators over similar servers from HP, Dell and IBM, including:

Storage: The Sun Fire X4140 and Sun Fire X4240, with eight and 16 disk drives, respectively, can function as mini-storage systems ideally suited for scale-out applications such as database, HPC and Business Intelligence/Data Warehousing (BIDW). With their extremely high I/O throughput, they make ideal Open Storage servers for deploying highly scalable storage infrastructures, when combined with ZFS and OpenSolaris. Additionally, all the new systems announced today are already optimized to deliver the next significant boost in applications performance through flash-based disk technologies.

Density: The Sun Fire X4440 and Sun Fire X4600 M2 servers both offer comparable memory as other systems, yet in half the space. The Sun Fire X4440 server is the industry's only 4-socket x64 AMD Opteron server in a 2U form factor.

Memory: The Sun Fire X4600 M2 and Sun Blade X8440 servers are optimized for virtualization, with the highest memory capacity in the industry. The Sun Fire X4440 server also has the highest memory capacity for a 2U, 4-socket server.

Performance: The Sun Fire X4440 server is the best performing AMD Opteron-based system running server-side Java applications. For more information on benchmark results, please visit: http://www.sun.com/x64/benchmarks

"Delivering world-class levels of performance, scalability, and virtualization functionality to the enterprise, Sun Fire systems powered by Quad-Core AMD Opteron processors will help speed the industry to greater adoption of quad-core x64 computing," said Randy Allen, senior vice president, Computing Solutions Group, AMD. "Our long-standing relationship with Sun, combined with the engineering expertise of both companies, enables us to provide industry-leading native quad-core x64 solutions to customers."

Availability and Pricing

The Sun Fire X2200 M2, Sun Fire X4100 M2, Sun Fire X4140, Sun Fire X4200 M2, Sun Fire X4240 and Sun Fire X4440 servers powered by Quad-Core AMD Opteron processors are available now. The Sun Fire X4600 M2 and Sun Blade X8440 servers powered by Quad-Core AMD Opteron processors are expected to be available by the end of the quarter. For more information on pricing and features, please visit: http://www.sun.com/amd
Sun Microsystems GmbH
Sun Microsystems develops the technologies that power the global marketplace. Guided by a singular vision - "The Network is the Computer" - Sun drives network participation through shared innovation, community development and open source leadership. Sun can be found in more than 100 countries and on the Web at http://sun.com.

Sun, Sun Microsystems, the Sun Logo, Solaris, Sun Fire, Solaris ZFS, , OpenSolaris, and The Network Is The Computer are trademarks or registered trademarks of Sun Microsystems, Inc. or its subsidiaries in the United States and other countries.
Press releases you might also be interested in
Weitere Informationen zum Thema "Hardware":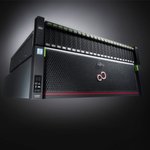 Fujitsu stellt nächste Storage-Generation vor
Mit neu­en "Eter­nus"-All-Flash- und Hy­brid-Sto­ra­ge-Sys­te­men hat Fu­jit­su die nächs­te Ge­ne­ra­ti­on sei­ner Spei­cher­sys­te­me prä­sen­tiert. Sie sol­len sch­nel­ler, spei­cher­stär­ker und kos­ten­ef­fi­zi­en­ter ar­bei­ten.
Weiterlesen