3D Printer-Maker Stratasys Expands Production Capacity
Doubling of manufacturing space is a vote of confidence in an uncertain economy
Frankfurt

, (PresseBox) -
With a ceremonial ribbon-cutting event at its newest building today, 3D printer maker, Stratasys (NASDAQ: SSYS), expressed a vote of confidence in an uncertain economy.

Stratasys says the 90,000 square-foot building doubles its capacity for machine production. The company purchased the building late last year and finished outfitting it this July.

"We've said we're optimistic about the economy and our prospects," says Stratasys CEO, Scott Crump. "By opening this building, we're putting our money where our mouth is. It's evidence of our product's market acceptance."

The additional manufacturing space allows for machine production growth with a capacity of 10,000 units per year for professional- and production-grade 3D printers.

"Although we don't need the entire capacity immediately, we are planning for it now," says Larry Doerr, Stratasys Senior VP of R&D and Operations. "You don't wait until your capabilities are overwhelmed and the demand is upon you. That's how you miss opportunity."

The new facility will be used to expand production capacity for machines and consumables, as well as streamline and consolidate warehousing and shipping operations. The added space allowed a reorganization of operations among four buildings in the company's Eden Prairie campus, and it enabled expansion of machine assembly in the company's existing manufacturing building.

Stratasys says it cost approximately $6.5 million to improve and build out the facility and another $3 million for new production equipment. The building was occupied in July, and production is expected to begin later this year.

An example of a leading edge application, the 3D printing of an entire car body for the Urbee - a 200 mpg hybrid - was discussed on BBC online and Fast Company magazine last week. The Urbee was the first car to have its entire body 3D printed.

For more details on Stratasys FDM systems and services, visit the Stratasys Web site at www.Stratasys.com, or call 1-800-480-3548.
Stratasys GmbH
Stratasys, Inc., Minneapolis, is a maker of additive manufacturing machines for prototyping and producing plastic parts. The company markets under the brands Dimension 3D Printers and Fortus Production 3D Printers. The company also operates RedEye On Demand, a digital manufacturing service for prototypes and production parts. Stratasys manufactures 3D printers for Hewlett Packard, which it sells under the brand Designjet3D. In 2011 Stratasys acquired 3D printer maker, Solidscape, Inc. According to Wohlers Report 2011, Stratasys had a 41 percent market share in 2010, and has been the unit market leader for the ninth consecutive year. Stratasys patented and owns the Fused Deposition Modeling (FDM®) process. The process creates functional prototypes and manufactured goods directly from any 3D CAD program, using high-performance industrial thermoplastics. The company holds more than 285 granted or pending additive manufacturing patents globally. Stratasys products are used in the aerospace, defense, automotive, medical, business & industrial equipment, education, architecture, and consumer-product industries. Online at: www.stratasys.com

Stratasys, Dimension, Fortus, RedEye, FDM, and Solidscape, are registered trademarks, and RedEye On Demand is a trademark, of Stratasys, Inc. Designjet is a registered trademark of Hewlett Packard.
Press releases you might also be interested in
Weitere Informationen zum Thema "Software":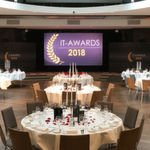 Jetzt Lieblings-Anbieter wählen und gewinnen!
Nach der er­folg­rei­chen drit­ten Aufla­ge un­se­rer Rea­ders' Choice Awards im ver­gan­ge­nen Jahr, geht die gro­ße Le­ser­wahl der In­s­i­der-Me­di­en nun in die vier­te Run­de! Er­neut ru­fen wir Sie, lie­be Le­se­rin­nen und Le­ser, nun auf, ab­zu­stim­men, wer aus Ih­rer Sicht ak­tu­ell die bes­ten An­bie­ter aus dem Cloud-Com­pu­ting-Um­feld sind.
Weiterlesen