Speedel holds annual R&D Day
Extensive data supporting mature and diverse pipeline
Basel/Switzerland and Bridgewater NJ/USA

, (PresseBox) -
Speedel (SWX: SPPN) today holds its annual Research & Development Day. The event is being held in Zürich, and attended by over 40 investors, analysts and media. The programme highlights Speedel's achievement in building a mature and diverse pipeline, targeting therapeutic areas with significant unmet medical need and high commercial potential. For the first time Speedel will present results on a new mode of action in cardiovascular treatment, that reduces the production of aldosterone.

Dr. Alice Huxley, CEO, commented: "We are delighted to have the opportunity today to showcase our most recent achievements in R&D at Speedel. We will demonstrate why we have such a strong belief in the clinical value of renin inhibition and are convinced of the commercial potential of SPP 100 (Tekturna/Rasilez[1]), our first source of recurring revenues. Given the depth of scientific and clinical evidence available we plan to continue to develop our own in-house renin inhibitors; remaining the world leader in renin inhibition is a strategic objective for Speedel. I am confident that with our new development programmes in CVM therapies we will find products which will deliver significant benefits to patients. It is our goal to continue to create value though a successful R&D programme as we continue to build Speedel as a top-tier global biopharmaceutical company."

Today's programme of speakers from the company's team is complemented by presentations from Professor Hans R. Brunner and two other key opinion leaders in the fields of hypertension and diabetic kidney disease respectively:

Professor Michel Burnier, Head of the Division of Nephrology and Hypertension Consultation Department of Medicine at the University Hospital of Lausanne, Switzerland and member of the Board of Directors of Speedel, observed: "Diabetic Kidney disease remains a high unmet medical need; as a result of all our recent analysis in efficacy and safety of SPP301, we have learnt and understood more about the mechanisms and how to effectively manage fluid retention. We are now confident in our decision to start a new Phase IIb trial and to progress this drug to the patient".

Gordon Williams, Professor of Medicine, Harvard Medical School, Boston, Massachusetts, remarked: "To minimise or prevent cardiovascular damage, treat the patient with hypertension, diabetes and heart failure any way you want, but be sure to control the aldosterone's effect. In reported studies, blocking aldosterone effects improves cardiovascular therapies by reducing cardiovascular morbidity and mortality. A second novel approach would be to reduce the production of aldosterone. This approach represents a new therapeutic strategy with great potential to treat cardiovascular and metabolic diseases.

Slides from today's programme can be downloaded from a dedicated page on the company's website:
http://www.speedel.com/section/6/subsections/12
Speedel Pharma AG
Speedel is a public biopharmaceutical company that seeks to create value for patients, partners and investors by developing innovative therapies for cardiovascular and metabolic diseases. Speedel is a world leader in renin inhibition, a promising new approach with significant potential for treating cardiovascular diseases. Our lead compound SPP100, Aliskiren (Rasilez/Tekturna[1]) the first-in-class direct renin inhibitor, was in-licensed from Novartis in 1999 and licensed-back to Novartis Pharma in 2002 for further development and commercialisation; SPP100 was approved by the FDA in the US in March 2007, and by the EMEA in the EU in August 2007. Our pipeline covers four different modes of action, and in addition to SPP100, includes SPP301 (an endothelin receptor A antagonist) in Phase II, SPP200 (a direct thrombin inhibitor) in Phase II, the next generation renin inhibitors SPP635 (in Phase Il), SPP1148 and SPP676 (both in Phase I) and several pre-clinical projects, including SPP2745 (aldosterone synthase inhibitor).

Speedel develops novel product candidates through focused innovation and smart drug development from lead identification to the end of Phase II. We either partner with big pharma for Phase III and commercialisation in primary-care indications, or we may ourselves complete Phase III development in specialist indications. Candidate compounds for development and the company's intellectual property come from our late-stage research unit Speedel Experimenta and from in-licensing. Our team of approximately 80 employees, including over 30 experienced pharmaceutical scientists, is located at our headquarters and laboratories in Basel, Switzerland and at offices in New Jersey, USA and Tokyo, Japan.

Speedel was founded in 1998 as a private company. In September 2005 the company's shares were listed on the SWX Swiss Exchange under the symbol SPPN. Further information is available at www.speedel.com.
Press releases you might also be interested in
Weitere Informationen zum Thema "Forschung und Entwicklung":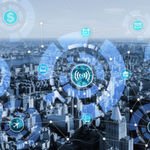 Smart Cities knacken 2025 weltweit die 2-Billionen-Dollar-Marke
Das Markt­for­schungs­un­ter­neh­men Frost & Sul­li­van prog­nos­ti­ziert für die Smart Ci­ty gol­de­ne Zei­ten. Im Jahr 2025 soll sie Ge­schäfts­mög­lich­kei­ten im Wert von zwei Bil­lio­nen US-Dol­lar ge­ne­rie­ren. In der Hauptrol­le der Smart Ci­ties: Künst­li­che In­tel­li­genz.
Weiterlesen