SOGEI invests in BDNA to support technology governance and future investment decisions
Solution will provide detailed analysis of over 50,000 IT assets
Paris

, (PresseBox) -
SOGEI, the organisation responsible for IT at the Italian Ministry of Finance, has selected a global IT inventory solution from BDNA to manage over 50,000 assets within the Agenzia delle Entrate and Agenzia delle Dogane, Italy s Inland Revenue and customs departments. The deal, won with BDNA s Italian distributor Daman and systems integrator Energent SpA, is worth 1.35 million Euros.

BDNA Inventory will provide Sogei with a detailed view of the Agenzias IT infrastructure. The solution delivers rapid, comprehensive information such as usage statistics and maintenance agreements for all devices, operating systems, peripherals and storage and software applications. By integrating the resulting data with the BDNA Catalog of market data, BDNA Inventory will also enable Sogei to categorise, analyse and manage the Agenzias IT assets and vendor relationships. Detailed reports generated by the analytics engine will help to support technology governance and future investment decisions.

Data gathered using BDNA Inventory will subsequently be integrated into the Agenzias HP Peregrine and BMC CMDBs (Configuration Management Database).

BDNA was selected following a European public tender in which more than 14 companies participated, including most large system integrators and asset management software vendors. BDNA Inventory was selected for its ease of use - offering plug and play implementation, with no need for agent intervention. The solution also has detailed hardware and software configuration capabilities and offers easy integration into the CMDB.

"We need to support SOGEI to ensure that the IT infrastructures of Agenzia delle Entrate and Agenzia delle Dogane are delivering value, in terms of both costs and efficiency", says Gianni Baroni, managing director at Daman. "BDNA s solution will enable Sogei to track and manage every single IT asset within the departments, from determining which PCs have not undergone a full virus scan for more than a month or are out of warranty, to identifying equipment with incorrect configurations."

"BDNA has a strong heritage in the government sector, with a number of the US Federal Government departments using our solutions", says Eric Faurisson, General Manager BDNA Europe. "Sogei strengthens our position in this market and builds on our success with existing European customers such as KPN, Telecom Italia and ENEL . Working closely with Daman, our distributor and Energent SpA, we look forward to working with Sogei to increase efficiencies at the Agenzias, as well as delivering valuable cost savings".

About BDNA
BDNA Insight provides the trusted fact base and analytics essential for executives in the Office of the CIO to manage the business of IT. Our on-demand FactBase with analytics for security, procurement, and operations delivers timely, complete, and accurate understanding about the company s IT infrastructure. This insight is vital to manage key IT imperatives and drive accountability. BDNA s customers include global organizations such as ENEL, KPN, Lockheed Martin, Motorola, Telecom Italia and the US Army.
Sogei
Sogei manages the IT infrastructure for five agencies within the Ministry of Finance spread over more than 400 offices across the country. The company employs over 2,000 staff at its headquarters in Rome.
Press releases you might also be interested in
Weitere Informationen zum Thema "Hardware":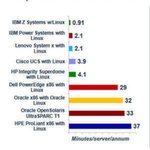 Höchste Zuverlässigkeit bei IBM und Lenovo, schlechteste Werte bei Oracle und HPE
All­jähr­lich be­fragt In­for­ma­ti­on Tech­no­lo­gy In­tel­li­gen­ce Con­sul­ting Corp. (ITIC) 800 Or­ga­ni­sa­tio­nen welt­weit zur Zu­ver­läs­sig­keit ih­rer Ser­ver und Ser­ver-Be­triebs­sys­te­me. Um mög­lichst un­vor­ein­ge­nom­me­ne Er­geb­nis­se zu prä­sen­tie­ren zu kön­nen, ak­zep­tiert das Un­ter­neh­men kein Spon­so­ring von An­bie­tern. Auch im Re­port 2017/2018 lie­gen IBM und Le­no­vo vor­ne – zum zehn­ten Mal hin­te­r­ein­an­der – Or­a­c­le und "HPE Pro­li­an­t" nicht.
Weiterlesen