Software AG's ARIS 10 adds New Visualization Tools and Modeling for Internet of Things and GDPR
Darmstadt

, (PresseBox) -

New GDPR (General Data Protection Regulation) framework aids in preparing for and complying with upcoming General Data Protection Regulation
Supports planning and design of Internet of Things (IoT) scenarios
Includes ARIS Aware, which brings visual analytics into an enterprise context and enriches content with data from multiple, disparate sources


Software AG today announced the availability of ARIS 10 with significant enhancements that help enterprises meet the challenges of the digital economy. New offerings in ARIS 10 include advanced visualization and dashboarding, along with critical tools to prepare organizations to comply with the General Data Protection Regulation (GDPR) and to maximize Internet of Things (IoT) investments.

ARIS 10 includes the first release of ARIS Aware, which enables transparency by allowing  organizations to take advantage of visual analytics and make the best decisions based on reliable data. ARIS Aware is equipped with ready-to-go templates for common scenarios in business process management, including Center of Excellence, Enterprise Architecture Management, Customer Experience Management and Process Performance Management. These templates can be extended and customized according to individual needs, enabling organizations to combine data from many sources – with  context-sensitive and story-telling visualization of KPIs in charts on dashboards.

Wolfram Jost, chief technology officer at Software AG, noted: "With ARIS Aware we are addressing business stakeholders at every level. It is aimed at everybody who needs to gain clear insights – even into the most complex and dynamic business landscapes. The seamless integration within ARIS Connect, our process collaboration platform, enables our customers to get the best insight to build innovative business processes and manage their digital future."

General Data Protection Regulation (GDPR) Ready

ARIS 10 supports the Software AG GDPR Framework, the first line of defence for GDPR compliance. It includes all the capabilities organizations need to get and stay compliant with this major new regulation. From transparency into processes and data to GDPR impact assessment, the new GDPR Framework provides the necessary tools for insights, analysis and planning. For risk mitigation and governance, the GDPR Framework offers readiness surveys, policies and principles, controls and audits as well as issue and incident tracking.

Internet of Things (IoT) Ready

Also new in ARIS 10 is ARIS for IoT, a new modeling method supporting IoT projects from the design phase to their implementation and management. ARIS for IoT enables IoT architects to enrich business processes with smart objects, sensors and intelligent actuators. Beyond the documentation, ARIS for IoT also enables the analysis of impact on business models and processes.

Jost added: "Everything we do is focused on allowing customers to realize the maximum value of digitalization quickly. This latest ARIS release is a perfect example of bringing many technologies together, allowing both IT and business to collaborate for successful digital transformation."

With over 2 million users, ARIS is the world's leading tool for the management and analysis of business processes and customer journeys. It sets the base for successful digital transformation, helping companies to manage their digital future. In its latest study on process modeling tools, the Germany-based leading Business Application Research Center BARC awarded ARIS the best ranking—a gold seal. According to the report, "All required criteria of application support for model administration, standard notation, sophistication of the methods, collaboration and model analysis could be fulfilled completely by ARIS."*

Further new functionalities in ARIS 10


Process performance and mining, supported by ARIS Process Performance Manager (PPM), features enhanced visualization and is well-integrated with other ARIS components. Together with ARIS Aware, ARIS PPM is the solution for full process control.
ARIS Connectfeatures extensive user interface improvements, personalization features, as well as enhancements around collaboration and reporting and is the basis for comprehensive Enterprise Management System for many customers.
ARIS for SAP® Solutionsoffers extended support to SAP® Solution Manager 7.2, including test design for best-in-class SAP solutions.
Governance, Risk and Compliance (GRC) managementnow benefits from enhanced reporting and usability features, with a complete offering available in the cloud.


For more information about ARIS 10, please visit: http://www.softwareag.com/corporate/products/az/aris/default.asp

* Read more about the BARC evaluation on the BARC web page (German only) and download the comprehensive product description here

BARC Product Study, Process modeling tools, Software AG ARIS 2016, by analysts: Sabine Kraus, Dr. Martin Böhn December 2016.
Software AG - EN
The digital transformation is changing enterprise IT landscapes from inflexible application silos to modern software platform-driven IT architectures which deliver the openness, speed and agility needed to enable the digital real-time enterprise.

Software AG offers the first end-to-end Digital Business Platform, based on open standards, with integration, process management, in-memory data, adaptive application development, real-time analytics and enterprise architecture management as core building blocks. The modular platform allows users to develop the next generation of application systems to build their digital future, today.

With over 45 years of customer-centric innovation, Software AG is ranked as a leader in many innovative and digital technology categories. Software AG has more than 4,300 employees, is active in 70 countries and had revenues of €872 million in 2016.

Learn more at www.softwareag.com.

Press releases you might also be interested in
Weitere Informationen zum Thema "Software":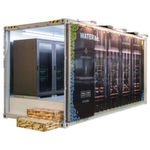 Cloud&Heat Technologies expandiert nach Asien
Cloud&Heat Tech­no­lo­gies hat ei­ne Han­del­s­part­ner­schaft mit Ina­ba­ta & Co. Ltd. aus Ja­pan ge­sch­los­sen. Da­mit star­tet das Dres­de­ner Un­ter­neh­men den Ver­trieb sei­ner Re­chen­zen­trums- und Cloud-Pro­duk­te im asia­ti­schen Raum. Ina­ba­ta ist zu­g­leich der ers­te asia­ti­sche Kun­de, der ei­nen Auf­trag er­teilt hat.
Weiterlesen