SLM Solutions enters into software joint venture with CADS GmbH
Lübeck

, (PresseBox) -
 .


Foundation of joint venture with Austrian company CADS GmbH, based in Perg, contractually agreed on 8 February 2016
Development of special proprietary software for the requirements of metal 3D printing
Further strategic step towards positioning as a solution provider for additive manufacturing


Together with the Austrian software developer CADS, the SLM Solutions Group AG – a leading provider of metal-based additive manufacturing technology (3D printing) – plans to develop design software that facilitates the development of components for customers.

Henner Schöneborn, SLM Solutions Management Board member for Corporate Development and Innovation, explained the project: "We have previously used the design software of a third-party provider which is, however, unable to meet the special characteristics of selective laser melting and our customer requirements to the extent required. CADS have impressed us with deep knowledge in manufacturing and solutions for the medical sector, combined with innovative ideas. We see a major opportunity in proprietary software development over the medium-term in order to better meet the design practice requirements of our customers."

Uwe Bögershausen, Chief Finance Officer at SLM Solutions, added: "We are increasingly positioning ourselves – as with the announced cooperation with JUREC and the recently announced joint venture in the powder coating sector – as an integrated solutions provider for additive manufacturing. Software plays a key role here. CADS software solutions already enable surgeons to create implants as part of a guided design procedure without having to be proven CAD specialists. The application already being deployed in the medical sector is a first step, but we aim to enter other sectors over the long-term."

SLM Solutions will make a low seven-figure investment in euros in the foundation of SLM Solutions Software GmbH in which it will hold 51% of the share capital. While the software to be developed will be sold by SLM Solutions for its own products, it can essentially be deployed independently of machine type.

"Additive manufacturing means freedom in component geometry. This enables the weight-optimised, bionic design of components, for example. Our aim is to develop a design tool in cooperation with CADS that facilitates optimal component design. This will make it easier to fully take advantage of the potential of additive manufacturing. In this way, the penetration of additive manufacturing will be further accelerated," as Chief Executive Officer Dr. Markus Rechlin explained the strategic step.
SLM Solutions Group AG
SLM Solutions Group AG, headquartered in Luebeck, Germany, is a leading provider of metal-based additive manufacturing technology (also commonly referred to as "3D printing"). The company's shares are traded on the Prime Standard of the Frankfurt Stock Exchange. SLM Solutions focuses on the development, assembly and sales of machines and integrated system solutions in the field of selective laser melting. SLM Solutions currently employs over 250 members of staff in Germany, the USA, Singapore, Russia and China. The products are utilised worldwide by customers in particular from the aerospace, energy, healthcare and automotive industries. SLM Solutions stands for technologically advanced, innovative and highly efficient integrated system solutions.
Press releases you might also be interested in
Weitere Informationen zum Thema "Software":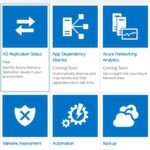 So überwachen Sie Microsoft-Umgebungen
Um Mi­cro­soft-Netz­wer­ke zu über­wa­chen sind nicht im­mer teu­re und kom­p­li­zier­te Lö­sun­gen wie Sys­tem Cen­ter Ope­ra­ti­ons Ma­na­ger not­wen­dig. Auch klei­ne­re Werk­zeu­ge hel­fen da­bei, den Über­blick zu be­hal­ten und ef­fek­tiv si­cher­zu­s­tel­len, dass al­les im Netz­werk opti­mal funk­tio­niert.
Weiterlesen