SINGULUS TECHNOLOGIES Reports Successful Final Acceptance Test (FAT) of Processing Systems for Heterojunction Solar Cells
Kahl am Main

, (PresseBox) -

Russia's Hevel Solar has successfully finished the conversion of the existing production line for a-Si thin-film solar modules
More than 21.75 % cell efficiency after upgrading to heterojunction (HJT) technology
The SILEX II supplied transports four carriers in parallel, thus offering a capacity in excess of 5,000 wafers per hour


SINGULUS TECHNOLOGIES AG (SINGULUS TECHNOLOGIES) has successfully completed the FAT of the wet-chemical process system SILEX II, which was delivered to the customer's facility towards the end of last year. In July 2016, SINGULUS TECHNOLOGIES had received orders to supply production systems for heterojunction solar cells from Russia's largest photovoltaic manufacturer, Hevel LLC, Novocheboksarsk, Russia (Hevel). Hevel is converting its existing production line for a-Si thin-film solar modules to the production of new heterojunction, high-performance solar cells and modules.

The agreement concluded the supply of the SILEX II production system for the wet-chemical processing of heterojunction solar cells as well as an extensive range of chemical supply units and facility infrastructure for the production of heterojunction solar cells.

Dr.-Ing. Stefan Rinck, CEO of SINGULUS TECHNOLOGIES AG, commented: "We are very happy that Hevel directly achieved 21.75% cell efficiency after upgrading its a-Si thin-film production line to HJT technology. SINGULUS TECHNOLOGIES has invested a huge amount in the further development of the SILEX II, and thanks to its high efficiency and modern engineering, we have successfully convinced a large number of customers to invest in the new heterojunction technology". Dr.-Ing. Rinck continues: "Particularly when converting existing manufacturing lines for a-Si thin-film solar production to heterojunction solar cells, we can offer effective solutions with our wet processing system SILEX II and our production systems for PVD coating technology".

The SILEX II supplied is a production system that transports four carriers with solar cells in parallel, thus offering a capacity in excess of 5,000 wafers per hour. The SILEX II with various processing baths uses newly developed ozone-based cleaning steps, the merits of which are short process times, versatility and ease of handling, along with very attractive low usage of chemicals. This process step plays a vital part in improving solar cell efficiency and cutting production costs. Following CE certification for the EU and Semi certification for the USA, the SILEX II has now also been granted TR CU certification for Russia.

Igor Shakhray, CEO of Hevel, added: "We are focusing on heterojunction technology both for the Russian market and export. That's why we are using new equipment to convert our existing production facility in Russia to produce high-performance solar cells and modules with an annual production output of around 160 megawatts". Igor Shakhray continued: "The results with the SILEX II are very positive and better than expected. We are delighted to be working in partnership with such an experienced provider of solar machinery and technology as SINGULUS TECHNOLOGIES, which has fully met our expectations".

Background Hevel
Hevel LLC (a joint venture between Renova Group and JSC Rusnano, founded in 2009) is the largest integrated solar power company in Russia.

The company based in Moscow has a 160 MW production facility for solar PV modules in Novocheboksarsk (Chuvash Republic), an EPC unit that designs and constructs solar power plants, and a Science and Technology Center in St. Petersburg  –  the only scientific organization in Russia focused on research and development in solar energy.
SINGULUS TECHNOLOGIES AG
SINGULUS TECHNOLOGIES is an engineering company and develops and builds machines for economic and resource-efficient production processes. The range of use of the machines built by SINGULUS TECHNOLOGIES include vacuum thin-film and plasma coating, wet-chemical cleaning and etching processes as well as thermal processing technology.
For all machines, processes and applications SINGULUS TECHNOLOGIES utilizes its know-how in the areas of automation and process technology in order to provide additional, attractive work areas with innovative products next to the existing application areas of Solar, Semiconductors, Coatings and Optical Disc.

Press releases you might also be interested in
Weitere Informationen zum Thema "Energie- / Umwelttechnik":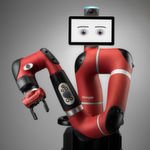 Elektronikindustrie setzt auf kollaborative Roboter
Im­mer mehr Un­ter­neh­men aus der Elek­tro­nik­in­du­s­trie set­zen auf kol­la­bo­ra­ti­ve Ro­bo­ter, das be­rich­tet Ro­bo­tik­her­s­tel­ler Re­t­hink Ro­botics. Die Ro­bo­ter über­neh­men re­pe­ti­ti­ve Auf­ga­ben, da­mit sich Mit­ar­bei­ter an­spruchs­vol­le­ren Ar­bei­ten zu­wen­den kön­nen.
Weiterlesen