KPN and Sierra Wireless collaborate to bring M2M (machine-to-machine) applications to market faster
Dutch telecom provider KPN is working with Sierra Wireless to offer customers a comprehensive M2M solution that brings new connected device applications to market faster, at lower cost
Vancouver/The Hague

, (PresseBox) -
KPN, the leading telecommunications and ICT service provider in The Netherlands, and Sierra Wireless (NASDAQ: SWIR; TSX: SW), a leading provider of mobile computing and machine-to-machine (M2M) communications products and solutions, today announced a new collaboration to offer a comprehensive M2M services solution. The offering combines KPN's high quality of service and M2M expertise with Sierra Wireless' M2M device leadership and innovative AirVantage(TM) Services Platform. It goes beyond existing services that address just one piece of the total M2M puzzle, and provides equipment manufacturers and connected solution providers with the ability to rapidly develop, deploy, operate and manage connected hardware, software and network services using a complete M2M cloud platform.

This rich M2M cloud platform will allow KPN's customers to significantly simplify the development of M2M applications, allowing them to reduce the time, cost and effort required to bring new M2M applications and services to market.

Bringing New Solutions to Market

KPN and Sierra Wireless will jointly market the AirVantage Platform and KPN's M2M services. Companies building connected devices and applications can control their entire solution from a single user interface, under a single billing arrangement.

Schneider Electric, a global leader in energy infrastructure and management, is the first customer to take advantage of the new KPN/Sierra Wireless M2M cloud platform. The company is launching a line of connected charging stations to support the new wave of electric vehicles in Europe.

The KPN/Sierra Wireless M2M cloud platform will allow Schneider Electric to manage charging stations in the field as part of a single system. It will also facilitate the rapid development of applications for their use-including power monitoring, billing, charging station reservations or any other capability that could benefit Schneider Electric customers. For example, the AirVantage Platform's Smart Automation extension simplifies the configuration and connection to the charging stations using a standard industrial protocol. As a result, Schneider Electric can readily integrate cellular communications into its charging station and build new features into its charging station application, without having to develop the underlying M2M communications infrastructure or support tools.

"The combination of AirVantage Platform, Smart Automation and KPN's network and services gives us a unified operations platform to manage communications, subscriptions and the stations themselves," says Nicolas Descazeaud, Electric Vehicle Programme Director at Schneider Electric. "Having all of that in a single system, from a single source, translates directly into faster time-to-market for our solution."

Comprehensive M2M Application Services

Machine-to-machine services represent a rapidly growing market for both network operators and providers of vertical applications. A growing array of connected devices-including power meters, pipelines, wireless point-of-sale terminals, and consumer electronics like e-book readers, photo frames and navigation devices-are leading the way to a new generation of connected applications. By remotely monitoring and communicating with such assets, equipment manufacturers and M2M solution providers can enable new services and efficiencies.

KPN has been a pioneer in the M2M market, helping its customers in developing joint propositions to speed up their business. Now, by collaborating with Sierra Wireless, KPN offers the complete M2M application infrastructure, enabling equipment manufacturers and solution providers to focus on developing innovative connected M2M applications faster.

The new M2M platform integrates KPN's existing subscription management web services, the KPN Control Center, with AirVantage Operating Portal subscription management, device management and asset management services. With AirVantage, customers can manage and control their wireless communication devices and the attached assets (the connected machine or device from which information is collected), through a single web interface.

"KPN is always looking for the best possibilities in the M2M market to build business together with our customers," says Kim Bybjerg, Managing Director KPN M2M. "With the integration of the AirVantage Platform into our offering, we can simplify the process of developing, deploying and operating connected-device applications"

"The growing connected-device market represents an enormous opportunity for KPN," says Emmanuel Walckenaer, Senior Vice President and General Manager, Solutions and Services for Sierra Wireless. "With our combined strengths, we believe we can offer a compelling set of tools for any connected-device service, and help fuel the continued expansion of M2M services in Europe."

KPN Control Center

The KPN Control Center is part of the KPN M2M offering, which combines KPNs high quality network and extensive network of roaming partners into a pan-European solution built to help customers develop their connected business. The KPN Control Center provides the customer with visibility and control over their connected devices globally-from real-time monitoring of data usage and connectivity to instant deactivation capabilities when devices are retired or stolen. It also offers KPN and their customers the flexibility to build a business model that fits around the customer's business.

Sierra Wireless AirVantage Platform

The Sierra Wireless AirVantage Platform is a secure cloud platform that enables M2M solution providers, system integrators and network operators to rapidly develop, deploy and operate M2M applications and services. The AirVantage Platform includes comprehensive applications to manage cellular subscriptions, communications devices and their attached assets (such as components in machines, telemetric devices in automobiles and monitoring devices in a home or office); a powerful set of M2M application development tools; and an open web services application programming interface (API). The AirVantage Platform lets wireless network operators extend operational support and application development and management features to their M2M service providers.

For more information about the Sierra Wireless AirVantage Platform please visit http://www.sierrawireless.com/productsandservices/AirVantage. To contact the Sierra Wireless Sales Desk, call +1 (604) 232-1488 or email sales@sierrawireless.com.

Note to editors:

To view and download images of Sierra Wireless products, please visit http://www.sierrawireless.com/newsroom/productimages.aspx.

About KPN

KPN is the leading telecommunications and ICT service provider in the Netherlands, offering wireline and wireless telephony, internet and TV to consumers and end-to-end telecom and ICT services to business customers. KPN's subsidiary Getronics operates a global ICT services company with a market leading position in the Benelux, offering end-to-end solutions in infrastructure and network-related IT. Getronics manages 2.2 million workspaces. In Germany and Belgium, KPN pursues a Challenger strategy in its wireless operations and holds number three market positions through E-Plus and BASE. In Spain and France, KPN offers wireless services as an MVNO through its own brands and through partner brands. KPN provides wholesale network services to third parties and operates an efficient IP-based infrastructure with global scale in international wholesale through iBasis.

At December 31st, 2010, KPN served over 42.2 million customers, of which 33.9 million were in wireless services, 4.4 million in wireline voice, 2.8 million in broadband Internet and 1.2 million in TV. With 19,192 FTEs in the Netherlands (30,599 FTEs for the whole group), KPN reported full-year revenues of EUR 13.4bn and an EBITDA of EUR 5.5bn in 2010. KPN was incorporated in 1989 and is listed on the Amsterdam Stock Exchange.

Forward Looking Statements

This press release contains forward-looking statements that involve risks and uncertainties. These forward-looking statements relate to, among other things, plans and timing for the introduction or enhancement of our services and products, statements about future market conditions, supply conditions, channel and end customer demand conditions, revenues, gross margins, operating expenses, profits, and other expectations, intentions, and plans contained in this press release that are not historical fact. Our expectations regarding future revenues and earnings depend in part upon our ability to successfully develop, manufacture, and supply products that we do not produce today and that meet defined specifications. When used in this press release, the words "plan", "expect", "believe", and similar expressions generally identify forward-looking statements. These statements reflect our current expectations. They are subject to a number of risks and uncertainties, including, but not limited to, changes in technology and changes in the wireless data communications market. In light of the many risks and uncertainties surrounding the wireless data communications market, you should understand that we cannot assure you that the forward-looking statements contained in this press release will be realized.

%SEDAR: 00011917E
Sierra Wireless Inc.
Sierra Wireless (NASDAQ: SWIR - TSX: SW) offers industry-leading mobile computing and machine-to-machine (M2M) communications products and solutions that connect people, devices, and applications over cellular networks. Wireless service providers, equipment manufacturers, enterprises and government organizations around the world depend on us for reliable wireless technology. We offer 2G, 3G and 4G wireless modems, routers and gateways as well as a comprehensive suite of software, tools, and services that ensure our customers can successfully bring wireless applications to market. For more information about Sierra Wireless, visit www.sierrawireless.com.

"AirVantage" is a trademark of Sierra Wireless. Other product or service names mentioned herein may be the trademarks of their respective owners.


Press releases you might also be interested in
Weitere Informationen zum Thema "Hardware":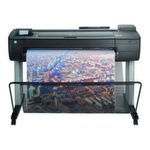 Markt für Großformat-Drucker dümpelt so dahin
Die Nach­fra­ge ist da, aber die Um­sät­ze stag­nie­ren. Die Markt­for­scher von IDC er­ken­nen für die An­bie­ter kei­ne Hoff­nungs­zei­chen auf bes­se­re Ge­schäf­te. An­wen­der aber kön­nen auf güns­ti­ge­re Prei­se set­zen.
Weiterlesen