New logic module range with Ethernet communication and extended functionality
Nürnberg

, (PresseBox) -
A new range of Logo! logic modules has been equipped by the Siemens Industry Automation Division with an integral Ethernet interface. The two new basic devices Logo!12/24 RCE and Logo!230 RCE with communication and network capabilities enhance the Siemens portfolio with logic modules geared to meeting demanding applications. The performance of the new basic devices has also been significantly improved, for example the program capacity has been doubled to 400 function blocks, and a wide range of new practice-oriented functions has been introduced. These include macro functions for recurring program sequences, and data logging functions for documentation and evaluation purposes. Up to eight of the new logic modules can be networked using standard Ethernet switches. Together with the Ethernet interface and the new SD card reader, the new modules have a width of six MW (modular width) and thus 108 millimeters. The standard devices with a width of four MW are still used for simple applications.

The two new basic devices Logo!12/24 RCE for DC voltage networks and Logo!230 RCE for AC voltage networks have an integrated Ethernet interface. This opens up new applications for users in the building and HVAC sectors (heating, ventilation and air-conditioning), for transportation and monitoring equipment, as well as for machines and small networked plants. The logic modules are simple to integrate into an existing structure via Ethernet and can be combined, for example, with PCs, Simatic S7 PLCs or Simatic HMI (Human Machine Interface) components. This provides Logo! users with new options for data storage and graphic visualization, for remote online access to the logic modules for servicing purposes, or for operator prompting on the logic modules using touch technology.

Up to eight of the new logic modules can be networked using standard Ethernet switches. The logic modules can be used in a master/master mode where all devices have a separate program and exchange the required information via Ethernet. In master/slave mode, a master executes the program and uses the other logic modules for additional I/O (input/output) expansion. Each individual Logo! device can already be extended by I/O modules. To facilitate handling of the increased number of inputs/outputs now available in the application, the program memory has been doubled to 400 function blocks compared to the standard devices. This is an advantage in building automation, for example, if a large number of shutters have to be controlled centrally.

Further improved features of the new Logo! devices are a "super capacitor" which buffers the integral real-time clock for 20 days in the event of a power supply failure, and the option for data storage on a standard SD card. This card can be used to copy programs and also for saving data or projects, including comments. The data logging function is also new. This can now be used, for example, to document temperature patterns or levels. Recording in the internal memory or on the external SD card is either time-controlled or event-controlled, and can be used for documentation and evaluation purposes.

New function blocks determine minimum and maximum values, generate mean values, or execute a stopwatch function with which, for example, the duration of production processes can be measured very easily. This is supplemented by an astronomical time switch which is triggered by sunrise and sunset. This helps to save energy in illumination systems or optimize feeding times with livestock breeding. A new analog filter minimizes the influence of interfering pulses. In the case of repeated program sequences, for example the control of shutters, users can now generate macros, save these in macro libraries, and recall them from there as often as required.

The new Logo! basic devices with Ethernet interface expand the Siemens portfolio by logic modules for demanding applications. The previous standard devices are still used for basic applications. The programs of the new Logo! modules are fully compatible with those of the standard devices. They have the same built-in display, cursor keys, and field wiring connections as the standard devices. Furthermore, all existing expansion modules can be used on the new logic modules, including the external Logo! text display.
Siemens AG Industry Sector / Industry Automation Division
The Siemens Industry Sector (Erlangen) is the worldwide leading supplier of production, transportation, lighting and building technologies. With integrated automation technologies as well as comprehensive industry-specific solutions, Siemens increases the productivity, flexibility and efficiency of its customers in the fields of industry and infrastructure. The Sector includes six divisions: Building Technologies, Drive Technologies, Industry Automation, Industry Solutions, Mobility and Osram. By September 30, Siemens Industry had some 204,000 employees worldwide and turnover in fiscal year 2010 of €34.9 billion. http://www.siemens.com/...

The Siemens-Division Industry Automation (Nuremberg) is the worldwide leading supplier of automation technology, industrial switchgear and industry software. The offer ranges from standard products for the manufacturing and process industry up to industry specific solutions with the automation of complete automobile productions and chemical plants. As leading software supplier Industry Automation optimizes the whole value chain of producing companies - from product design and development through production and sales up to service. By September 30, Siemens Industry Automation had some 33.000 employees worldwide and a turnover in fiscal year 2010 of €6.2 billion. www.siemens.com/...
Press releases you might also be interested in
Weitere Informationen zum Thema "Hardware":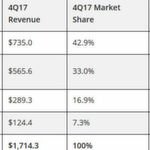 Umsatz konvergenter Systeme legt weltweit zu
Nach An­ga­ben der In­ter­na­tio­nal Da­ta Cor­po­ra­ti­on (IDC) ver­mel­de­te der "World­wi­de Quar­t­er­ly Con­ver­ged Sys­tems Tra­cker" für das vier­te Quar­tal 2017 ei­nen welt­wei­ten An­s­tieg der Um­sät­ze im Be­reich des kon­ver­gen­ten System­mark­tes um 9,1 Pro­zent. Hy­per­kon­ver­gen­te Sys­te­me out­per­for­men, an­de­re Teil­seg­men­te er­leb­ten Rück­gän­ge.
Weiterlesen