Automation engineering coupled with industry software make for a shorter time to market and faster return on investment
Nuremberg

, (PresseBox) -
The Siemens Industry Automation Division will be present at this year's Hanover Fair with an array of worldwide leading products and innovations for the seamless automation of industrial processes. "Our comprehensive automation engineering and industrial software portfolio is designed to provide solutions to the most urgent challenges facing our customers in terms of improving productivity, flexibility and security, cutting costs and reducing the time to market", explained Industrial Automation Systems Business Unit CEO Ralf-Michael Franke at the pre-show press conference. "There is clearly an increasing need for efficient industrial software among our customers", continued Franke. "By linking industrial software with our leading-edge automation engineering under a single roof we become the pacemaker in the marketplace."

Siemens has extended its portfolio of software solutions for manufacturing industry both by making strategic acquisitions and through its own internal development, and today is in a position to provide a complete software portfolio from product design through to production control. Its experience in the integration of industrial hardware and software has been brought to bear in the "Totally Integrated Automation Portal", an integrated engineering framework launched back at the end of 2010. Alongside the TIA Portal, technological highlights from Siemens Industry Automation to feature at the Hanover Fair will include product innovations designed to boost energy efficiency and productivity. Franke on the TIA Portal: "This represents a further development of our worldwide leading Totally Integrated Automation portfolio, one which will help to power our customers forward into a whole new era of intuitive engineering."

There are already plenty of Siemens customers enjoying the beneifts of major engineering cost savings with the optimized workflow made possible by the new TIA Portal framework, equating to a reduction of 25 per cent in concrete projects. Franke sees the TIA Portal as a significant step but only the first of many in a process of further software development which is set to stretch forward to the year 2030. "We are working towards the achievement of completely integrated product and production engineering. The complete integration of what are today two completely separate workflows will open up growth opportunities for us, and enormous additional productivity potential for our customers", explains Franke. Calculated on the basis of project examples, the potential for cost savings is estimated to be a further 20 percent.

Alongside the growing relevance of industrial software as one of today's driving trends, the issue of plant security has taken on ever greater significance over the past year. Plant operators right across the industrial spectrum are increasingly concerned about the issue of security, as open communication in the industrial environment and ever greater networking of production systems render industrial plants vulnerable to attack. Franke believes a comprensive system of security management to be vital to the safe operation of modern plant and machinery: "Plant operators need to look at security as an integral solution - from know-how and integrity protection through to the prevention of industrial espionage and sabotage". Siemens offers its customers specific security products designed to improve plant protection. The portfolio on show in Hanover ranges from products with integral security properties through to advisory services and implementation of comprehensive security solutions.

Siemens at the Hanover Fair 2011: In keeping with the theme "Create Sustainable Value", at booth A72 in Hall 9, Siemens will be demonstrating how economic efficiency and productivity can be reconciled with ecologically responsible industrial production. It will also be informing its customers right across the different fields of industry about how to create sustainable added value with solutions from Siemens. With its excellent product, system and solution portfolio, integral exertise and exceptionally high research and development potential, Siemens is ideally placed to provide sound customer advice. At this year's fair, issues in the spotlight will be energy efficiency and productivity, while the technological focus will be on the engineering framework Totally Integrated Automation Portal. On the subject of energy efficiency, Siemens will also show its customers how to identify, evaluate and consistently implement savings potential with a view to reducing energy consumption and cutting both carbon emissions and costs. On the issue of productivity, integral solutions ranging from the CAD drawing through to the finished product will be unveiled. At its booth in Hall 9, Siemens will demonstrate how resources can be efficiently utilized and productivity potential leveraged, starting right from the plant design through to the operating phase, featuring examples from a number of industries: automotive, oil & gas and renewable energies (wind and solar).

Other Siemens industry topics featured at the Hanover Fair 2011: Siemens Product Lifecycle Management Software GmbH (Hall 17, Booth B40); Metropolitan Solutions (Hall 8); TectoYou (Pavillon P33, Booth A03); AS-International Association (Hall 9, Booth F58); Hart Communication Foundation (Hall 7, Booth D45); Profibus Nutzerorganisation (Hall 11, Booth A49)

Further information can be found on the Internet at: www.siemens.com/industry-automation
Siemens AG Industry Sector / Industry Automation Division
The Siemens Industry Sector (Erlangen, Germany) is the worldwide leading supplier of environmentally friendly production, transportation, building and lighting technologies. With integrated automation technologies and comprehensive industry-specific solutions, Siemens increases the productivity, efficiency and flexibility of its customers in the fields of industry and infrastructure. The Sector consists of six divisions: Building Technologies, Drive Technologies, Industry Automation, Industry Solutions, Mobility and Osram. With around 204,000 employees worldwide (September 30), Siemens Industry achieved in fiscal year 2010 total sales of approximately €34.9 billion. www.siemens.com/industry

The Siemens Industry Automation Division (Nuremberg, Germany) is a worldwide leader in the fields of automation systems, industrial controls and industrial software. Its portfolio ranges from standard products for the manufacturing and process industries to solutions for whole industrial sectors that encompass the automation of entire automobile production facilities and chemical plants. As a leading software supplier, Industry Automation optimizes the entire value added chain of manufacturers - from product design and development to production, sales and a wide range of maintenance services. With around 33,000 employees worldwide (September 30), Siemens Industry Automation achieved sales of €6.2 billion in fiscal year 2010. www.siemens.com/...
Press releases you might also be interested in
Weitere Informationen zum Thema "Hardware":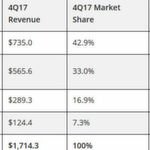 Umsatz konvergenter Systeme legt weltweit zu
Nach An­ga­ben der In­ter­na­tio­nal Da­ta Cor­po­ra­ti­on (IDC) ver­mel­de­te der "World­wi­de Quar­t­er­ly Con­ver­ged Sys­tems Tra­cker" für das vier­te Quar­tal 2017 ei­nen welt­wei­ten An­s­tieg der Um­sät­ze im Be­reich des kon­ver­gen­ten System­mark­tes um 9,1 Pro­zent. Hy­per­kon­ver­gen­te Sys­te­me out­per­for­men, an­de­re Teil­seg­men­te er­leb­ten Rück­gän­ge.
Weiterlesen