Siemens successfully installs first North Sea platform
Erlangen

, (PresseBox) -
.
- HelWin1 North Sea platform will supply more than 500,000 households with wind power
- Commissioning of grid connection HelWin1 on schedule for 2014
- More than 100 employees performing installation at sea

Siemens has installed the HelWin1 offshore platform in the North Sea, marking the successful completion of a significant stage in German grid connection projects. HelWin1 will link the two offshore wind farms Nordsee Ost and Meerwind to the mainland. Using the Siemens technology installed on the platform, the alternating current power generated by the wind turbines is transformed into low-loss direct current for transmission onto land. Starting next year, this will enable the network operator and purchaser TenneT to supply clean electricity to more than 500,000 German households on the mainland. The land-based station, also supplied by Siemens to TenneT, is located northwest of Hamburg in Büttel, where electricity will be converted back into the alternating current power required for feeding into the grid.

"With the installation of our platform at sea we have successfully mastered the most critical part of this project and are now in the final stretch for commissioning in 2014", stated Karlheinz Springer, CEO of the Power Transmission Division within the Energy Sector of Siemens AG. "Installation of the platform for HelWin1 constitutes reaching a key milestone in our series of grid connection projects. The transmission capacity of our projects involves a total of 6.2 gigawatts of electric power from renewable sources. TenneT is thus contributing to offshore wind energy assuming a substantial role in the future's energy supply," remarked Lex Hartman, member of TenneT management board.

The network operator TenneT contracted the consortium consisting of Siemens and the Italian cable specialist Prysmian for the HelWin1 offshore grid connection in 2010. This consortium is implementing a total of four North Sea grid connection projects for TenneT; HelWin1 and HelWin2 off of Helgoland, BorWin2 off of Borkum and SylWin1 off of Sylt.

After seven days of transport at sea and four days of installation on site, the HelWin1 platform was anchored at its final position northwest of the island of Helgoland on August 23. Siemens had installed the platform's support substructure at this location in June in the 23-meter-deep North Sea. Ten steel pilings up to 3.2 meters in diameter and with a wall thickness of eight centimeters were anchored in the seabed for attachment of the structure. With a length of up to 100 meters, these pilings are as tall as the famous London landmark Big Ben. The platform is installed 22 meters above sea level to protect it against giant waves. HelWin1 is designed for decades of operation in the rugged North Sea.

The platform is equipped with a helipad and was fabricated by Nordic Yards at the shipyard in Wismar under contract by Siemens. Nordic Yards has been contracted by Siemens with the fabrication of two more HVDC platforms for the grid connections BorWin2 and SylWin. At 12,000 tons, the HelWin1 platform weighs more than 20 loaded and fully tanked Airbus A380 super airliners. The surface area of the platform, at 75 by 50 meters, is more than half the size of a soccer field. The platform's seven decks, spanning a total height of 27 meters, accommodate 16 cabins for crewmembers with a total of 24 berths, a galley, sanitary facilities, a multi-purpose room equipped with sports equipment and a day room with satellite TV, in addition to housing all the technology and equipment required for HVDC transmission.

Up to 100 employees will be active on the platform for the subsequent project phase in the North Sea. They will first re-open the doors and panels previously welded closed for transport and remove other protective transport fixtures and ballast weights. An on-site jack-up platform, which is a kind of mobile logistics and accommodation platform, will be used to prepare the supplies and quarters for the crew. The team thus will save travel time of two hours each to and from the platform by helicopter, or of up to 16 hours each way by ship.

Now, the two subsea cables from the well-established cable specialist Prysmian are also to be connected. Siemens' consortium partner has supplied and laid in bundle the two cables, each with a length of 130 km, for transmission of 250 kilovolt DC voltage in the future. The cable route covers 85 km at sea and 45 km over land. Both 11 cm thick cables, with its protective steel armoring wire layer and a 35 mm thick copper conductor, weighs about 30 kg per meter.

The commissioning of HelWin1 is scheduled for the second half of 2014. The platform is completely automated and the systems on the platform can be monitored and controlled from land, with cameras and sensors providing a complete overview of the current operating status. The crews' quarters on the platform can be used when maintenance work is required. Siemens was contracted by TenneT for maintenance of the grid connection for an initial period of five years.
Siemens AG Energy Sector
The Siemens Energy Sector is the world's leading supplier of a broad spectrum of products, services and solutions for power generation in thermal power plants and using renewables, power transmission in grids and for the extraction, processing and transport of oil and gas. In fiscal 2012 (ended September 30), the Energy Sector had revenues of EUR27.5 billion and received new orders totaling approximately EUR26.9 billion and posted a profit of EUR2.2 billion. On September 30, 2012, the Energy Sector had a work force of almost 86,000. Further information is available at: www.siemens.com/energy.
Press releases you might also be interested in
Weitere Informationen zum Thema "Energy / Environment":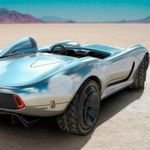 Mit VR designen, mit KI entwickeln und per 3D-Druck fertigen
Au­tos von der Stan­ge sind Ih­nen zu lang­wei­lig? Dann ent­wer­fen und fer­ti­gen Sie doch ihr ei­ge­nes! Das ele­gant ge­schwun­ge­ne Con­cept-Car "La Ban­di­ta" zeigt, was mög­lich ist, wenn mo­der­ne Tech­no­lo­gi­en in­ein­an­der grei­fen.
Weiterlesen