Siemens building new record-setting power plant in Dusseldorf
Fitting technology for German energy turnaround
Erlangen, (Germany)

, (PresseBox) -
Siemens will erect the most efficient and environmentally friendly natural-gas-fired power plant in the world at the Dusseldorf port location in Lausward. The order for the combined cycle power plant with district heat extraction was placed by Stadtwerke Dusseldorf AG.The volume of the order, which includes turnkey construction and a long-term maintenance contract, is around half a billion Euros. The new power plant will set new world records with both its electrical efficiency of more than 61 percent and an unmatched supply of energy for the municipal district heating system. The fuel utilization rate of the natural gas fuel increases to around 85 percent. These advanced Siemens combined cycle power plants are highly flexible in operation, making them a key component for the energy turnaround in Germany.

At the core of the plant is a Siemens H-class gas turbine, which was awarded the German Industry Innovation Prize in February. Together with a steam turbine, the Dusseldorf plant will reach around 595 megawatts (MW) of electrical output; this will set a new world record. The rejected heat is planned to be utilized in a further process to provide the city of Dusseldorf with district heating. Never before has it been possible to extract 300 MW of district heat from a single gas turbine power plant unit.

"The Lausward power plant is a showcase project illustrating successful combination of reliable power supply, economic viability and climate protection", stated Roland Fischer, CEO of the Fossil Power Generation Division at Siemens Energy. "We need more flexible and highly efficient power plants, which can step in at once to fill the gap left when power from wind and sun is on the wane.

This is of enormous importance for Germany as an industrial centre. These advanced combined cycle power plants provide a major contribution to security of supply and to a stabilization of our power grid. This operational readiness must be rewarded accordingly on the market, otherwise much needed investments will not be carried out in Germany", warned Fischer with regard to the political landscape.

Dusseldorf is the second project in Germany in which the new Siemens H-class gas turbine will be used. Six other turbines of this class have already been sold to the US and four to South Korea.

In a combined cycle power plant like the one being built in Dusseldorf, the hot exhaust gas from the gas turbine is used to generate steam in a heat recovery steam generator to drive a steam turbine. Both turbines transfer their kinetic energy to a generator, which produces electricity. Fuel utilization and, hence, the electrical energy yield is markedly increased using the combined cycle principle. At the Lausward power plant the heat remaining at the end of the combined cycle process will be utilized for the municipal district heating system (combined heat and power generation (CHP)).

High-efficiency combined-cycle power plants (CCPP) are part of Siemens' Environmental Portfolio.In fiscal 2011, revenue from the Portfolio totaled about €30 billion, making Siemens one of the world's largest suppliers of ecofriendly technologies. In the same period, our products and solutions enabled customers to reduce their carbon dioxide (CO2) emissions by nearly 320 million tons, an amount equal to the total annual CO2 emissions of Berlin, Delhi, Hong Kong, Istanbul, London, New York, Singapore and Tokyo.
Siemens AG Energy Sector
The Siemens Energy Sector is the world's leading supplier of a complete spectrum of products, services and solutions for power generation in thermal power plants and using renewables, power transmission in grids and for the extraction, processing and transport of oil and gas. In fiscal 2011 (ended September 30), the Energy Sector had revenues of EUR24.9 billion and received new orders totaling approximately EUR31.8 billion and posted a profit of EUR3.9 billion. On October 1, 2011, the Energy Sector had a work force of more than 82,000. Further information is available at: www.siemens.com/energy.
Press releases you might also be interested in
Weitere Informationen zum Thema "Energy / Environment":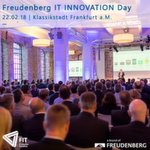 Freudenberg IT lädt zum Customer Innovation Day
Der IT-Di­enst­leis­ter Freu­den­berg IT ver­an­stal­tet am 22. Fe­bruar 2018 in Frank­furt am Main den "Cu­sto­mer In­no­va­ti­on Day". Teiln­meh­mer er­war­tet ei­ne span­nen­de Agen­da rund um die The­men Di­gi­ta­li­sie­rung, In­du­s­trie 4.0, Big Da­ta, Cloud Com­pu­ting, SAP HA­NA und En­ter­pri­se Mo­bi­li­ty.
Weiterlesen