Screen broadens thermal flexo platesetter range with PlateRite FX1200
Amstelveen

, (PresseBox) -
Screen has launched a new thermal platesetter for the flexo markets. The PlateRite FX1200 features Screen's proven thermal imaging technology that enables output up to 4800 dpi for high quality production of flexible packaging, labels, cartons and corrugated packaging.

The third model in Screen's flexo and letterpress range, the PlateRite FX1200 complements the successful FX870II and FX1524 models and supports all leading makes of plate at sizes from 100 x 100 mm up to 1200 x 1067 mm (47.2 x 42 inches). It can also be upgraded on-site to the larger FX1524 specification of 1524 x 1067 mm (60 x 42 inches), providing a growth path into larger format work.

"Our policy of continuous innovation and refinement meets the diverse needs of our customers," says Carlo Sammarco, European Business Manager, Packaging Solutions, Screen. "With the addition of the PlateRite FX1200 we continue to strengthen our digital flexo range to provide quality, productivity and ease-of-use, together with the flexibility to upgrade conveniently to a larger format as and when the business demands it, and without major reinvestment."

Featuring the laser and plate loading/unloading technology that has made Screen's PlateRite series a world-leader in the offset market, the PlateRite FX1200 offers outstanding print quality with superior tonal reproduction from highlights through to shadows. High productivity of up to 4 sq m/hr (flexo; 3.3 sq m/hr at 4800 dpi) and 6.3 sq m/hr (letterpress) ensures that the PlateRite FX1200's throughput matches its quality in demanding production environments.

A 4800 dpi output and screen rulings up to 200 lpi is achieved accurately and reliably via a newly-developed imaging head and associated optics, using 64 high-power, long-life laser diodes, with a backup mode for continued production in the event of laser failure. This highest available resolution on the market significantly improves the smoothness of curves and diagonals, and the PlateRite FX1200's reproduction of fine lines and small text is outstanding. Gradations appear smooth, especially in the highlights. This is further enhanced by Screen's FlexoDot screening technology which offers a choice of minimum halftone dot size and shapes, enabling better tonal control and crisper imaging in printed highlights.

To further improve productivity, the PlateRite FX1200 features an easy-to-operate clamp system for holding the leading and trailing edges of maximum-size plates that makes loading simple and efficient. Smaller plates can be loaded easily and reliably without having to mask the rest of the drum.

The PlateRite FX1200 can be driven from any of Screen's workflows and also accepts 1-bit TIFF input from any other source.
Screen Europe
Screen is one of the world's largest manufacturers and suppliers of innovative imaging and print on demand technology for the commercial print, book, newspaper and packaging industries. The company leads the world in CTP and print production workflow, and its Truepress Jet range of market-leading, digital inkjet printers offers the widest range of machines for mono and colour POD applications. The company is also a well-known manufacturer of equipment for the semiconductor and flat panel display manufacturing industries.

To find your local supplier of Screen technology and detailed information on all Screen products visit www.screeneurope.com


Press releases you might also be interested in
Weitere Informationen zum Thema "Produktionstechnik":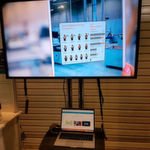 Das bietet Indoor Navigation kombiniert mit AR
In­s­i­der Re­se­arch im Ge­spräch mit In­s­i­der Na­vi­ga­ti­on: Auf dem Du­b­lin Tech Sum­mit traf Oli­ver Schon­schek von In­s­i­der Re­se­arch Cle­mens Kir­ner, Aug­men­ted-Rea­li­ty-Ex­per­te und Grün­der von In­s­i­der Na­vi­ga­ti­on.
Weiterlesen