Clean and Economical: "Green Elements" by SCHMID Reduce the Running Costs of PCB Production
Freudenstadt/Zhuhai

, (PresseBox) -
.
- Continually improved measures reduce the consumption of chemicals, fresh water and energy.
- Premium PCB manufacturers appreciate the worldwide consistent quality strategy based on European standards

The SCHMID Group offers PCB manufacturers an effective package of measures for lowering operating costs. The intelligent processes and well-engineered components, marketed as "Green Elements", reduce the consumption of chemicals, fresh water and electric energy. Laurent Nicolet, head of the PCB business unit at SCHMID, sees a growing awareness on the market for such savings. What premium PCB manufacturers in particular appreciate in SCHMID's systems is the use of energy-saving components and control systems and the worldwide consistent quality strategy based on CE standards.

Precise measurement and dosing reduces consumption and costs

For product managers Stefan Rapp and Joachim Wilhelm, reducing the chemical consumption is the most important measure in increasing environmental friendliness and in saving costs. SCHMID focusses on an intelligent control system which doses with great precision at short intervals. The components involve high-precision measuring and dosing devices together with efficient software and a user-friendly visualization for dosage according to predefined recipes and ad-hoc user input.

Besides the lower chemical consumption, further advantages of precisely dosed processing baths include high process stability and reproducibility as well as protection of the systems against overdosage and the costly consequences of wear. Furthermore, process waste water is reduced and thus a cost advantage achieved in the treatment of waste water.

Further "Green Elements" are proficient filters for removing organic impurities and solids in order to prolong the bath lifetime.

Less fresh water - less waste water

To reduce the requirement of fresh water, the proven and cleverly devised cascade rinsing system is used which does not impair the cleaning effect. In addition, slightly contaminated cleaning water can also be utilized to adjust the concentration of the process baths - for this purpose fresh water is not necessary. These measures of reducing the consumption of fresh water also reduce the amount of waste water and thus the operating costs.

Exemplary electric energy consumption in production and standby operation

SCHMID's production systems also show exemplary results with energy-intensive processes. Here the average energy requirement of over 20 customer machines was measured. In standby operation the systems only require 6%* of the nominal power, in production slightly more than 50%*, and also during start-up and heat-up only just over 60%* of the nominal power is used.

Premium PCB manufacturers appreciate the non-comprising quality strategy

The SCHMID Group has decided to sell its products worldwide according to European standards. The company wants no cutbacks in its high quality standards and thus counts in particular the top 50 global premium PCB manufacturers as its customers.

*Average values

SCHMID at the productronica 2013

SCHMID will be exhibiting from 12 - 15 November at the productronica 2013. At booth B1.205 a vertical stripping line with loader and unloader and an optimized etching module will be presented. We look forward to welcoming you!
SCHMID Group | Gebr. SCHMID GmbH
SCHMID has been accepted as technology leader since the beginnings of the PCB industry and has proven its excellence for decades in surface technology, resist technology, desmear, metallization, inspection and automation for rigid and flex applications. With the modular equipment portfolio SCHMID provides standardized technology as well as customized solutions also matching cleanroom requirements.

Company Data (06/2013)
Headquarters: Freudenstadt (Germany)
Employees worldwide: over 2,000
Group sales volume: approx. 300 million Euros (2011, consolidated)
Group companies: 23
Production facilities: 11 facilities on 3 continents with an overall production area of over 88,000m²
Founding year: 1864
Certified: DIN EN ISO 9001
Press releases you might also be interested in
Weitere Informationen zum Thema "Energie- / Umwelttechnik":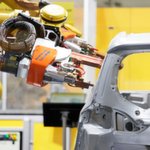 1,7 Millionen Industrie-Roboter erneuern Fabriken weltweit bis 2020
Bis 2020 wer­den mehr als 1,7 Mil­lio­nen neue In­du­s­trie-Ro­bo­ter in den Fa­bri­ken der Welt in­stal­liert. Die Ro­bo­tik-Bran­che in Asi­en ver­zeich­net da­bei ak­tu­ell das stärks­te Wachs­tum – an­ge­führt von Chi­na als Welt­markt­füh­rer. Im Jahr 2017 sind die Ro­bo­ter­in­stal­la­tio­nen in der Re­gi­on Asi­en-Aus­tra­li­en vor­aus­sicht­lich um 21 Pro­zent ge­s­tie­gen, in Nord- und Süda­me­ri­ka um 16 Pro­zent und in Eu­ro­pa um acht Pro­zent. Das sind Er­geb­nis­se aus dem World-Ro­botics-Re­port 2017, der von der In­ter­na­tio­nal Fe­de­ra­ti­on of Ro­botics (IFR) ver­öf­f­ent­licht wur­de.
Weiterlesen