Invensense(TM) Unveils World's First Imu Solution With 6-Axis Sensor Fusion For Consumer Applications
IMU-3000(TM) Features On-Board 3-Axis Digital Gyroscope that Integrates Accelerometer Inputs to Provide Complete 6-Axis Sensor Fusion Output
Sunnyvale

, (PresseBox) -
InvenSense, Inc., the leading solution provider for the motion processing market, today announced the IMU-3000(TM) family of inertial measurement units (IMUs). The IMU-3000 has an embedded 3-axis gyroscope and Digital Motion Processor(TM) (DMP) hardware accelerator engine with a secondary I2C port that interfaces to third party digital accelerometers to deliver a complete 6-axis sensor fusion output to the primary I2C port. This combines both linear and rotational motion into a single data stream for the application. The device is ideally suited for a wide variety of consumer products requiring a rugged, low-cost motion processing solution for applications in game controllers, remote controls for broadband connected TVs and set top boxes, sports, fitness, medical and other applications. By providing an integrated sensor fusion output, the IMU-3000 offloads the intensive motion processing computation requirements from the host processor, reducing the need for frequent polling of the motion sensor output and enabling use of low cost, low power microcontrollers.

Motion command is becoming a standard interface in the consumer electronics industry. Because of this feature, sales of Nintendo's Wii in 2009 grew to account for a 43 percent share of video game consoles shipped in 2009, prompting Sony and Microsoft to introduce motion sensing game play solutions in time for the holiday season this year, according to Pam Tufegdzic, consumer electronics analyst at the market research firm iSuppli Corp., El Segundo, Calif.

"While the combination of the 3-axis accelerometer with a 3-axis gyroscope provides much fuller and more accurate recognition of user motion than an accelerometer alone, the task of fusing the signals from both sensors is everything but trivial," said Jérémie Bouchaud, principal analyst for MEMS and sensors at iSuppli. "A solution that can process both types of signals will ease the work for the OEM and contribute to accelerating adoption in gaming, as well as other consumer applications, like IPTV remotes."

The IMU-3000 features a 3-axis digital gyro with programmable fullscale ranges of ±250, ±500, ±1000, and ±2000 degrees/sec, which is useful for precision tracking of both fast and slow motions. Rate noise performance sets the industry standard at 0.02 degrees/sec per ?Hz, providing the highestquality user experience in pointing and gaming applications. Factorycalibrated initial sensitivity of 1% reduces productionline calibration requirements. The part's onchip FIFO and dedicated I2Cmaster accelerometer sensor bus simplify system timing and lower system power consumption; the sensor bus allows the IMU-3000 to directly acquire data from the offchip accelerometer without intervention from an external processor. Other industryleading features include a small 4mmx4mmx0.9mm plastic QFN package, onchip16bit ADCs, programmable digital filters, a precision clock with 2% accuracy over -40°C to 85°C, an embedded temperature sensor, programmable interrupts, and a low 13mW power consumption. Parts are available with I2C and SPI serial interfaces, a VDD operating range of 2.1 to 3.6V, and a VLOGIC interface voltage from 1.71V to 3.6V.

"The IMU-3000 addresses the market need for a complete solution to address motion processing in a wide range of applications without adding system processing overhead,"
said Michael Maia, Vice President, InvenSense Gaming and 3D User Interface Business Unit. "By driving the processing into the device, the IMU-3000 enables a low power, low cost solution that can now be easily integrated with significant timetomarket improvements."

The key enabling technology behind the size and high performance of the IMU-3000 is the company's patented and volumeproven Nasiri-Fabrication platform, which directly integrates MEMS mechanical structures and CMOS electronics at the wafer level enabling the industry's lowest noise specification, lowest power consumption, and smallest package size. Leveraging its 8" fabrication platform and its inhouse high volume test and calibration facilities in Taiwan, the IMU-3000 is designed to support the high volume requirements of the consumer marketplace.

The IMU-3000 family is available now for sampling by select qualified customers with mass production in Q2 2010 and is priced at under $3.50 for high volume applications.

For more information visit InvenSense at www.invensense.com.

About InvenSense

InvenSense is the leading solution provider for the motion processing market for mobile consumer applications, with proven technology and products shipped in millions of units monthly to customers worldwide. The company's patented MotionProcessingTM technology and Nasiri-Fabrication platform address the emerging needs of many massmarket consumer applications such as gaming, image stabilization, remote controls, and handsets that require improved performance, enhanced features, and new and more intuitive motion and gesturebased userinterface solutions. InvenSense is a privately held company with headquarters located in Sunnyvale, California. More information can be found at www.invensense.com.
Macnica GmbH
Founded in 1978, Scantec is a European company headquartered in Germering/Munich with a subsidiary in the US (Ameribridge International Inc., Palo Alto), regional sales offices in Italy (Milan),Poland (Warsaw) and Czech Republic (Prague) as well as a strategic partner for system integration and IT related services. For decades Scantec is a successful hub for state of the art technology associated with knowhow, providing customers with a competitive advantage, minimizing time to market by integrating innovations of start up semiconductor companies with the market power of established key players. For more information on Scantec and our product lines, please visit our website: www.scantec.de/us Linecard: Akros Silicon, AudioCodes, Cavium Networks, Dallmeier, Focus Semiconductor, Fulcrum microsystems, GSI Technology, IDT, InvenSense, Jennic, LSI/CSI, Phyworks, Pixim, Ricoh, SiliconBlue, Smart Modular Technologies, Stretch Inc., SynQor, Techwell, Teridian and XMOS.

Homepages: www.scantec.de
Press releases you might also be interested in
Weitere Informationen zum Thema "Hardware":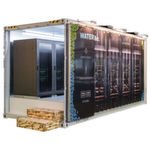 Cloud&Heat Technologies expandiert nach Asien
Cloud&Heat Tech­no­lo­gies hat ei­ne Han­del­s­part­ner­schaft mit Ina­ba­ta & Co. Ltd. aus Ja­pan ge­sch­los­sen. Da­mit star­tet das Dres­de­ner Un­ter­neh­men den Ver­trieb sei­ner Re­chen­zen­trums- und Cloud-Pro­duk­te im asia­ti­schen Raum. Ina­ba­ta ist zu­g­leich der ers­te asia­ti­sche Kun­de, der ei­nen Auf­trag er­teilt hat.
Weiterlesen