IDT Expands Industry-Leading PCI Express Portfolio with New PCIE-to-PCI Bridge
Next-Generation PCI Express Bridge Offers Lowest-Available Power Consumption
San JOSE, Calif.

, (PresseBox) -
IDT® (Integrated Device Technology, Inc.; NASDAQ: IDTI), a leading provider of essential mixed signal semiconductor solutions that enrich the digital media experience, today announced a PCI Express® (PCIe®)to-PCI bridge tailored for the computing and consumer markets. The low power consumption and innovative features - such as its advanced buffering and queuing techniques - offered by the IDT bridge help designers improve overall system efficiency, making this device ideal for PC motherboards, PC adapter cards, multifunction printers, mobile applications and digital video recorder (DVR) cards. The new IDT bridge provides a smooth transition from legacy PCI to PCIe as applications migrate to the newer standard. Moreover, the bridge features an impressive 40percent reduction in power consumption from alternative solutions - the lowest power consumption available in the industry.

The IDT PEB383 bridge has been designed to help IDT customers simplify board layout and manufacturability. The IDT PCIeto-PCI bridge is tailored to match design characteristics of leading consumer processors, such as Intel and AMD, helping ensure ease of integration. In addition, the new PCIeto-PCI bridge features the lowest latency and highest bandwidth compared to alternative solutions, resulting in the highestquality overall system solution. The IDT PEB383 also features advanced buffering and queuing techniques, including shortterm caching (STC), which provides more than a 500percent improvement with nonposted transactions, helping improve overall system performance.

"PCI Express has been fully adopted and is growing within the consumer market segment," says Steve Peterson, Director of Intel Chipset Marketing. "For consumer designs that still require legacy PCI, the IDT PEB383 provides a smooth transition as addin cards complete the transition from legacy PCI to PCI Express."

The IDT PEB383 bridge features a PCIe port that provides 2.5Gbps throughput in a single lane configuration. This PCI port is a 32bitwide interface supporting frequencies up to 66MHz, allowing legacy devices to interface with the PCIe hierarchy. The PCI interface also offers a comprehensive feature set and 5V I/O tolerance to ensure interoperability with the earliest of PCI I/O devices, providing IDT customers with increased design flexibility.

"With the PEB383 bridge, our customers can expect complete interoperability from the PCIe interface to their existing PCI solutions," said Mario Montana, vice president and general manger for the IDT Enterprise Computing Division. "This thirdgeneration bridge leverages the performance characteristics of its predecessors while incorporating new techniques in power reduction to provide the most competitive consumer PCIeto-PCI bridge in the industry."

Pricing and Availability

The new PEB383 bridge is priced at $4.95 for 10,000 units and is available in a 14x14 millimeter 128pin Quad Flat Pack (QFP) and a small 10x10mm 132pin Quad Flat No-Lead (QFN) package. For additional information, visit www.IDT.com/go/PCIeBridges .

About IDT PCIe Solutions

IDT provides the broadest range of high performance, low power PCI Express switching and bridging solutions targeting system interconnect, I/O expansion and protocol bridging connectivity requirements. In addition, IDT is the leading PCI Express timing solutions provider. IDT is an active member of the PCI Express special interest group (SIG), and has strategic product plans based upon the standard.

About IDT

With the goal of continuously improving the digital media experience, IDT integrates its fundamental semiconductor heritage with essential innovation, developing and delivering lowpower, mixed signal solutions that solve customer problems. Headquartered in San Jose, Calif., IDT has design, manufacturing and sales facilities throughout the world. IDT stock is traded on the NASDAQ Global Select Stock Market® under the symbol "IDTI." Additional information about IDT is accessible at www.IDT.com.
Macnica GmbH
Founded in 1978, Scantec is a European company headquartered in Germering/Munich with a subsidiary in the US (Ameribridge International Inc., Palo Alto), regional sales offices in Italy (Milan),Poland (Warsaw) and Czech Republic (Prague) as well as a strategic partner for system integration and IT related services. For decades Scantec is a successful hub for state of the art technology associated with knowhow, providing customers with a competitive advantage, minimizing time to market by integrating innovations of start up semiconductor companies with the market power of established key players. For more information on Scantec and our product lines, please visit our website: www.scantec.de/us Linecard: Akros Silicon, AudioCodes, Cavium Networks, Dallmeier, Focus Semiconductor, Fulcrum microsystems, GSI Technology, IDT, InvenSense, Jennic, LSI/CSI, Phyworks, Pixim, Ricoh, SiliconBlue, Smart Modular Technologies, Stretch Inc., SynQor, Techwell, Teridian and XMOS.

Homepages: www.scantec.de
Press releases you might also be interested in
Weitere Informationen zum Thema "Hardware":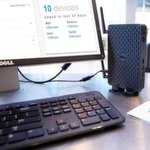 Neues und Aktualisiertes für Thin Clients von Wyse
Mit er­wei­ter­ten Ver­sio­nen des Be­triebs­sys­tems "Wy­se Thi­nOS" und der "Wy­se Ma­na­ge­ment Sui­te" so­wie den neu­en Soft­wa­re­lö­sun­gen "Wy­se Con­ver­ter" für PCs und "Wy­se Ea­sy Se­tup" möch­te Dell die Ein­rich­tung, Ver­wal­tung und Ska­lie­rung von di­gi­ta­len Ar­beits­plät­zen und Vir­tual Desk­top In­fra­struc­tu­re (VDI) er­leich­tern.
Weiterlesen