Ambarella S2 IP Camera SoC Delivers 4K Ultra HD Resolution Video
S2 combines high performance video with advanced analytics and ultra-low power consumption
Santa Clara, Calif.

, (PresseBox) -
Ambarella, Inc., a leading developer of low-power, HD video compression and image processing semiconductors, today introduced S2, a security IP camera System-On-Chip (SoC) with support for the new 4K Ultra HD video standard. Ambarella's S2 family of SoCs is based on a Dual Core ARM® Cortex(TM) -A9 CPU and a high-performance video engine that delivers multi-stream H.264 encoding up to 4K (3840x2160p30) resolution for outstanding image clarity and detail. Hardware analytics acceleration combined with the dual-core CPU provide the processing power necessary to enable cameras to analyze video content and make intelligent decisions based upon it. Leveraging low-power 32nm process technology and Ambarella's proprietary system architecture, the S2 delivers 1080p60 encoding in less than one Watt and 4K video encoding in less than two Watts.

"By delivering 4K video and multi-core CPU performance in a 32nm low-power design, Ambarella is enabling high resolution video in compact camera form factors," said Fermi Wang, President & CEO of Ambarella. "With S2, our customers have a flexible platform to create highly intelligent IP cameras that have outstanding image clarity."

The S2 family provides an array of IP camera design choices. The family is comprised of software and pin-compatible SoCs that range in performance from 1080p45 encode with a 500 MHz dual-core CPU to 4K Ultra HD encode with a 1 GHz dual-core CPU. Camera designers can also access advanced features including analytics hardware acceleration, panoramic lens de-warping, hardware face detection, digital Pan Tilt Zoom (PTZ) and electronic image stabilization (EIS). The Linux-based S2 Software Development Kit (SDK) supports a wide range of image sensors and enables features such as WiFi connectivity, cloud services, local SD Card recording and transcoding. The SDK also offers comprehensive 3A and image tuning tools for customization.

S2 Feature Summary


Image Sensor Pipeline with high-speed SLVDS/MIPI®/HiSPi(TM) interfaces, up to 32 Megapixel (MP) sensor resolution.
Wide Dynamic Range (WDR) with multi-exposure fusion to improve video in high-contrast lighting conditions.
Advanced 3D noise reduction with de-ghosting to enhance low-light performance.
4K video (3840x2160p30 or 1920x1080p120) H.264 encoding to support the new Ultra HD standard. Multi-streaming to enable independent resolutions, frame rate and quality. Support is also offered for video transcoding and low-latency encoding.
Dual Core ARM Cortex-A9 CPU with NEON and a 512 KB L2 cache provides headroom for customers' applications, as well as enhanced power efficiency and real-time performance compared to single-core architectures.
Analytics hardware acceleration for efficient processing of tasks like object tracking, trip zone perimeter control and intelligent motion detection.
Real-time hardware-accelerated de-warping for 180/360 degree panoramic lenses.
AES/3DES/SHA-1/MD5 encryption engines.
Rich set of interfaces allows for compact designs and includes 32-bit DDR3L, Gigabit Ethernet, USBG 2.0 host and device, HDMI®, SDXC SD(TM) Card, and dual sensor interfaces.


Availability

The S2 family of SoCs is available now for qualified customers. Pricing information and S2 model details may be obtained directly from Ambarella at www.ambarella.com or by calling +1-408-734-8888. The URL for this news release is: www.ambarella.com/about/news-events.html. The URL for the related image is: www.ambarella.com/about/news-events/press-images/S2-ipcam-press-images.html. The URL for the product brief is: www.ambarella.com/uploads/docs/S2-ipcam-product-brief.pdf

About Ambarella

Ambarella is a leading developer of low-power, high-definition video compression and image processing solutions. Ambarella products are today used in a variety of high definition cameras including security IP-cameras, wearable sports cameras, digital still cameras and automotive video recorders. Ambarella technology is also used in television broadcasting with TV programs being transmitted worldwide using Ambarella compression chips. Ambarella is the recipient of the Global Semiconductor Alliance (GSA) 2010 and 2011 awards for "Most Respected Private Semiconductor Company". For more information about Ambarella, please visit www.ambarella.com.
Macnica GmbH
Founded in 1978, Scantec is a European company headquartered in Munich with a subsidiary in the US (Ameribridge International Inc., Palo Alto), regional sales offices in Italy (Milan),Poland (Warsaw) and Czech Republic (Prague) as well as a strategic partner for system integration and IT related services. For decades Scantec is a successful hub for state of the art technology associated with know-how, providing customers with a competitive advantage, minimizing time to market by integrating innovations of start up semiconductor companies with the market power of established key players. For more information on Scantec and our product lines, please visit our website: www.scantec.de/us

Homepages: www.scantec.de

Press releases you might also be interested in
Weitere Informationen zum Thema "Hardware":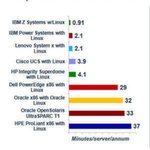 Höchste Zuverlässigkeit bei IBM und Lenovo, schlechteste Werte bei Oracle und HPE
All­jähr­lich be­fragt In­for­ma­ti­on Tech­no­lo­gy In­tel­li­gen­ce Con­sul­ting Corp. (ITIC) 800 Or­ga­ni­sa­tio­nen welt­weit zur Zu­ver­läs­sig­keit ih­rer Ser­ver und Ser­ver-Be­triebs­sys­te­me. Um mög­lichst un­vor­ein­ge­nom­me­ne Er­geb­nis­se zu prä­sen­tie­ren zu kön­nen, ak­zep­tiert das Un­ter­neh­men kein Spon­so­ring von An­bie­tern. Auch im Re­port 2017/2018 lie­gen IBM und Le­no­vo vor­ne – zum zehn­ten Mal hin­te­r­ein­an­der – Or­a­c­le und "HPE Pro­li­an­t" nicht.
Weiterlesen