Scansafe launches Anywhere+ the world's first Saas Web Security for roaming employees
Anywhere+ Service Extends Protection to All Employees Using the Internet Outside the Office; Provides Real Time Scanning and Policy Control and Eliminates Costs and Complexity of Traditional Endpoint Solutions
LONDON and SAN MATEO, Calif.

, (PresseBox) -
ScanSafe, the pioneer and leading provider of Web Security-as-a-Service, has announced the availability of Anywhere+—the world's first ever software-as-a-service (SaaS) Web security providing real-time protection from malware and enforcement of acceptable Internet usage policies for all users surfing the Web regardless of their location.

In an always-on world with an increasingly elastic network perimeter, Web security can now be extended to anywhere users are located. The launch of the patent pending Anywhere+ service allows businesses to seamlessly extend their security policy to hotels, airports, remote offices, homes or anywhere else employees might use their laptops.

According to Gartner Inc.'s report, Pros and Cons of SaaS Secure Web Gateway (SWG) Solutions, "The primary advantage of a SaaS SWG is its suitability for the growing population of small office/home office and mobile workers and Internet-based meshed architecture."*

Increasing numbers of employees travel for work and/or work remotely outside of traditional office hours. UK Stat: According to data from the Office for National Statistics, more than six million Britons telework from various locations outside the office. US Stat: According to WorldatWork, a staggering 45 million Americans work from various locations outside the office. In a December 2007 survey of ScanSafe customers worldwide, 95 percent of respondents reported that at least 10 percent of their staff worked remotely on a regular basis. INSERT STAT FROM GERMANY?

Roaming employees provide a significant challenge to corporate security. Sixty-five percent of ScanSafe survey respondents reported instances of roaming workers tampering with or disabling security features on their laptop when working remotely. Forty percent reported they had been hit by a security threat as a result of a roaming worker's use of their laptop in the last 12 months.

"Businesses of all sizes identify remote and roaming workers as one of the biggest weaknesses in their corporate Web security," said Dan Nadir, vice president, product strategy, ScanSafe. "With Anywhere+ it is finally possible to protect remote users wherever they are working without introducing latency, increased support or other administrative headaches.

"Users who surf unprotected while 'on the road' often return with malware-infected laptops that can expose the corporate network to data theft. Unfortunately, existing desktop and corporate-deployed solutions fall short of offering full protection," Nadir says. "For example, there's a prevailing misconception that a VPN always protects roaming users from Web threats. However, research shows that the majority of the time, users do not use the VPN when surfing outside the office, opting instead to connect directly to the Internet."

How Anywhere+ works

Unlike traditional remote security approaches, Anywhere+ is delivered as a service. All inbound and outbound Web traffic is transparently redirected to the nearest scanning datacenter in ScanSafe's global network which stretches from Sydney to San Francisco, where it is scanned and filtered in real-time. Because all Web traffic is scanned 'in the cloud,' Anywhere+ eliminates the latency, bandwidth congestion and costs associated with traditional backhauling of Web traffic over the corporate VPN to an Internet gateway.

As a SaaS solution, Anywhere+ can be deployed rapidly. The service is activated through a lightweight driver. Unlike other endpoint clients Anywhere+ does not require a 50 MB download or constant updates to remain effective, and it does not rob the user of scarce resources including memory and CPU.

Anywhere+ supports multiple authentication mechanisms including integration with Active Directory and support for administrator-created authentication keys, facilitating an easy roll-out to hundreds or even thousands of PCs. It works with existing VPN, desktop security clients and internal proxies and allows for seamless roaming between different network interfaces including wired, wireless and 3G.

The service requires no end-user configuration and is tamper resistant—ensuring corporate security policy is always enforced regardless of a user's physical location. Anywhere+ also reduces the risk of roaming workers bringing infected laptops back into the office LAN. In addition, it encrypts all Web traffic over standard SSL to ensure privacy and prevent data interception, even when roaming and remote users access the Web from public networks.

Meeting customer needs

ScanSafe's longstanding customer Sumitomo Electric Wiring Systems, has been trialing Anywhere+ as it looks to improve Web security for its 300 remote workers. Its previous security solution for roaming workers had not been able to prevent staff accessing the Internet directly or violating corporate Web use policy.

"Prior to Anywhere+, we used end point solutions to ensure a secure connection along with desktop anti-virus to provide malware protection for roaming employees," says the company's network administrator, Paul Jennings. "However, this didn't allow users to safely surf the Internet from anywhere. For example, in order for employees to access an Internet hotspot while traveling, we'd have to allow an exception—basically punch a hole in our security armor—to enable them to access the Internet directly. As a result, employees could alter proxy server settings in the browser and surf the web without any filtering."

As with all ScanSafe services, Anywhere+ allows simplified, centralized management through ScanCenter—its easy-to-use Web-based portal for reporting, control and administration. Web filtering policies can easily be changed and are active within minutes globally, with no need to wait for client software to try to update itself. In addition, reporting data is automatically and continuously aggregated across internal corporate users and roaming users.

"In addition to extending our corporate security and Internet use policies to roaming workers, Anywhere+ makes our remote access security solution complete because it allows us to extend and enforce our Web use policy and provide protection against malware for all our roaming workers," says Jennings. "It also improves the performance of remote connections because there is no backhauling of traffic to a central Internet gateway."

Anywhere+ is available now to existing ScanSafe users as well as businesses looking to add roaming security capabilities to their existing Web security solution. It is an add-on service with pricing starting at £1.00 per user per month.

For more information on Anywhere+, including a 30-day risk-free trial, please visit: INSERT URL FOR ANYWHERE+ MICROSITE
ScanSafe, Inc.
ScanSafe, als der größte weltweite Anbieter von Sicherheitsdiensten in Form von Software as a Service (SaaS), bietet Unternehmenskunden eine sichere und produktive Internet-Umgebung. Die Lösungen des Dienstleisters sorgen dafür, dass Viren, Spyware und andere Bedrohungen die Unternehmens-Netze erst gar nicht erreichen. Außerdem ermöglichen sie den Kunden, die Nutzung von Internet und Instant Messaging nach eigenen Vorstellungen zu kontrollieren.

Der Managed Service bietet Echtzeit-Schutz, ohne dass die Kunden Hard- oder Software installieren müssten und befreit die Anwender damit von den mit eigener Sicherheitsinfrastruktur verbundenen Aufgaben und Kosten, etwa für Anschaffung oder Wartung. Mit Hilfe der proaktiven Technik Outbreak Intelligence TM verarbeitet ScanSafe pro Monat mehr als 10 Milliarden Web-Anfragen und blockt monatlich 100 Millionen Bedrohungen für Kunden in über 60 Ländern.

ScanSafe unterhält Niederlassungen in London und San Mateo, Kalifornien. Das Unternehmen befindet sich in Privatbesitz, Risikokapitalgeber sind Benchmark Capital und Scale Venture Partners. 2007 erhielt das Unternehmen den CODiE Award für die Best Software as a Service (SaaS) Solution, den "2007 SC Magazine Europe Award for Best Content Security Solution" und wurde unter den Top 100 Technologieunternehmen von Red Herring gelistet.

Detaillierte Informationen finden Sie unter www.ScanSafe.com Bei Veröffentlichung bitte Beleg - DANKE!
Press releases you might also be interested in
Weitere Informationen zum Thema "Sicherheit":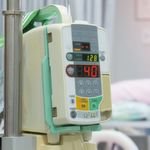 Medizin in Zeiten des "Internet of Things"
Ei­ni­ge Her­s­tel­ler von Me­di­zin­ge­rä­ten ha­ben ih­re Ge­rä­te übe­reilt an das In­ter­net of Things (IoT) an­ge­passt, oh­ne die da­mit ver­bun­de­nen Pro­b­le­me rund um Cy­ber Se­cu­ri­ty zu be­ach­ten.
Weiterlesen