Scalado heralds the dawn of a "new age" for mobile imaging at the Mobile World Congress in Barcelona
"User experience", not megapixels, will take centre stage as end-users look to create, view, and share their images more often and more easily
Lund

, (PresseBox) -
Scalado, the leader in mobile imaging software solutions, has chosen the Mobile World Congress (MWC) to unveil a suite of new mobile imaging applications that will change the way people look at images on camera phones - literally. The new product range, comprised of a number of different Application Plug-ins, will not only enhance the experience of mobile imaging for camera phone users, but will also include eye-catching graphics and unique features.

"During 2007, we've developed a number of additional mobile imaging applications that continue to build on our CAPS imaging SDK, a product that is already being used by the world's leading mobile camera phone vendors," says Mats Jacobson, CEO, Scalado. "This year at MWC, we will show more than our latest CAPS release - we are expanding these and are focusing on transforming mobile imaging into truly appealing user experiences."

With camera phones competing head-to-head with the mid-tier digital still cameras (DSC'S) for megapixels and image quality for the first time this year, the latest mobile imaging devices will nonetheless reign supreme, thanks to the addition of a more tangible user friendly experience, intuitive User Interface (UI) and the capability to share and view both personal and Web-based images easily.

The first two Scalado products to be launched and demonstrated at the show will be PhotoFlow and PhotoSlider. PhotoFlow, an image viewing application that is built around Scalado's CAPS engine and the SpeedView feature module, will vastly improve existing photo galleries or album applications by providing not only instant viewing, zooming, and panning of multi-megapixel images, but the application also features several different viewing layouts that can be used to display images in a number of diverse animations.

PhotoSlider is a unique slideshow application that plugs into a photo gallery or photo album to create a photo slideshow that includes transition effects, as well as the latest high-tech face detection technology to automatically find people in the photos, and to zoom and pan in on their faces in the slide show automatically. Both Application Plug-ins port easily to any OS or platform.

"After such a successful launch for the iPhone, imaging will now be much more about creating an experience, rather than effects, filters, and the race to produce more and more pixels," adds Mats Jacobson, CEO, Scalado. "Without a doubt, the ability to have fun and share experiences easily will replace the previous benchmarks of megapixels and transfer protocols. The future for mobile imaging will instead be all about end-to-end experience, and creating an easy way to Create, View, and Share images in a package that is as attractive as possible."

Scalado will be giving live demonstrations of these "user experiences" at the MWC. Both of its new applications have been built on its upgraded Speed View engine, complete with a layout mechanism that presents the images on a phone with super speed, as well as an unbelievable 3D-like viewing experience.

According to Scalado, all of these functions will enhance the experience for end users, which in turn will increase the likelihood of them using the camera more frequently, and therefore taking, manipulating and sending images more often. At the same time, the much-publicised capabilities of the multi-touch screen will continue to play an important role as existing phone manufacturers seek to market and demonstrate their own responses to the iPhone.

Please feel free to drop by the stand in the Swedish Pavilion in Hall 2, stand 2F:13
Scalado
Scalado AB is a Swedish imaging software company that focuses on the wireless device industry. It provides mobile imaging software solutions that are powerful, scalable and modular for any camera phone. Its mission is to make imaging on mobile phones more efficient - bringing higher usability for end-users and cutting hardware costs for device manufacturers. With unique and patented software technologies, it is solving critical performance issues with less memory and CPU requirements.

Founded in 2000, Scalado has its head office in IDEON Research Park in Lund, Sweden. The company's principal shareholders are venture capitalists Northcap Partners, Industrifonden, and Teknoseed as well as company's founders. For more information, please visit www.scalado.com.
Press releases you might also be interested in
Weitere Informationen zum Thema "Kommunikation":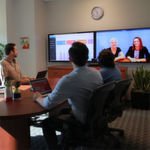 4 Tipps für sichere Videokonferenzen
Cy­berse­cu­ri­ty ist in al­ler Mun­de und wird täg­lich wich­ti­ger. Trotz­dem fin­det Uni­fi­ed Com­mu­ni­ca­ti­ons in der Si­cher­heits­de­bat­te nur we­nig Be­ach­tung. Die Si­cher­heit in die­sem Be­reich ist je­doch ein wich­ti­ger Aspekt für je­des Un­ter­neh­men – ins­be­son­de­re, weil da per Vi­deo­kon­fe­renz auch oft sehr sen­si­b­le In­for­ma­tio­nen aus­ge­tauscht wer­den.
Weiterlesen