ROPA presents a new generation of sugar beet harvester at Agritechnica - ROPA euro-Tiger V8-4
Sittelsdorf

, (PresseBox) -
Several new developments in ROPA's sugar beet harvester euro-Tiger V8-4 lead to improved profitability and increased daily performance for the efficient harvest of sugar beets. At the euro-Tiger V8-4 merge proven components from the euro-Tiger V8 and the euro-Maus 4 with the latest technical innovations from ROPA.

The ROPA euro-Tiger V8-4 is now the world's most powerful sugar beet harvester. With a hopper capacity of over 40m ³ it can be used on short and especially long beet fields efficiently and flexible. A perfect symbiosis of bunker filling-automatic and hydraulic axle load control (with integral suspension) provides optimum traction under all harvest terms with the best weight distribution. Best soil care allow the new 800/70 R32 Ultra Flex / CHO tires on the front axle, which are filled with only 1.4 bar air pressure. The soil is cared at the same time improved dampening characteristics ensure high driving comfort.

The new designed euro-cab with significantly improved cab mounting ensures optimal insight into the lifting unit in a physiologically oriented and comfortable seating position. The interior of the new and friendly cabin equipment is combined with excellent sound insulation as a guarantor for driving enjoyment pure. Practical and self-explanatory is the new designed multi-function terminal with color display and visual monitoring of all work units. Ergonomically arranged control panels in combination with the new ROPA multifunction-joystick (with integrated mini joystick) grant an activity area of the top class.

The power transfer in the 598 PS/ 440 kW (Mercedes Benz V8 with AdBlue and SCR-KAT euro-Mot 3b) strong euro-Tiger V8-4 is now even more efficient by reduced fuel consumption. A higher maximum torque of 2800 Nm is transmitted at optimized efficiency with a new Rexroth hydraulic pump, with 12% more pumping capacity and 5% more power than in predecessor models.

For additional comfort during the harvesting offers ROPA the latest machine software with various automatic parameters. The latest generation of on board computer impress over the previous model with the 2,8-times of computing speed. Another part of the machine software is the ability to backup and transfer the machine settings. Therefore the driver lost no time by hiring the machine, thus improving its performance on the field.

ROPA sets also new standards in terms of harvesting. Dominant aim of a new model was to maximize the beet yield while reducing operating costs. For the claim, to harvest sugar beet with top, but without leaves has ROPA developed an optimal solution. Micro-Topping meets the needs of beet growers, sugar industries and contractors! The ROPA Micro-topper has proven itself in practice to test with impressive results and achieved the serial stage. Under a cost/ benefit analysis, based on the entire value chain, can be reached with Micro-Topping the maximum profit without additional costs.

ROPA has also developed new harvesting shares for the euro-Tiger. The new shares can be adjusted in 6 different positions for optimal harvesting results.

A new intelligent three-point with integrated measuring system allows even finer control to maintain the optimum harvesting depth, a further solution for reducing harvesting losses.

For the proven and mature lifting unit of the PR-XL series (working width 4.00 m to 4.50 m depending on row spacing at 6, 8, or 9 rows) provides ROPA the advanced quick coupling system associated with transport vehicles. The (over-) wide lifting unit can be moved on roads with lifted defoliating unit behind the euro-Tiger V8. The advantage of the PR-XL system solution is an increased performance and optimal treatment of beets and best soil care.

For an optimized loading or overloading of the sugar beet, there is a new drive for the unloading elevator with automatic function. In particular, overloading vehicles is much easier.

The sum of new developments at the euro-Tiger V8-4 to sum up to increase daily output and reduced operating costs at the same time simplified maintenance and repair. The operator enjoys a higher driving comfort by efficient harvesting of sugar beets.
Press releases you might also be interested in
Weitere Informationen zum Thema "Maschinenbau":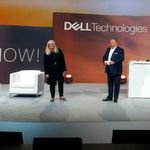 Digitalisierung erfordert nahtlose Kommunikation
Dells Ta­ges­ver­an­stal­tung The Next Now! In Mün­chen woll­te Hil­fe­stel­lung leis­ten auf dem Weg zur Di­gi­ta­li­sie­rung der Un­ter­neh­men in Deut­sch­land. Wel­che St­ra­te­gi­en und Rah­men­be­din­gun­gen er­wei­sen sich als güns­tig, was soll ver­mie­den wer­den?
Weiterlesen