REpower invests in Osterrönfeld / Northern Germany
Signing of development agreement with Osterrönfeld local authority and Rendsburg-Eckernförde Economic Development Corporation
Hamburg

, (PresseBox) -
REpower Systems AG (WKN 617703), one of the leading manufacturers of wind turbines in Europe, has concluded an agreement with the Osterrönfeld local authority and Wirtschaftsförderungsgesellschaft des Kreises Rendsburg-Eckernförde (WFG – Rendsburg-Eckernförde Economic Development Corporation), which supports the company's development intention within the community. The local authority and WFG are committed to making the required areas available to REpower for the construction of production sites and an administrative building within a year and to build a port opposite the current district port in Rendsburg, which is also suitable for the transportation of very heavy wind turbine components.

REpower assures that it will apply for permission and will construct an administration as well as a production building if the requirements for the planning laws are met.

Prospective costs for the new port, including the development of the industrial area bordering the wharfage are expected to be EUR 15 million. The cost for the new port's technical equipment, with cranes, vehicles, a heavy-duty pontoon and a plant is estimated to be approximately EUR 17 million. In the first stage of development, capital investment from REpower will be approximately EUR 16 million.

Prof. Dr. Fritz Vahrenholt, CEO of REpower Systems AG, explained the outlook for the company after the signing: "Osterrönfeld is ideal for us, as it offers the best conditions for production and logistics". He went on to add that "by the end of next year, we intend to employ 250 people here at our new technical centre. A year later, the new manufacturing site should and must be in operation, with additional employees. By doing this we can ensure our growth onshore and offshore, with REpower machinery from Osterrönfeld."

All other administration and production locations of REpower Systems AG in Germany (Hamburg, Husum, Trampe/Brandenburg, Osnabrück as well as the future product facility in Bremerhaven) remain unchanged or are to be extended.

The contract was signed by Professor Vahrenholt, Mayor Bernd Sienknecht and WFG Managing Director Dr. Gerald Gehrtz at a small ceremony in Café am Kanal in Osterrönfeld which is adjoined to the site of the new port.

The planning approval procedure is currently being developed together with the Osterrönfeld local authority and the Office for Rural Areas. Most of the necessary inspections have already been carried out according to schedule. Upon completion of the procedure, the Osterrönfeld local authority and WFG will set up a development company to carry out necessary measures for the completion of the infrastructure, in which both will have a 50% share.

"The new port is to be promoted extensively by funds from the European Union, the Federal Republic of Germany and of the State of Schleswig-Holstein. This assumes that the port is also available for other users. We will support the development of a logistics centre for the handling of wind turbines here. In order to ensure this, we will also create conditions for container handling", said Dr Gerald Gehrtz, Managing Director of WFG.

The Osterrönfeld local authority considers REpower's settlement to be acknowledgment of their strategic planning. "Up to now our local authority has greatly profited from their conveniently located facility with direct connection to Autobahn 7. With the new port we can also offer logistics companies operating in Osterrönfeld direct access to international shipping lanes and we are certain that this will lead to more companies in this industry settling here", commented Mayor Bernd Sienknecht.
Senvion SE
Die REpower Systems AG zählt zu den führenden Herstellern von Windenergieanlagen im Onshore- und Offshorebereich. Das international agierende Maschinenbauunternehmen entwickelt, produziert und vertreibt Windenergieanlagen mit Nennleistungen von 2 bis 5 Megawatt und Rotordurchmessern von 82 bis 126 Metern für nahezu jeden Standort. Hinzu kommt ein umfassendes Service- und Wartungsangebot. Die ertragsstarken und zuverlässigen Anlagen werden im REpower-Entwicklungszentrum in Rendsburg konstruiert und in den Werken Husum (Nordfriesland), Trampe (Brandenburg) und Bremerhaven gefertigt.

Mit über 1.300 Mitarbeitern weltweit kann das seit März 2002 börsennotierte Unternehmen mit Hauptsitz in Hamburg auf die Erfahrungen aus der Fertigung und Installation von weltweit fast 2.000 Windenergieanlagen zurückgreifen. REpower ist mit Vertriebspartnern, Tochtergesellschaften und Beteiligungen in europäischen Auslandsmärkten wie Frankreich, Großbritannien, Italien, Portugal und Spanien, aber auch weltweit in den USA, Japan, China oder Australien vertreten.
Press releases you might also be interested in
Weitere Informationen zum Thema "Forschung und Entwicklung":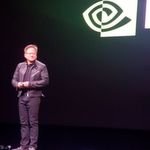 ARM und NVIDIA entwickeln gemeinsam KI-Chips
Um die Ent­wick­lung des ei­ge­nen KI-Pro­jekts Tril­li­um vor­an­zu­t­rei­ben, hat Pro­zes­sor­ent­wick­ler ARM ei­ne Part­ner­schaft mit dem GPU-Her­s­tel­ler NVI­DIA ge­sch­los­sen. Des­sen De­ep-Lear­ning-Ar­chi­tek­tur NVD­LA wird for­tan in die Tril­li­um-Platt­form in­te­griert.
Weiterlesen