REpower celebrates the laying of the foundation stone of its new development centre
Ceremony in the presence of Minister Marnette / Relocation to the new building scheduled for beginning of 2010
Hamburg/Osterrönfeld

, (PresseBox) -
Germany's third-largest wind turbine manufacturer, REpower Systems AG (Prime Standard, WKN 617703), celebrated today the laying of the foundation stone for a new development and administration centre in Osterrönfeld (district of Rendsburg-Eckernförde). In the presence of the Minister for Science, Economic Affairs and Transport in Schleswig-Holstein, Mr. Werner Marnette, the Mayor of Osterrönfeld, Bernd Sienknecht, and further invited guests, the Executive Board hosted the traditional ceremony on the Kiel Canal site.

REpower CTO Matthias Schubert stressed in his greeting the solidarity of the company with Schleswig-Holstein and Rendsburg. "For over 20 years now, wind energy turbines have been developed in Rendsburg. We have also been developing our technologically leading turbines here since the founding of REpower in 2001, including our 5M and 6M offshore turbines and our new 3.XM onshore turbine", explained Mr. Schubert, adding: "We are delighted at having identified an ideal location with the active support of the local authorities and with the promotion of economic development. With the laying of the foundation stone, the first step of our further expansion here in Osterrönfeld is completed in the truest sense."

Minister for Economic Affairs, Mr. Marnette, praised REpower's decision to continue to invest in Schleswig-Holstein and create jobs; according to him, this is a positive signal particularly in these fraught economic times and proves that wind energy represents an important source of energy for the future. "The booming industry in Schleswig-Holstein with over 7,000 direct and indirect workers increasingly turns out to be the mainstay of the economy. Statistically, almost 40% of the region's electricity consumption are being covered by wind energy", said Mr. Marnette.

Afterwards, according to established tradition, a box filled with building plans, coins and newspapers was soldered up; the Minister, the Mayor and the REpower Executive Board bricked this in and thus laid the traditional foundation stone for the new building overlooking the canal and viaduct.

In Rendsburg and Büdelsdorf, REpower currently employs almost 400 people in development and other technical and operative departments, a majority of these being engineers. They are expected to relocate to the new administration building in Osterrönfeld in February 2010.
Senvion SE
REpower Systems AG is one of the leading manufacturers of onshore and offshore wind turbines. This internationally operating mechanical engineering company develops, manufactures and markets wind turbines with rated outputs ranging from 2 to 6 megawatts and rotor diameters ranging from 82 to 126 metres for virtually every location. The company also offers a comprehensive portfolio of service and maintenance packages. The profitable and reliable turbines are designed in the REpower development centre in Rendsburg and manufactured in the plants in Husum (Northern Friesland), Trampe (Brandenburg) and Bremerhaven.

With over 1,500 employees worldwide, the company listed since March 2002 and headquartered in Hamburg can make use of the experiences acquired from the manufacture and installation of almost 2,000 wind turbines around the world. REpower is represented with distribution partners, subsidiaries and participations in Europe outside of Germany such as France, Great Britain, Italy, Portugal and Spain, and also worldwide in the USA, Japan, China and Australia.
Press releases you might also be interested in
Weitere Informationen zum Thema "Energy / Environment":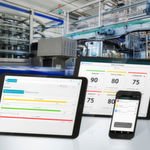 Monitoring für Maschinen
Sie­mens hat drei wei­te­re Mind­Apps für die Au­to­ma­ti­sie­rung von Si­matic-Sys­te­men vor­ge­s­tellt. Die An­wen­dun­gen hei­ßen Ma­chi­ne Moni­tor, No­ti­fier so­wie Per­for­man­ce Moni­tor und lau­fen auf dem Cloud-ba­sier­ten IoT-Be­triebs­sys­tem MindS­phe­re.
Weiterlesen