The Best just got Better!
RECOM Extends Its Successful R-78 Range with Three New Series
SPRENDLINGEN

, (PresseBox) -
The sales of Recom s R-78 series switching regulators have skyrocketed since their introduction in 2005 as customer after customer has replaced their unreliable, inefficient and problematic linear regulators with the Recom equivalent. Efficiencies of up to 97%, no need for a heatsink and pin compatibility have revolutionized many existing circuit designs, eliminating overheating, power brown-outs and regulator failures that plagued the old linear solutions without the need for a new board layout.

However, Recom has not rested on its laurels. After extensive development and testing, the R-78 range has been extended with three new series covering wide input voltage ranges, higher output currents and higher input voltages - all without increasing the already tiny SIP3 footprint!

The Originals

The R-78xx-0.5 offers output voltages from 1.5V to 15VDC at a maximum output current of 0.5A with the full input voltage range of up to 34VDC. The SIP3 package measures only 11.5 x 10 x 8mm (0.45 x 0.4 x 0.3"), yet delivers up to 7.5 Watts of power. The R-78xx-1.0 offers output voltages from 1.8V to 5VDC at a maximum output current of 1A with a reduced input voltage range of 4.75 to 18VDC in the same package.

Both converters are available in SMD mount packages as the R-78Axx- 0.5SMD or the R-78Axx-1.0SMD. The extra pins offered by the SMD package allows two additional functions to be built into these versions: remote On/Off control and output voltage trim. The output voltage can be adjusted over a range of about +/- 50% using a single external resistor and the remote on/off control puts the converters into ultra-low power mode where they draw only 20 µA current!

Typical Application:

Battery powered ìP supply with ultra low standby consumption

The Newcomers

The R-78Bxx-1.0 offers output voltages from 1.5V to 15VDC at a maximum output current of 1A with the full input voltage range of up to 34VDC. 15Watts in a SIP3 package! The R-78Bxx-1.0 is also available with 90° pins so that it can be laid flat on the PCB to save board height.

The R-78Bxx-1.5 offers output voltages from 1.5V to 6.5VDC at a maximum output current of 1.5A with an input voltage range of up to 18VDC. Like its 1A brother, it is also guaranteed to work in an ambient temperature from -40°C to +85°C (-40°F to +185°F) without forced cooling. The R-78Bxx-1.5 is also available with 90° pins.

The R-78HBxx-0.5 offers output voltages from 3.3 to 24VDC at a maximum output current of 0.5A with the amazing input voltage range of up to 9 to 72VDC. The world s first 8:1 converter! This ground breaking converter also does not stint on the specs: Up to 96% conversion efficiency, typically 20mVp-p ripple and noise, 1mA quiescent current, up to 1.2A peak current output and all this over the full temperature range!

Applications that will benefit from this extension to the R-78 switching converter range include replacing up to 3A linear regulators in power supplies (unlike linear regulators, Recom converters can be run continuously at 100% load without the need for derating), industrial 24VDC power supplies, high voltage battery powered supplies (24V, 48V or 60V battery packs) and universal input power supplies (e.g. a 5V regulated output from any supply voltage between 9V and 72V).

Typical Application Regulated low voltage supplies for a fork lift truck
RECOM Electronic GmbH & Co. KG
Incorporated in 1975 RECOM Electronic GmbH originally was a supplier for high precision metal-film- resistors and networks, becoming a pioneer for miniature DC/DC-converters in the mid 1980's. Today RECOM is a leading supplier of converters in the power range from 0.25 Watt to 60 Watt and above.

Our core focus- development & design, production and marketing span three continents - America, Europe and Asia, thereby ensuring close proximity to our customer base worldwide. Our continued quality improvement is significantly enhanced by RECOM being the first converter manufacturer having been awarded the prestigious TS 16949 certification.

Leading international corporations have selected RECOM as their strategic supplier for power supplies. The continued expansion of our international presence makes RECOM an important partner for the global industrial automation industry, aerospace, medical, transport and communication.

The RECOM group of companies is committed to continue to be at the forefront of technological developments. Please consult our webpage: http://www.recom-electronic.com.
Press releases you might also be interested in
Weitere Informationen zum Thema "Elektrotechnik":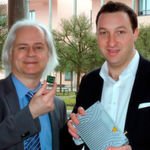 Sigfox und TH Deggendorf forschen am "1 Euro IoT"
Der IoT-Ser­vice­pro­vi­der Sig­fox wird künf­tig ge­mein­sam mit der Tech­ni­schen Hoch­schu­le Deg­gen­dorf am "1 Eu­ro Io­T" for­schen. Als Grund­la­ge di­ent da­bei das Low-Po­wer-Wi­de-Area-Netz­werk von Sig­fox.
Weiterlesen