Protagen announces CE Mark for its proprietary Multilisa® BICD2 test for better diagnosis of Systemic Sclerosis
Dortmund, Germany

, (PresseBox) -
Protagen AG, a leading specialist in the development of novel diagnostic tests and companion diagnostics in the autoimmune field, today announced that it gained CE marking for the Multilisa® BICD2 test. BICD2 is the first proprietary biomarker discovered by Protagen employing the SeroTag® technology platform, and provides significant added value to standard diagnostics for Systemic Sclerosis (SSc).

The SeroTag® platform continuously delivers novel and proprietary biomarkers to define autoimmune diseases at the molecular level. BICD2 autoantibodies are found in approximately 30% of patients with SSc, and are highly associated with the limited form of SSc. Beyond the classical markers such as anti-Centromere antibodies and anti-Scl70 antibodies, BICD2 autoantibodies are most abundant in SSc patients.

The Multilisa® BICD2 ELISA is intended for the semi-quantitative determination of autoantibodies to BICD2, an evolutionarily conserved motor adaptor protein involved in the dynein-mediated transport process.

SSc is a rare systemic autoimmune disease that manifests as progressive fibrosis of the skin and internal organs. The disease is associated with the presence of several specific autoantibodies to intracellular targets, which occur in around 80% of patients. As autoantibody specificities are strongly associated with patterns of organ involvement and disease outcome, understanding their mechanisms are an essential tool in the clinical management of SSc.

"The launch of the CE-marked Multilisa® BICD2 underscores the high performance of the SeroTag® platform in delivering novel biomarkers and diagnostic assays. We understand the high medical and diagnostic need for SSc, and that's why we've chosen to target this disease with our first Dx assay portfolio" said Dr. Stefan Müllner, CEO of Protagen. "Together with the recently launched CE-marked Multilisa® CENP-B and Multilisa® Scl-70, we are now offering a comprehensive assay portfolio for the improvement of SSc diagnosis and patient care."
Protagen AG
Protagen AG, headquartered in Dortmund, Germany, specializes in the development of novel diagnostic and companion diagnostic tests to provide better and earlier diagnosis of autoimmune diseases.

Protagen uses its proprietary SeroTag® biomarker platform to identify disease specific autoantibodies and is on target to become the leading provider of autoimmune diagnostic products, specifically targeting diseases with an unmet need for effective diagnostics. With pioneering bioscience techniques, extensive scientific expertise and a broad patent portfolio, Protagen works to develop its own diagnostic pipeline, and partners with other organizations to develop and implement new companion diagnostic tools for better personalized treatment strategies.

For more information, please visit www.protagen.com

Press releases you might also be interested in
Weitere Informationen zum Thema "Medizintechnik":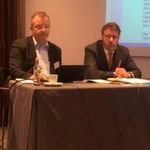 Bundesverband Künstliche Intelligenz will KI-Einsatz voranbringen
Sprach­rohr der KI-Bran­che soll der neue Bun­des­ver­band Künst­li­che In­tel­li­genz sein, der am Mit­te März von 24 Un­ter­neh­men ge­grün­det wur­de. Zu den Zie­len ge­hört För­de­rung ei­nes Men­schen-zen­trier­ten und Men­schen-di­en­li­chen Ein­sat­zes von KI-Tech­no­lo­gi­en.
Weiterlesen