Producer/Composer Josh Mobley Parlays Programming/Sampling Expertise Into Music For NBC's Hit TV Series "The Office"
Reason's Ease of Use, Unique Sound & Sound Library Offers Unlimited Creative Inspiration
Stockholm

, (PresseBox) -
Composer/producer Josh Mobley has honed his self-taught programming and sampling skills into a flourishing career—peppered with diverse artist collaborations—and has emerged as a sought-after commercial composer for broadcast and film. With the advent of digital composition, Josh developed a keen ability to write emotionally evocative material while always staying slightly ahead of the curve in the ever-changing world of studio technology. Hearing Reason for the first time, convinced him that his "hardware days were over." He currently employs the latest version of Reason to score commercials, create remixes, and write original material for placement in shows including hit NBC TV sitcom, "The Office" and TNT's "Wanted", in addition to movie teasers for the Quentin Tarantino/Robert Rodriguez "Grindhouse" movie.

"Reason's ease of use, unique sound, innovative and creative songwriting and sound design possibilities, have given me the ability to get ideas down quickly," he imparts. "Before Reason, I had all of these hardware keyboards and a DAW. I had to constantly keep track of what synth was using what sound. My songwriting was also more linear because I had to make some decisions beforehand about what was going to be in the song because of the limited nature of hardware. With Reason, the process is liquid. I like the fact that I can create multiple lanes for a given track for different sections in the song. Also, the racks and the sequencer are like one instrument, creating an environment where every single setting in the sequencer and synths is saved and instantly recalled upon loading the RNS [Reason's native file format] file. Reason users don't have to be bothered with those limitations anymore."

Reason has offered Mobley an unlimited palette of sound libraries from which to draw from—from the Thor patches and drum sounds to Reason's Drum Kits and Abbey Road Keyboards ReFills, which are two of his favorites along with third-party patches from Stompp, PEFF, and Bitword Wavefront.

So what's in Mobley's Reason rack? "EVERYTHING!" he offers.

Check out Josh Mobley online at: www.myspace.com/neoverse
Propellerhead Software
Propellerhead Software is a privately owned company based in Stockholm, Sweden. Formed in 1994, Propellerhead has created some of the most innovative new music software (ReBirth, ReCycle and Reason) and technology standards, including ReWire and the REX file format, which are used extensively in all kinds of music production. Propellerhead ReBirth program was the first virtual emulation of vintage analog gear— a trend that now dominates music software. www.propellerheads.se.
Press releases you might also be interested in
Weitere Informationen zum Thema "Software":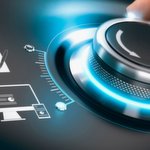 Diese ERP- und CRM-Trends bewegen den Mittelstand 2018
Was in vie­len US-Kon­zer­nen und DAX-Un­ter­neh­men längst zum Stan­dard ge­hört, ist im Jahr 2018 auch zu­neh­mend The­ma bei deut­schen Mit­tel­ständ­lern. So öff­nen sich klei­ne und mit­tel­stän­di­sche Un­ter­neh­men (KMU) im­mer mehr der Hy­brid Cloud und Soft­wa­re-as-a-Ser­vices (SaaS).
Weiterlesen