POINT of VIEW and TGT are announcing POV/TGT GeForce GTX 560Ti TFC Series
Proprietary high performance wide bandwidth hardware design, silent Triple-Fan-Cooling (TFC), silent Back-Plate-Cooling
Eindhoven / Miami / Rio de Janeiro / Taipei / Tokyo / Madrid / Munich

, (PresseBox) -
Point of View, the leading European manufacturer of an exclusive range NVIDIA based 3D processor boards, advanced netbooks as well as fancy 7" and 10" Tegra tablet computers, and additional enthusiast PC products, announces today that it is first to market with a high performance NVIDIA GeForce GTX 560 3D processor board family, the POV/TGT GeForce GTX 560Ti TFC Seies (TFC stands for triple fan cooling).

The complete POV/TGT GeForce GTX 560Ti TFC series consisting of the three performance levels: Charged, UltraCharged and "BEAST", is based on proprietary high-performance/wide-bandwidth hardware design. The high-frequency/low noise 12-layer PCB (printed circuit board) and the advanced 8-pin plus 6-pin power supply are derived from NVIDIA's advanced GeForce GTX 580 design guidelines.

Frankly speaking, the POV/TGT GeForce GTX 560Ti TFC series is that "damn fast", because the Ge-Force GTX 560Ti GPU is running on a larger PCB in a GeForce GTX 580 "power environment" to guarantee rock solid signal stability even beyond the guaranteed clock rates.

In addition, the POV/TGT GeForce GTX 560Ti TFC series features both, an extremely silent Triple-Fan-Cooler from Arctic Cooling plus an additional full-cover heat-sink on the back side, so called "back-plate" for optimized heat dissipation on both sides of the high performance product family.

Hand-selected and carefully tuned by TGT in Germany, the POV/TGT GeForce GTX 560Ti TFC series offers an optimized balance of enhanced core clock settings and supreme stability even beyond shipping specifications.

Core clocked 860 MHz, 1721 MHz shader clock and 4008 MHz memory clock, the advanced POV/TGT GeForce GTX 560 TFC ChargedTM already exceeds the specifications of most of the recently announced competitive products.

The POV/TGT GeForce GTX 560 TFC ChargedTM is topped by the POV/TGT GeForce GTX 560 TFC UltraChargedTM core clocked 911 MHz, 1822 MHz shader clock and 4224 MHz memory clock.

The top of the range is the POV/TGT GeForce GTX 560 TFC "BEAST"TM is specified 954 MHz core clock, 1909 MHz shader clock and 4224 MHz memory clock.

All models offer significant head room for individual over-clocking.

For more information visit http://www.pointofview-online.com or contact us through market-ing@pointofview-online.com.

About TGT TGT was founded beginning of July 2010 by Wolfram Tismer and Peter Tersluisen to build up a dedicated team specialized on graphics card tuning. Products, individually tuned by TGT in Germany, are hand selected, comply with highest quality standards and undergo comprehensive burn in procedures significantly beyond shipping specifications.

For more information about Point of View contact marketing@pointofview.com or visit our company's website: www.pointofview-online.com
Point of View B.V.
Point of View, well known for its range of NVIDIA 3D based Graphics cards, and other PC Products, was established in the year 2000. Since its inception, the sales of Point of View have grown exponentially and our brand can now be seen in more than 70 countries world-wide. The headquarters of Point of View is based in the Netherlands where we operate the market with a European, multi-lingual sales team. However, our offices include: Point of View Spain, Point of View Taiwan, Point of View China, Point of View USA and Point of View Brazil.

As a high-end brand, Point of View holds a European vision on its product quality control and customer service and support. With excellent warranty conditions, efficient RMA handling and great technical support, Point of View prides itself on a very high level of service. Our focus is on supporting our distributors and partners to supply top quality products and present an exciting and marketable brand to retailers.

Press releases you might also be interested in
Weitere Informationen zum Thema "Hardware":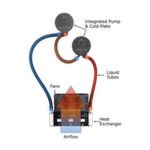 Asetek und Intel kühlen gemeinsam
Ase­tek ar­bei­tet ab so­fort mit In­tel zu­sam­men, um Re­chen­zen­t­ren und Ser­ver mit Was­ser zu küh­len. Dem­nächst soll die Vor­stel­lung ei­nes ers­ten ge­mein­sa­men Pro­duk­tes fol­gen.
Weiterlesen