EnBW purchases three wind-farms from Plambeck Neue Energien AG
Cuxhaven

, (PresseBox) -
The wind-farm developer Plambeck Neue Energien AG

(ISIN: DE000A0JBPG2) has sold three onshore wind-farms in Lower Saxony and Brandenburg with a total of 26 wind-power systems and an installed overall output of 52 Megawatt to EnBW Energie Baden-Württemberg AG. Both enterprises will cooperate in future. The technical and commercial operational management of the plant will be attended to by Plambeck Neue Energien AG in the next years. The purchase contract with an investment volume of up to 1.7 mill. Euro per MW of nominal output is still subject to approval by the Federal Anti-Trust Agency.

The Buchholz (36 MW) and Schwienau II (10 MW) wind-farms are in Lower Saxony, the Alt Zeschdorf wind-farm (6 MW) in Brandenburg. The Schwienau II wind-farm was taken into operation as early as January 2009, successive commissioning of the wind-power systems in the Buchholz wind-farm has been in progress since early February, all the other systems are currently in the construction phase. 21 systems of the Vestas V90 brand with 2 MW output each and 5 systems of the Vestas V80 brand with 2 MW output each are being used. With a forecast average annual electricity production of around 112,000 megawatt hours, the windfarms will make a considerable contribution to climate protection.

"The acquisition of the three wind-farms, with which we are increasing our installed output in the area of wind onshore from 28 MW at the present to 80 MW, is a further important element in our growth strategy in the area of renewable energies. As is known, we have set ourselves the target of increasing our generation quota from renewable energies from around 11% at the moment to 20% by 2020. We are consistently pursuing this target and are continuing to implement the growth course which has been resolved, even in these difficult times", says Dr. Hans-Josef Zimmer, member of the board for Engineering at EnBW.

"The sale of these three wind-farms to EnBW shows that our wind-farm projects are an attractive product in environmentally friendly energy production. We shall also continue to contribute to a speedy extension of wind energy as the most economical of the renewable energies. Our project development in Germany, but also in the international area, is aligned to this, both with wind-farm projects on land (onshore) and also at sea (offshore)", explain Plambeck Chairman of the Board Martin Billhardt and the member of the board responsible for operative business, Bernd Paulsen.

EnBW Energie Baden-Württemberg AG with its headquarters in Karlsruhe has around six million customers and is the third-largest German energy supply company. With more than 20,000 employees, EnBW achieved a turnover for the year of 2007 of around 14.7 billion Euro. Its main activities concentrate on the business fields of electricity, gas and energy and environmental services.
PNE WIND AG
Plambeck Neue Energien AG with its headquarters in Cuxhaven plans and implements windfarm projects on land (onshore) and at sea (offshore). The key competence of the company is the development, projecting, implementation and financing of wind-farms and their operation and sale with subsequent service. Up to now, the enterprise has set up 87 windfarms with 498 wind-energy systems and a total nominal output of 689 MW.

Alongside the business activity on the established German market, the company is increasingly expanding into dynamic growth markets. Via joint ventures, Plambeck Neue Energien AG is already represented in Hungary, Bulgaria, Turkey, Great Britain, Ireland and Romania. In these countries, wind farm projects with a nominal output of up to 1,430 MW are under development and are to be realized in the medium term. Furthermore a subsidiary is founded in the USA. In Germany (onshore) wind-farm projects with a nominal output of more than 400 MW are under development, of which 82 MW are under construction.

Over and above this, Plambeck Neue Energien AG develops offshore wind-farm projects, of which two major projects in German waters have already been approved. Entry to promising foreign markets is also being examined for the offshore area.

Plambeck Neue Energien AG was consulted by Augusta & Co, London and by Watson Farley & Williams, Hamburg.
Press releases you might also be interested in
Weitere Informationen zum Thema "Energie- / Umwelttechnik":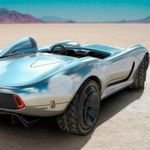 Mit VR designen, mit KI entwickeln und per 3D-Druck fertigen
Au­tos von der Stan­ge sind Ih­nen zu lang­wei­lig? Dann ent­wer­fen und fer­ti­gen Sie doch ihr ei­ge­nes! Das ele­gant ge­schwun­ge­ne Con­cept-Car "La Ban­di­ta" zeigt, was mög­lich ist, wenn mo­der­ne Tech­no­lo­gi­en in­ein­an­der grei­fen.
Weiterlesen