Strong support for PLCopen XML specification
CA Zaltbommel

, (PresseBox) -
Although perhaps not on the forefront of the PLCopen activities, the XML schema as created by PLCopen is certainly still going strong and not only via AutomationML. Many machine builders have to integrate different software tools within their whole automation project. Different tools to support different requirements, different views to the project, and serve different needs of different people. This results in the need to assemble the project from different sources. Sources like I/O lists coming from lay-out tools, dedicated configuration tools, basic requirements generated by specification and project tools, to name a few.

"The need for support in the real-life products of the XML specification is growing" says Eelco van der Wal, Managing Director of PLCopen. "I am therefore very glad to be able to announce that several crucial companies are already supporting the latest version or are about to support this" he adds.
This is related to the following companies:

- 3S with their product CoDeSys, since SP4 of July 2011 for Structured Text, FBD and most of their IO configuration. SFC will follow early next year while Ladder is in implementation.
- logi.cals, with their products logi.CAD, supporting V1.x and V2.01 for export and V1.x for import; logi.DOC, supporting V1.x and V2.01 for export and V1.x for import; and logi.SIL, supporting V2.01.
- KW-Software has been supporting PLCopen XML for all languages for both import and export with their MULTIPROG products since 2007. Support for Version 2.01 will be included in the course of new product releases in 2012.

With PLCopen XML supported in the products of these independent software suppliers, the number of supported suppliers will effectively be much larger. And with that, a critical mass will have been reached.

The PLCopen Technical Committee (TC6) - XML opened up the IEC 61131-3 development environments by specifying an XML schema for this. As such it provides an open interface to other software tools. PLCopen TC6 published their first XML schema and documentation in June 2005 as version 1.01. After that, feedback came in from companies starting to implement this specification, not only from Europe but also from Japan. End of 2008 the update of the PLCopen XML Specification was released, based on the additional requirements from the organization AutomationML, strongly supporting software specification and simulation tools.

The specification can be downloaded from our website www.PLCopen.org .
PLCopen
PLCopen was founded in 1992 as an independent worldwide association for industrial suppliers and users. It is the leading association resolving topics related to industrial control programming. PLCopen creates concepts to reduce the costs of industrial automation. These cost savings are realized in areas such as engineering, training, operation and maintenance. Together with its members, PLCopen creates specifications to materialize these concepts.
Press releases you might also be interested in
Weitere Informationen zum Thema "Software":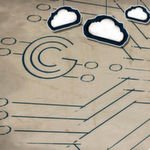 Warum "Minimum Viable Cloud" ein Schreckgespenst ist
Et­wa vor ei­nem Jahr hör­te ich im Rah­men ei­ner Pro­jekt­be­sp­re­chung erst­mals das sch­reck­li­che Akr­o­nym "MVC". Mein Kon­takt nann­te die­se Ab­kür­zung wie­der und wie­der und ich wuss­te nicht, was sie be­deu­te­te. Zu­nächst tipp­te ich auf "Mo­del-View-Con­trol­ler", bis ich lern­te, dass MVC für "Mi­ni­mum Via­b­le Clou­d" steht. Der Be­griff lei­tet sich von "Mi­ni­mum Via­b­le Pro­duc­t", kurz MVP ab, wört­lich ein "mi­ni­mal über­le­bens­fähi­ges Pro­duk­t".
Weiterlesen