Pirtek Pioneers Safety Glove
Köln

, (PresseBox) -
Fluid injection injuries can be extremely harmful with all cases requiring emergency surgery. But Pirtek has devised a solution.

A typical example of how and when workers are at risk of receiving a fluid injection injury is through hydraulic hose failures. The velocity of fluid forced through a pinhole break in a hydraulic hose can be in excess of 250 metres per second (600 ft/s) close to the muzzle velocity of a gun. Fluid, released in a fine jet at this velocity is sufficient to penetrate through protective clothing, including protective gloves.

Skin penetration can occur up to 100 mm away from the fluid source and at pressures as low as 100 psi. The toxicity of the injected fluid leads to necrosis of the affected area, in addition compartment syndrome occurs, calling for the need for timely surgery .Compartment syndrome, is caused when fluid under pressure, enters the hand causing nerve and tendon damage by over pressurising the compartments in the hand, including nerve and tendon compartments, which can lead to permanent damage. There is also a risk of blood poisoning and bacterial infection. Surgery is required in 100 percent of cases to remove the dead tissue and clean out the injected fluid from the wound. Failure to act quickly may result in the need to amputate fingers and limbs. The risk of amputation significantly increases if the wound is not treated within six hours.

But, Pirtek has devised a solution.

Fluid Power Glove

The Pirtek Fluid Power Glove, with its unique hydraulic injection resistant technology, is the only glove available today that offers protection against hydraulic injection injury as standard. The Pirtek 4041P Fluid Injection Glove is tested in accordance with EN388:2003, offers protection up to 700BAR (10,150 psi), and is the only glove of its kind in the marketplace.

The comfortable, close fitting design ensures hands can move freely making it an ideal choice for working on hydraulic systems in a number of roles including:

- Hydraulic field technicians
- Mobile hose replacement technicians
- Plant maintenance personnel and fitters
- Plant operatives
- Anyone working on or around hydraulic plant or equipment

Rigorous Testing

During rigorous laboratory testing at the Health & Safety Executive laboratory facilities (HSL) in Buxton, the injection resistant technology used in Pirtek Fluid Power Glove demonstrated injection resistance at pressures up to 700 Bar (10,150 PSI) from apertures ranging in size from 0.05 to 0.3 mm using standard hydraulic oil.

The lightweight design and dexterity make it a must-have PPE garment for all personnel working on or around hydraulic plant or equipment.

Available in sizes ranging from Small to XXL makes the Fluid Power Glove a must have for your PPE requirements to protect workers who are exposed to hydraulic systems and circuitry.

The Pirtek Fluid Power Glove is available via your local Pirtek Centre.
PIRTEK Deutschland GmbH Schläuche & Armaturen
Press releases you might also be interested in
Weitere Informationen zum Thema "Security":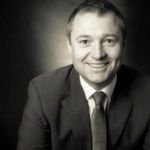 "IoT-Angriffe werden unser Leben bedrohen"
Je mehr Ge­rä­te mit­ein­an­der ver­netzt wer­den, des­to mehr steigt die Ge­fahr durch Cy­ber­an­grif­fe. Mir­ko Brand­ner vom Se­cu­ri­ty-Spe­zia­lis­ten Arx­an Tech­no­lo­gies glaubt, dass das Jahr 2018 für vie­le Her­s­tel­ler und An­wen­der bö­se Über­ra­schun­gen be­reit hal­ten wird.
Weiterlesen