The Identity Defined Security Alliance Releases New Integration Framework to Help CISOs Rapidly Build Identity-Centered Security Solutions; Welcomes Two New Technology Members
Co-Founding Members Ping Identity and Optiv Security Continue Evolution of Next Generation Identity and Access Management Solutions
New Orlreans

, (PresseBox) -
At the Cloud Identity Summit (CIS), the Identity Defined Security Alliance supported by founding members Ping Identity and Optiv Security, today announced the release of a new identity integration framework. Created jointly by the alliance members, the framework showcases the capabilities and best-of-breed technologies CISOs need to implement comprehensive solutions that place identity at the center of security.

"The Identity Defined Security Alliance is quickly becoming a powerful force in our industry for delivering proven, transformational, quick-to-market solutions that help solve critical security requirements," said Andre Durand, CEO of Ping Identity. "Customers are the big winners, relying on the experience, integration and best practices of these technology leaders who all understand that identity should be at the core of security."

Building Identity-Centered Security Solutions

The Alliance's new integration framework maps out capabilities and technologies that help organizations build integrated, identity-centered security solutions. The framework illustrates a thorough approach to protecting identity through access management, identity governance and administration and identity directory services. These core components are surrounded by the following capabilities and technology categories:


Security operations: security incident and event management (SIEM),user and entity behavioral analytics (UEBA), service management, fraud and risk;
Risk management: privileged access management (PAM), governance, risk and compliance (GRC)
Network security: data protection, data governance, enterprise mobility management (EMM), data loss prevention, and cloud access security brokers (CASB)


The original iteration of the formula includes six out of 14 of the best vendor offerings that organizations can integrate with to create a fully-comprehensive identity-centered security solution. The Alliance's founding technology members are included as the following components: Ping Identity (identity and access management), Netskope (CASB), ThreatMetrix (fraud and risk) and VMWare/AirWatch (EMM). Also included are the new Alliance members: Exabeam (UEBA) and Lieberman Software (PAM). The Alliance plans to announce technology providers for the remaining components of the formula in the coming months.

Since becoming the Alliance's premier solution provider, Optiv has focused on evolving the Alliance's mission. By leveraging its client lab, it has demonstrated the value of identity data across other areas of cybersecurity while also creating packaged integration solutions and service bundles. Optiv has played a critical role in developing the Alliance's new framework and best practices for successfully implementing the identified vendor offerings.

"Cybersecurity continues to be a top concern for executives and boards of directors. CISOs are feeling the pressure to ensure their organizations stay secure while meeting business objectives," said Robert Block, vice president of client solutions, IAM for Optiv. "To be successful, security leaders need a holistic strategy and program that include the right mix of people, process and technology with identity positioned at the heart of everything. Optiv is proud to help the Identity Defined Security Alliance develop and execute a plan for companies to better integrate next generation identity solutions into their environments."

"Identity is a key component of effective analytics, given the prevalence of credential-based attacks," said Ted Plumis, vice president, alliances for Exabeam. "By leveraging the strengths of our partners in the IDSA, Exabeam provides customers with a detailed picture of threats and risks, tied to specific identities – even when the data isn't perfect."

"Lieberman Software is honored to join the IDSA and this industry recognition as a 'best-of-breed' privileged access and cybersecurity vendor," said Richard A. Weeks, vice president, channel and business development for Lieberman. "The Rapid Enterprise Defense delivered via our Adaptive Privileged Services platform, enables automation at scale and integration of privilege management with identity provisioning, ID governance, access control, SIEM, analytics, vulnerability and threat management. We look forward to participating in IDSA and our role in the development of the identity integration framework."

The Alliance at CIS

The Alliance members work collaboratively to define a complete architecture, integrate solutions and document best practices and use cases to streamline the implementation patterns. The first round of integrated demonstrations and documentation that describe the benefits of the joint solutions from Ping Identity, Netskope, ThreatMetrix and VMWare/AirWatch will be highlighted at the Ping Identity and Optiv booths at CIS, in addition to multiple sessions at the conference.

The Identity Defined Security Alliance was created to help CISOs implement security solutions with best-of-breed, integrated technologies to ensure customers, partners and employees can access the right data using the right applications on the right devices – all while reducing implementation complexity. Ping Identity launched the Alliance in late 2015 to address the growing frustration expressed by CISOs regarding the challenge of managing too many solutions in silos.

About Optiv Security

Optiv is a market-leading provider of end-to-end cybersecurity solutions. We help clients plan, build and run successful cybersecurity programs that achieve business objectives through our depth and breadth of cybersecurity offerings, extensive capabilities and proven expertise in cybersecurity strategy, managed security services, incident response, risk and compliance, security consulting, training and support, integration and architecture services, and security technology. A Blackstone (NYSE: BX) portfolio company, Optiv maintains premium partnerships with more than 300 of the leading security technology manufacturers. For more information, visit www.optiv.com or follow us at www.twitter.com/optiv, www.facebook.com/optivinc and www.linkedin.com/company/optiv-inc.
Ping Identity UK LTD
Identity-Security-Pionier Ping Identity ist einer der größten unabhängigen Dienstleister von modernen Identity-Security-Lösungen. Über 1.400 Unternehmen, darunter die Hälfte der Fortune 100 und führende Unternehmen wie Box, Cisco, GE, Kraft Foods und Walgreens, verlassen sich auf diese Lösungen. Ping Identity schützt mehr als eine Milliarde digitale Identitäten, damit sich Mitarbeiter und Kunden in der digitalen Welt sicher bewegen und so erst deren volles Potenzial nutzen können. Ping Identity bietet Mitarbeitern in Unternehmen sowie deren Kunden und Partnern mit einem Klick sicheren Zugriff auf jede Anwendung von jedem Gerät aus. Weitere Informationen stehen auf www.pingidentity.com bereit.


Press releases you might also be interested in
Weitere Informationen zum Thema "Software":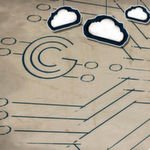 Warum "Minimum Viable Cloud" ein Schreckgespenst ist
Et­wa vor ei­nem Jahr hör­te ich im Rah­men ei­ner Pro­jekt­be­sp­re­chung erst­mals das sch­reck­li­che Akr­o­nym "MVC". Mein Kon­takt nann­te die­se Ab­kür­zung wie­der und wie­der und ich wuss­te nicht, was sie be­deu­te­te. Zu­nächst tipp­te ich auf "Mo­del-View-Con­trol­ler", bis ich lern­te, dass MVC für "Mi­ni­mum Via­b­le Clou­d" steht. Der Be­griff lei­tet sich von "Mi­ni­mum Via­b­le Pro­duc­t", kurz MVP ab, wört­lich ein "mi­ni­mal über­le­bens­fähi­ges Pro­duk­t".
Weiterlesen