Parapet construction of 130 m per week across the Danube
Bridge over the Danube near Beška, Serbia
Weißenhorn

, (PresseBox) -
The VARIOKIT engineering construction kit from the Weissenhorn-based formwork and scaffolding manufacturer, PERI, offers cost-effective solutions to meet a wide range of requirements in bridge, tunnel and civil engineering projects. When it comes to the construction or refurbishment of parapets, three versions are available ensuring efficient realization of all parapets on the basis of project-related rentable system components.

One variant is the lightweight parapet bracket - an inexpensive and hand-mounted solution for short bridge superstructures as well as refurbishment work. A second - and currently used in many international bridge construction projects - is the parapet track variant which is completely suspended on rails and roller units attached to the underside of the bridge. As a result, the parapet that is to be formed is always freely accessible. The third and extremely flexible variant is the movable parapet carriage which is positioned on the bridge superstructure itself and features a conventional transfer of loads by means of cantilevered beams. This is frequently used, for example, if on-site adaptations are required due to obstructions and changes to the cross-sections.

Twin bridge across the Danube

Parallel to the existing bridge structure, the over 2.2 km long Danube crossing near Beska will be complimented by a so-called twin bridge. Thus, a subsequent, continuous four-lane expansion for the E75 motorway between Belgrade and Novi Sad will be made possible. On the southern side, a 180 m long foreland bridge is joined to the 540 m long main bridge which is supported on three river piers. The almost 1,500 m long approach bridge to the north also crosses a floodplain of the Danube river.

Project-related formwork concept

For the Danube bridge, Serbian and German PERI engineers worked closely together with the Alpine Bau construction team to develop a common formwork concept which envisaged the use of the VARIOKIT parapet carriage which was to be operated from above. As a result, no additional mounting components such as anchor sleeves are required. In addition, the standardized system assembly minimized the planning effort - and ensured maximum flexibility of the formwork carriage solution when adapting to local site conditions.

6 parapet sections in only 5 days

Four VARIOKIT formwork carriages are working in parallel to one another as construction work steadily progresses across the Danube. This means that six casting segments, each 21.50 m long, can be realised in only five days - 130 linear metres per week. One of the formwork carriage also takes into account the designated points of the parapet widening in order to accommodate the lamp posts. Simple and thereby fast shuttering and striking procedures as well as a systematic concreting sequence ensure rapid progress for constructing parapets with a total length of 4,440 m. In this way, the construction team is able to maintain the extremely tight schedule without any problems.

Pier formwork and access technology

PERI also supplied the climbing formwork for the construction of the 40 bridge piers with heights up to 50 m. VARIO GT 24 girder wall formwork together with CB 240 climbing brackets formed large-sized movable units with concreting cycle heights of 5 m. For the bridge piers with hollow box cross-sections, the internal formwork was realised with the help of TRIO panel formwork. TRIO shaft elements ensured that the internal formwork could remain connected as a complete unit - as a result, valuable time-savings were already achieved during the construction of the piers. A PERI UP suspended scaffold rounded off the comprehensive PERI project solution for the bridge over the Danube. This serves as secure access to the bearing points on the pier heads - planned and constructed on the basis of the flexible PERI UP Rosett modular scaffolding system.
Press releases you might also be interested in
Weitere Informationen zum Thema "Bautechnik":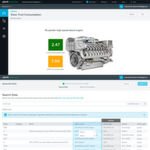 Splunk wertet industrielle IoT-Daten aus
Mit Sp­lunk In­du­s­trial As­set In­tel­li­gen­ce (IAI) stellt der Spe­zia­list für Ma­schi­nen­da­ten sei­ne ers­te Lö­sung für das In­ter­net der Din­ge (IoT) vor. Sie er­mög­licht die Aus­wer­tung in­du­s­tri­el­ler IoT-Da­ten.
Weiterlesen